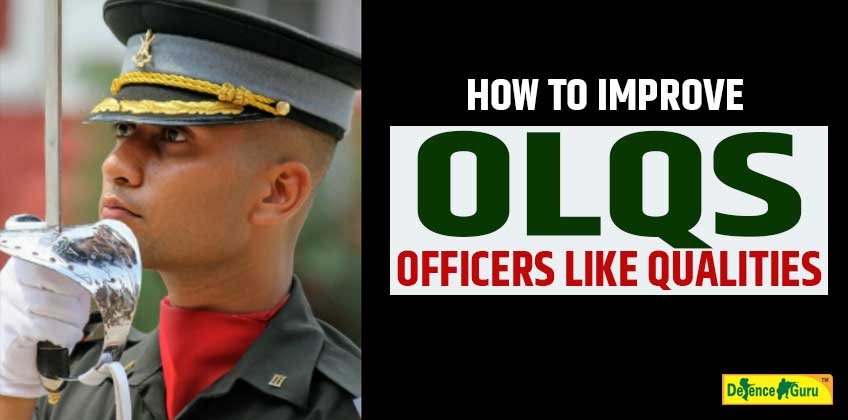 Candidates preparing for major defence exams like NDA, CDS, AFCAT & various direct SSB entries must focus on improving their officer-like qualities (OLQs). These Officers Like Qualities are of vital importance in the SSB Interview for a thorough evaluation of a candidate's personality traits. Since the aspiring candidates are assessed on various parameters, they must be efficient in performing multidisciplinary activities as an officer in defence forces. Thus, defence aspirants should extensively focus on SSB Interview along with preparing for the written examination. This article will discuss in detail how to inculcate and improve officer-like qualities for the SSB Interview.
Why are Officers Like Qualities (OLQs) Important for SSB Interview?
Various attributes are of the utmost significance for getting recommended as an officer in the Indian Armed Forces through SSB Interview. The aspirants preparing for NDA, CDS, AFCAT, or other defence-oriented (officer cadre) exams must inculcate the fundamental traits of personality development for exceptional performance during the SSB Interview. Below mentioned are the key benefits of possessing officer-like qualities.
The Services Selection Board (SSB) recommends those candidates who possess certain specific personality traits like communicative approach, body language, coordination, thought process, sound physical and mental health, etc.
There are some other traits also which help in shaping the personality of a candidate like the cognitive atmosphere, problem-solving aptitude, the way of tackling situations in life, and a cool mindset.
Nobody is born with inherited officer-like qualities but learns these traits in specific circumstances, the atmosphere they live in, the conditional events, the decision-making process, and their individual life experiences.
The recommendation of a candidate by the Services Selection Board (SSB) wholly depends on his/her performance in the execution of the tasks assigned during the 5-days long selection procedure.
The personality of a candidate is the aggregation of his/her characteristics or qualities that form a distinctive attribute which includes learning from surroundings, individual way of thinking, behaving with others, and the feeling of team spirit and fraternity.
What are various types of officer-like qualities?
After qualifying for the written examinations of defence domains, the qualified candidates are called for an extensive interview conducted by the Services Selection Board (SSB). It's not just a mere interview but an accumulation of different personality traits which are closely observed by the board members. There are 15 officer-like qualities as mentioned below.
Effective Intelligence - Effective Intelligence develops the toughest skills and endeavors among aspirants like the way one utilizes his/her intelligence in different types of situations to bring out fruitful results.
Reasoning Ability - Reasoning Ability helps to catch a piece of information and to come to a logical solution with a positive outlook. Candidates should engage themselves in reading editorial and opinion-based pages in the newspapers to develop an idea about rational perspectives.
Organizing Ability - Organizing Ability develops a sense of accountability and responsibility which is essential for having the efficiency to put things in the right places and utilize them to fulfill the organizational objectives.
Power of Expression - Power of Expression brings a communicative approach at the forefront to have an interactive capacity to put your points of view on different situations. It can also be acquired by talking to different people, watching TV debates, and chat shows.
Social Adaptability - Social Adaptability is crucial as it is how one adjusts in different atmospheres comprising different kinds of people. To enhance social adaptability, the aspiring candidates should talk with different people and try to understand their culture.
Cooperation - The feeling of cooperation and team spirit plays an important role in the SSB Interview to perform better in the group obstacles, and other GTO tasks. Candidates should work selflessly for fulfilling the group objectives to develop a feeling of cooperation and fraternity.
Sense of Responsibility - It is one of the important aspects of an SSB Interview like how an individual develops a strong sense of responsibility to carry out different tasks. The sense of responsibility is a kind of devotion to duty that helps in undertaking various activities simultaneously
Initiative - Taking initiatives is the first step that puts a long-lasting effort to achieve the individual as well as organizational goals. One should have faith, self-confidence, and courage to be at the forefront in extraordinary situations.
Self Confidence - Self-confidence enables aspirants to handle different setbacks and failures with ease without causing trouble for others. To raise the level of confidence, one should accept failure as a part of life and should try to learn from their mistakes.
Speed of Decision - It helps aspirants enhance their ability to arrive at a useful choice to achieve the highest value. Quick decision-making with thoughtful consideration is very crucial in military warfare-like situations to arrive at workable decisions efficiently. It also helps in the formulation of strategies for immediate execution in different circumstances.
Ability to Influence the Group - It is concerned with leadership as the ability to influence others. A leader motivates and guides subordinates to bring about the willing effort from the group to achieve the desired objective. Aspirants should develop this personality trait in themselves to cooperate and lead the group with their influential capacities.
Liveliness - It involves the quality of being, energetic, and enthusiastic with a cool mindset in every circumstance whether ordinary or extraordinary. This trait of an individual helps to create an atmosphere of excitement and cheerfulness to overcome every odd situation with an optimistic approach.
Determination - It is an optimistic emotional feeling that involves perseverance towards achieving difficult goals and objectives despite varied obstacles. It helps to goal attainment and serves as a motivation factor to be consistent in the accomplishment of set objectives.
Courage - It is an ability to act with bravery in odd situations and discouragement. It involves tremendous physical & moral courage to be in unification to face the opposition in adverse circumstances. Courage helps to develop the ability to put aside your fear of failure and take initiative to attempt things that you have not tried before.
Stamina - It is a basic part of physical endurance to remain active for a long period and has immunity to overcome wounds or fatigue. Stamina helps you endure stress and discomfort and helps to reduce fatigue and exhaustion. It allows you to perform your daily activities at a higher level with consistency.
Read More: Tips to Develop Officer Like qualities for SSB Interview