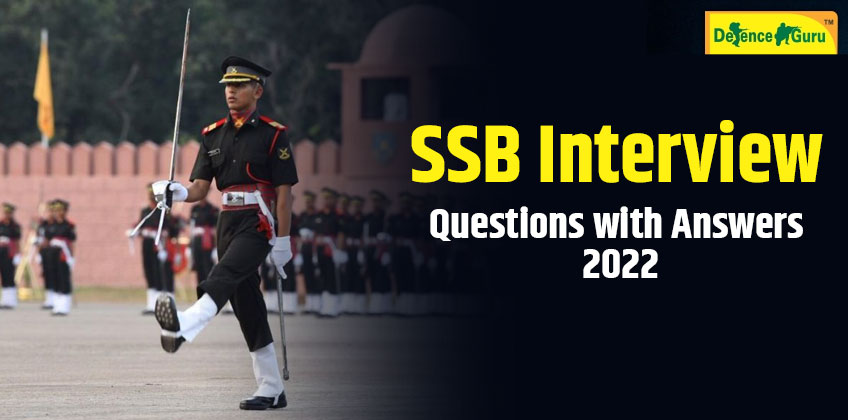 SSB Questions with Answers 2022
The abbreviation SSB stands for Service Selection Board. The Indian Defense Ministry administers this board, which evaluates Indian Armed Forces recruiting officers. The primary objective of this board is to find applicants who possess "officer-like qualities." Personality, competence, adaptability, and capability are the most important characteristics of candidates assessed in SSB interviews. After passing the written examination, candidates who aspire to join the Indian Army, Navy, or Air Force can enroll for the SSB interview. We have highlighted a few questions with sample answers in this article to help SSB aspirants improve their preparation.
Important rapid-fire question set asked in SSB interview
The rapid-fire question set is a common question combination that most applicants fear. In this question set, the interviewer asks 8-10 questions in one go, and you must respond in the same manner. This question is asked because the interviewing officer wants to know your understanding of the discipline, foresight, clarity of vision, self-motivation, willingness to excel as a leader and aspiration for future self-development. The general format of the questions is as follows:
Tell me about your 10th-grade schooling, including your scores and any achievements.

Tell me about your schooling in class 12th, your results, and any achievements you have.

Tell me about your graduation as well as any extracurricular activities you participated in.

Who are there in your family like (father, mother, siblings)?

What are your interests and hobbies?

Tell me about your teachers and why you liked or opposed them.

Tell me about your friends and why you valued or despised them.

Tell me about your flaws and how you're working to overcome them.
Important SSB Questions with Sample Answers
Question: Why did you apply for Army ranks? Don't you want to join the Air force or Navy?
Significance: You must present a positive response that highlights all of the admirable characteristics of your choice without reluctance. You must react in a way that demonstrates both your respect for all wings of the Indian Armed Forces and your preference for one in particular.
Sample Answer: Respected Sir/Ma'am, The first reason is that I am more inclined to join organizations in the non-technical field and perform my duty there. Second, I am already employed as a maintenance engineer for a reputable multinational corporation, thus I have certain time constraints and have less time to study. That is why I chose the Army over the Air Force and Navy because of the available options.
Question: What do you think the reason was for you not being recommended in earlier attempts?
Significance: This question is asked to discover if you are aware of your limitations and shortcomings, as well as what you have done to address them. The interviewing officer also likes to know how well you've prepared for this circumstance. As a result, when answering this question, you should list the errors you made in various tasks during your past SSB attempts. Here, you must concentrate on your progress since your previous attempt. You may state that your performance throughout the current SSB has been satisfactory.
Sample Answer: Respected Sir/Ma'am, I acknowledge that my physical prowess and verbal abilities were lacking in my past attempts. I wasn't properly prepared to give it my best. But I can assure you that I have been working hard on it for the past three months, and I am now confident in myself. I experienced a considerable improvement in my performance during this attempt and noticed the significance of hard work and determination.
Question: Will you return for another SSB interview if you fail this one?
Significance: This question is asked by the interviewing officer to judge your trustworthiness. Do not be concerned that the interviewer will dismiss you. This question is only intended to assess your level of anxiety, enthusiasm, and nervousness. Don't be frightened by this question. Immediately respond carefully and confidently while maintaining a positive mindset. Your response should demonstrate your enthusiasm for this service. After all, if your efforts are genuine, you will succeed.
Sample Answer: Respected Sir/Ma'am, I feel that serving in the military is more than just a profession; it is a way of life and one of the most honorable ways to live life to the fullest and serve the country. Since I was a child, I've been fascinated by the Indian army's bravery, and I want to work with the best and serve my country. I've come here for a purpose, and I will come back if I don't succeed this time.
Question: Tell me about your upsides and downsides. What's the status of your interaction with them?
Significance: This question is asked by the interviewing officer to see how much you know about yourself. These attributes reveal all about you while discussing your strengths and flaws. The interviewer is also interested in how much effort you are putting in to develop yourself by asking this question. This is when you must be very cautious in your response. You should neither exaggerate your admiration nor harshly condemn yourself.
Sample Answer: Respected Sir/Ma'am, every person, including myself, has some strong and weak points. I have some internet and technological knowledge. Consistency and integrity are values that I consider important. I admire people that are committed to their work and give it their all. However, I have some shortcomings that I am always seeking to overcome. I must state that I am becoming a better person every day, one that is polite, fearless, genuine, and believes in working hard.
Read More
50 Basic Questions Asked in SSB Interview 2022
List of Most Important Questions Asked in SSB Interview 2022