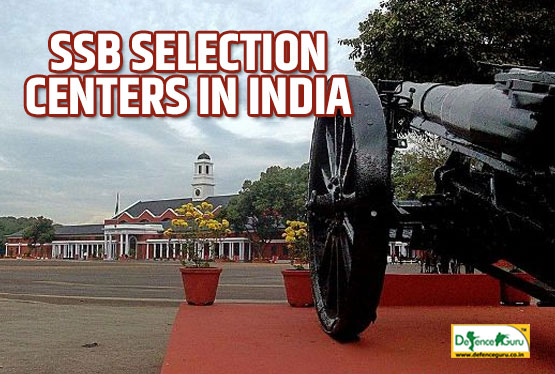 Serving in Indian Armed Forces as an officer isactually a lot more than an element of pride and flaunting a uniform. An officer is known to be a person who is willing to lay down his life for the nation without any bias or prejudice. With this prestigious life, comes, responsibilities, national service and respect from all corners of the society all amalgamated into one.
There are innumerable perks as well which include several allowances, job security, high pay scale, social status and a high quality of life. So we can say that the career at Indian armed forces as an officer is unbeatable by all means.
But, as they say, "Those at the top of the mountain didn't fall there". One needs to cross several hurdles to get to the summit .One amongst them is Clearing SSB Interview from respective Boards.
List Of SSB Boards and Training Centers of Indian Armed Forces
Hi all Defense Aspirants, here is the information regarding all SSB Centers of our armed forces including the board names. So those who want to gain knowledge about them can go through. The names are shown as below.
For Indian Army:
Selection Center East (SCE) Allahabad: (Uttar Pradesh)

11 SSB
14 SSB
18 SSB
19 SSB
34 SSB

Center Central (SCC) Bhopal: (Madhya Pradesh)

Center South (SCS) Bangalore: (Karnataka)

Center North (SCN) Punjab: (Kapoorthala)
For Indian Air Force:
- 1 AFSB Dehradun: (Uttarakhand)
- 2 AFSB Mysore: (Karnataka)
- 3 AFSB Gandhi Nagar: (Gujrat)
- 4 AFSB Varanasi: (Uttar Pradesh)
For Indian Navy:
- NSB Coimbatore: (Tamilnadu)
- 12 SSB at SCS Bangalore: (Karnataka)
- 33 SSB at SCC Bhopal: (Madhya Pradesh)
- NSB Visakhapatnam (Andhra Pradesh)
- SSB Kolkata (West Bengal)
Hence, I hope so that you got some very important information regarding the selection centers of Indian Armed Forces.
Read More
21 Days Online SSB Course
questions asked in ssb interview
Frequently Asked Questions in SSB