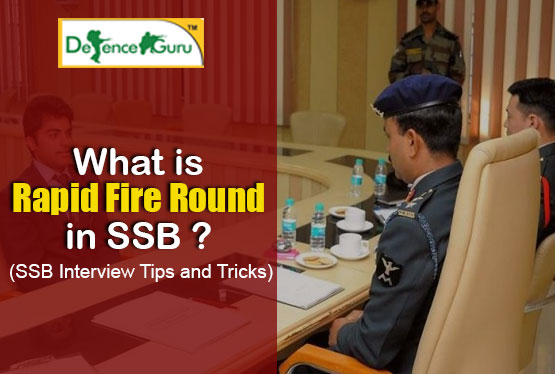 THE RAPID QUESTION FEVER
A well known human dictum is to drown in the "seen" problem without digging deep into the "unseen" cause of the situation. SSB candidates quiver and shiver with the thought of "rapid fire". As rapid as a firing bullet, this SSB interview session ensnare the candidates with unrest.
But the truth of the matter is: life is what we make of it and mind is the governing part. All you need is to hone and train your brain because rapid fire is a test of your memory and mental strength. Following is the complete canon of SSB rapid fire to set your fear free:
SSB Interview is an excruciating session of 4-5 days circling around many written, verbal and physical tests.
One of the major shreds of SSB interview is the personal interview wherein a panel of experienced Defence Officers engage in dialogue with you.
Rapid fire is the crux of personal interview. It is a bank of approximately 15-20 questions asked incessantly.
It acts as a lens to interrogate your memorization skill, mental strength, OLQs, ability to retain, logical reasoning, grasping power, power of expression, confidence, intelligence, self awareness, general awareness, I.Q level and power to remain calm during panic situation.
The questions range from personal details, native place to family, education, achievements and hobbies/interests.
The Interview Officer puts up a lengthy question dissected into many short questions, each of which needs to be retained in order and answered chronologically.
Ever heard the phrase "make yourself at home?" Well that's what the IO asks you to do foremost. He will make you comfortable and then blow a set of overlong questions.
The IO may cross question and interrupt you while answering but you need to continue where you left before the cross questions started.
The rapid fire also has an influencing hint of your OIR as number of questions is decided as per the OIR. To explain in the language of 2019 OIR and rapid fire round are partners in crime!
For instance: 2 O.I.R- more than 20 questions; 3 O.I.R- 15- 20 questions; 4 O.I.R- 15 to 20 questions.
PIQ and psychology test also have a huge impact on framing the rapid fire questions.
Mulling over a look alike of the rapid fire round, I bring to you an iconic sample of the same:
Tell me about your native place, your educational credentials, your aggregate marks in class 10th, meaning of your name, family background, your achievements, hobbies, nature of employment, and your friends. How do you pass your leisure time? How do you assist your family? Why you want to join the Indian Armed Force? What do you know about Indian Army, Indian Navy, and Indian Air Force? What will you do if you fail in all your attempts?
The questions shared, it's time to invent ways to enhance your rapid fire result:
The questions asked are direct and examine your OLQs so you better show them your common sense, knowledge and power of expression.
Its common to forget some questions out of the huge roll but guess what… common is out of the dictionary of defence. So here is a checklist of few tips to manage rapid fire round:
Prepare a list of frequently asked questions and record 5-10 questions daily while working to memorize them. Once you are able to cram the set of questions you made, increase the numbers and repeat the process of learning. This will build up your retaining skills.
Maintain a good body posture and keep a super confident look on!
Honesty is the mother of all virtues so be true to yourself and to the IO+ depict improvement through your answers.
Wanna be smart? Employ the strategy of counting the questions on your finger tips while maintaining your posture.
Always answer in chronological sequence.
Don't let your attention wander. Listen to the IO very carefully and categorize the questions mentally to answer smoothly.
Be audible and clear.
Lastly, prove how well you can act under pressure because that's the sole purpose of the SSB rapid fire round!
The rapid fire might turn slippery at times but you need to bounce back with even better tricks, calm attitude and an everlasting confidence after all challenges give meaning to life only when counter attacked!
Oh and if you are looking for a thorough practice of rapid fire and exceptional tricks then google Centurion Defence Academy and enroll in the classes for great result.
Read More About
Most Important SRTs for SSB Interview