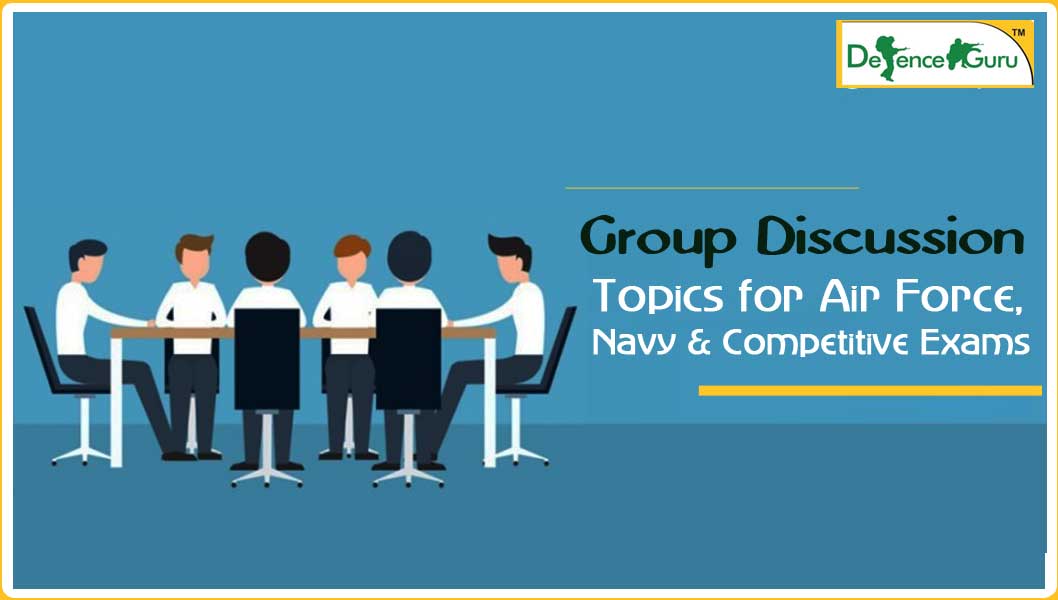 Group Discussion (GD) Topics for Air Force, Navy & Competitive Exams
Today We discuss Important GD topics for Airforce, Navy & other defence Competitive Exams SSB Interview. Defence Guru Share a List of Group Discussion Topics.
GD Topics for Air Force, Navy & Competitive Exams
The following are the characteristics of personality :-
Physical appearance.
Mental ability
Adjustment (Social adjustment)
Stamina
Self Confidence
Courage
Define Your Hobby
Expected questions to be asked by the interviewer in Indian Navy :-
1. Meaning of your name
2. Question on your academic record.
3. Question on your local village or area
4. What do you do in free time?
5. Explain your two week point?
6. What are your two strong point?
7. Question related to your journey to the interview area
8. If your name conceded with the name of famous personality then you may be asked question about the particular person
9. GST – Issues related to Implementation
10. Corruption in India
11. Overpopulation
12. Lack of education
13. Weak laws
14. Change in mentality of common people
15. What is the major cause of poverty in India?
Most Important Topics to be Remembered
The most impression events of your life
The most exciting events of your life.
The most depressing event of your life.
Happiest moment your life.
How will you use the internet.
Role of Social Media in day-to-day life
Different Topics :-
Why do you think you are better then other.
They greatest achievement of your life.
Whether you held any responsibility in your collage/school?
which will you prefer, money or power?
Name the place of interest you visite.
How the internet affects common man's life?
It reduces efforts and time consumption
Hacking can compromise confidential data
It has emerged as a necessary evil
Using social and Tele media to motivate the youth
SC judgement on Right to Privacy and Future of Aadhaar
Demonetization: Good or Bad
What is the major cause of poverty in India.
Some Important Interview (Do's and the Don'ts)
Do come prepared.
While coming and going, do not forget to give a firm handshake.
Do prepare answers to common interview questions.
Do your research about the company and the employer beforehand.
Do dress stylishly and meticulously.
Don't let nerves paralyse you. Relax and act naturally.
Do breath deeply, relax the muscles of your face, and take the time to pause before the interview.
Don't stress yourself out by dwelling on negative possibilities.
Don't be brusque with the administrative staff. You need to impress every person you encounter at the company.
Do use language that is appropriate for the job environment and demonstrate your experience by using a bit of well-placed jargon.
Do follow up with a thank-you email, letting the interviewer know it was nice to meet them and that you look forward to hearing back soon.
Do not be disappointed if you do not answer any questions.
Don't be afraid to admit you don't know the answer to a question.
Do strike a power pose before you head to the interview. It will boost your endorphins and improve your confidence.
Do consider your career goals and clearly define your reasons for wanting the job.