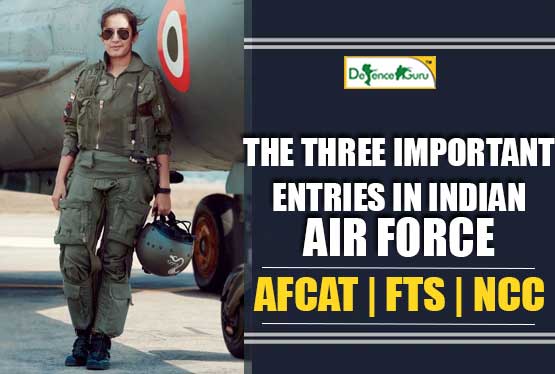 THE THREE IMPORTANT ENTRIES IN INDIAN AIR FORCE- AFCAT/FTS/NCC
Who says talent cannot be proven on sky? Try Indian Air Force- it shines bright when it works for the safety of the nation up above the ground.
Indian Air Force is one of the central wings of Indian Armed Forces. It works to serve Indian airspace and conduct aerial warfare. With the motto of 'touch the sky with glory' Indian Air Force ranks amongst the top Air Forces of the world.
To make a career in the highly dignified Indian Air Force an applicant could choose one of the following entrance procedures:
These 3 are major gateways to be a member of I.A.F and below are listed its details:
AFCAT: Spelled as Air Force Common Admission Test, AFCAT is the most opted exam to get into Indian Air Force. It is a national level exam conducted twice a year. Through AFCAT students can join as Commissioned Officer in Flying branch, as well as Permanent/ Sort service commission in Ground Duty (Technical) and Ground Duty (Non-Technical) areas.
Both male and female applicants are invited to take AFCAT exam. They must ensure the following eligibility criteria:
Must be a citizen of India
Must be below 25 years of age. 20- 26 is the age limit for Ground Duty (technical and non- technical branch) while 20- 25 is the age for Flying branch.
Must ensure educational qualification as per their desired positions
Furthermore, the selection process of AFCAT is a three- tier process as per which there will be an online exam followed by an interview conducted by AFSB and a medical test. The written part involves verbal ability in English, general awareness, numerical ability, reasoning and military aptitude.
FTS: Coming on to the entry, FTS is a new introduction. Fast track selection (FTS) is quite similar to AFCAT except that it is short. FTS is not conducted yearly rather it is scheduled only when the number of candidates selected through AFCAT is less.
As the name suggests this is a quick entrance procedure hence registration is done on spot. The applicants have to appear for a written exam similar to that of AFCAT followed by a detailed verification of document.
The eligibility criteria for FTS involves :
Candidates should be Graduate in any discipline from a recognized University with at least 60% marks and have passed Maths and Physics at 10+2 level OR have BE/B.TECH degree from a recognized University with minimum 60 % marks.
-Candidate's age should be between 19-23 years.
Interested candidates must download the application form and fill it accordingly.
NCC: Under NCC (Special entry) candidates can apply to join Indian Air Force without giving a written exam. NCC entry is a type of permanent commission wherein 50- 60 seats are present approximately.
Talking about the eligibility criteria, candidates under this scheme must:
Be aged between 19- 25
Be unmarried
Be a graduate OR a B.E/ B.TECH degree holder with 60% marks in aggregate along with being an NCC 'c' certificate holder with 'B', grade.
As for the selection process, applicants are shortlisted based on their marks in graduation and then called for SSB interview following which the final merit list is formed.
Well, a detailed info about the three entrance opportunities to I.A.F has been given above. It's time for you to prepare and proceed towards a bright future in this field.