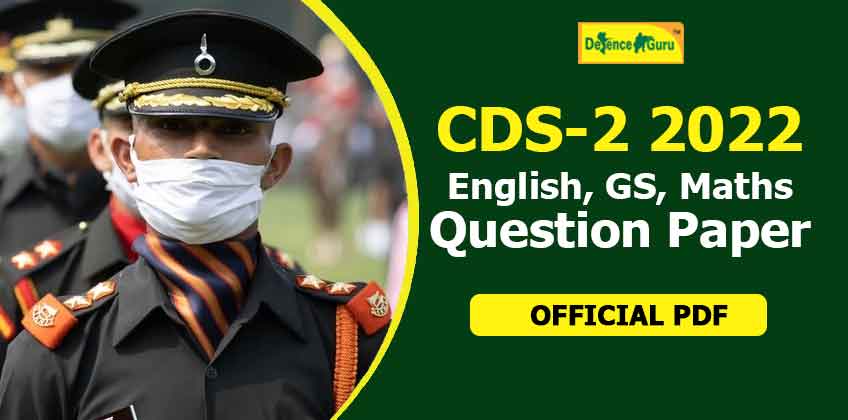 CDS-2 2022 Exam Question Paper
The Union Public Service Commission ( UPSC) has conducted the Combined Defence Service (CDS) 2 exam on 4 Sep, 2022. The candidate who wants to check CDS 2 2022 Exam question paper can check from our site or can go down below, link is provided.
UPSC has conducted the CDS 2 on Sep 4, 2022. At 72 different exam centres throughout the country. Each section of the UPSC CDS Exam pattern carries 120 marks and the time for completing each paper was 2 hours (120 minutes). This is for all training academies, including IMA, OTA, INA, and AFA. CDS always have a negative marking scheme, this time ⅓ for every wrong attempted question.
CDS Exam Pattern 2022
| | |
| --- | --- |
| Particulars | Details |
| Mode of Exam | Offline only |
| Number of questions asked IMA, AFA, and INA | 300 multiple-choice questions |
| Number of questions in OTA | 200 multiple-choice questions |
| Maximum Marks | 300 (Indian Military, Navy, and Air Force) and 200 (OTA) |
| Duration of Exam | 2 hours (120 minutes) for each paper |
| Medium | Hindi or English |
| Negative marking | One-third of marks deducted for each wrong answer |
CDS Exam Pattern for Written Test
CDS paper pattern for the Written Examination for admission to Indian Naval Academy, Indian Military Academy, and Air Force Academy will include three subjects, namely, Elementary Mathematics, English, and General Knowledge.
Admission to Officers Training Academy will only have two subjects namely English and General Knowledge. Elementary mathematics is not included in the CDS exam pattern of OTA.
CDS 2022 pattern for IMA, INA, AFA
| | | |
| --- | --- | --- |
| Subjects | Number of questions/ maximum marks | Time duration |
| English | 120 / 100 | 2 hours |
| Elementary Mathematics | 100 / 100 | 2 hours |
| General Knowledge | 120 / 100 | 2 hours |
| Total | 340 / 300 | 6 hours |
CDS 2022 pattern for OTA
| | | |
| --- | --- | --- |
| Subjects | Number of questions / Maximum marks | Time Duration |
| English | 120 / 100 | 2 hours |
| General Knowledge | 120 / 100 | 2 hours |
| Total | 240 / 200 | 4 hours |
CDS Marking Scheme for IMA, INA, AFA
| | | | |
| --- | --- | --- | --- |
| CDS | English | GK | Mathematics |
| Maximum Marks | 100 | 100 | 100 |
| Marks for Correct answer | +1 marks for each correct option | +1 marks for each correct option | +1 marks for each correct option |
| Negative marking | -0.33 marks for each wrong answer | -0.33 marks for each wrong answer | -0.33 marks for each wrong answer |
CDS Marking Scheme for OTA
| | | |
| --- | --- | --- |
| CDS Paper | English | GK |
| Maximum Marks | 100 | 100 |
| Marks for Correct answer | +1 marks for each correct option | +1 marks for each correct option |
| Negative Marking | -0.33marks for each wrong answer | -0.33marks for each wrong answer |
Download The CDS 2 2022 Exam Question Paper
| | |
| --- | --- |
| Mathematics Set A | |
| Mathematics Set B | Click Here to Download |
| Mathematics Set C | Click Here to Download |
| Mathematics Set D | Click Here to Download |
| GS Set A | |
| GS Set B | Click Here to Download |
| GS Set C | Click Here to Download |
| GS Set D | Click Here to Download |
| English Set A | Click Here to Download |
| English Set B | Click Here to Download |
| English Set C | |
| English Set D | Click Here to Download |
Also Read - Top Five CDS Coaching in India