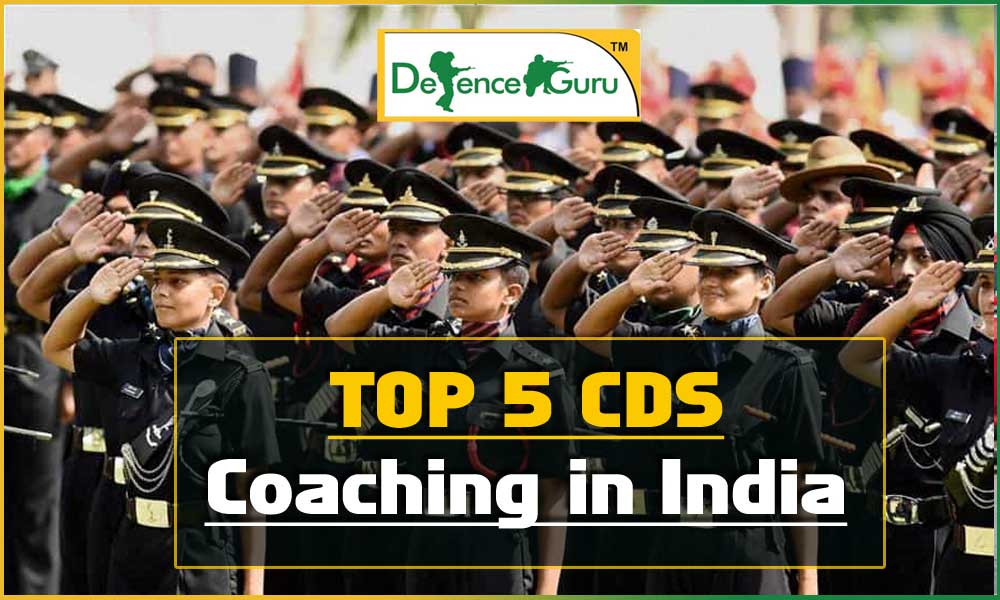 Top CDS Coaching in India
CDS Exam
CDSE is an exam conducted by the UPSC for inducting officers into the three wings of Military i.e. Army, Navy and Airforce. The government holds the CDS exams twice a year to select the best. In this exam each paper consists of 120 questions and the time given is two hours. The Notification for the CDS exam is usually released in the months of October and June, and CDS exam is conducted twice in year in the months February and November.
What is CDS Exam
CDS exam which is also know as Combined Defence Services examination is of the most popular exam among the Indian defence aspirants. Its a written test conducted by UPSC two times every year. CDS written exam has three different tests namely English, General Knowledge and Mathematics. There are basically four different training academies which one can join through CDS exam.
1. Indian Military Academy for Indian Army (Only Men)
2. Indian Air Force Academy for Indian Air Force (Only Men)
3. Naval Academy for Indian Navy (Only Men)
4. Officers Training Academy (Men and Women)
Top 5 CDS Coaching in India
If You are searching for best CDS coaching institute for getting good knowledge to pass CDS exam. Here we are sare detail about top 5 CDS coaching in India.
1.Centurion defence Academy
Centurion Academy provide crash courses for CDS Students. Centruion Academy is a Best CDS coaching in Lucknow, India. The Academy runs regular batches for CDS examinations, Aspirants should take coaching as soon as they are able to spare time from their daily routines. It is advised to take coaching few months before the exam to ensure enough time is left for practice, revision and self study.
Features of Centurion Defence Academy
1- Experienced faculty that is highly qualified to provide knowledge, skills and extra curriculum activities.
2- Outdoor and indoor activities are carried out among students to make them efficient for every field. Perfect is the word that we focus on.
3- Our daily scheduled 330 mins classes ( Maths, English and General Science, GS ) covering all aspects and entire syllabus of the examination as prescribed by the UPSC. Free PD and spoken English classes are also conducted Every day.
4- The academy have online test as per real time pattern for self assessment. We provide Free of cost online test on computer as well as on Mobile.
5- We Also have E-Learning for self study. We provide Free of cost E-Learning on computer as well as on Mobile. We provide Free of cost Computer Lab for E-Learning.
6- Doubt clearing sessions are also conducted especially for students.
7- The academy have highly qualified, experienced and updated faculty for CDS written coaching provides students with the right guidance to get best results in the exam. Students are coached by permanent faculty members not part-time teachers (working on per class basis) as in many other institutes.

2.Surbhi Academy-
Surbhi Academy Provide coaching for English Speaking, Personality Development and NDA Coaching, Merchant Navy Coaching, SSB Coaching, CDS Coaching, FCI Coaching, AFCAT Coaching, ACC Coaching, TA Coaching, ISTC Coaching, CAPF Coaching, AIRFORCE Coaching.
3.Amity Academy-
Amity is a movement in the field of Private education. Dr. Ashok K Chauhan, the founder President of Amity Group of Educational institutions has always felt that a strong India need, strong Armed Forces. In order to help the youth to fulfill their dream of becoming Officers in Defence Forces, Amity SSB Academy was established. Over the years Amity SSB Academy has earned a special name for itself because of excellent quality of training resulting in phenomenal success in the written exams as well as Services Selection Board Interviews.
4. Lakshya Academy-
Lakshya Academy was established with the sacred objective of imparting quality education to the students of various competitive examinations,Such as SSC (1.CGL 2.MTS), CDS,CPF, etc.The core members of the Lakshya Academy team adopted innovative materials and extremely lucid methods of teaching supplement by self developed conceptual tricks and techniques.
5. NCA Academy -
Located at S.C.O. 71 sector 91 , Mohali on the Mohali Landran Road (near BSF Campus). It is well connected by road from chandigarh and other places. It is at a distance of 8.5 kms from railway station. 12.6 kms from the airport. The hostel and The campus is at a 10 min drive for which a bus is there.
FAQs
1. Is CDS coaching essential to crack the examination?
Self-study is a possibility, but CDS coaching offers organized direction, qualified mentoring, and priceless insights that greatly increase your chances of success.
2. Is there a minimum age requirement to take the CDS exam?
Yes, depending on the particular academy and service branch you are looking for, the age restriction changes. Candidates should typically be between the ages of 19 and 25.
3. Can women apply for the CDS examination?
Yes, women can apply for CDS exams, but they are eligible only for certain non-technical branches in the Indian Army, Navy, and Air Force.
4. What are the subjects covered in CDS coaching?
CDS coaching covers mathematics, English, general knowledge, and physical fitness, ensuring comprehensive preparation.
5. How can I choose the best CDS coaching center for my needs?
Research online, read reviews, and ask for recommendations to identify the coaching center that aligns with your goals and requirements.
Read More :