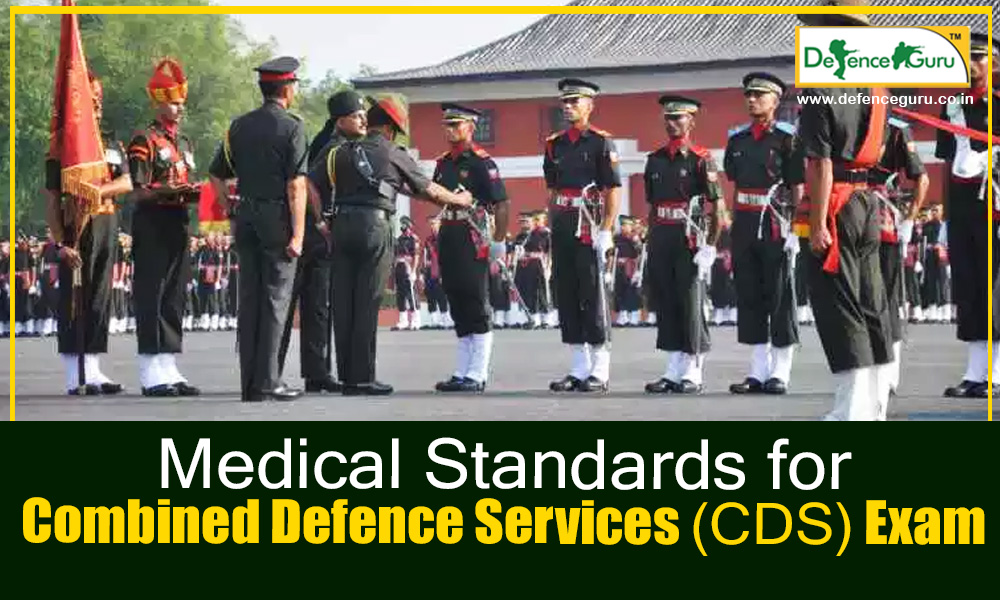 REJOICE VICTORY WITH ABSOLUTE FITNESS
Greater the preparation, quicker the success! The idea has been revolving around the globe for ages. It's time to take it seriously, or should I say take 'greater' seriously. For CDS aspirants, the word 'greater' is synonymous to 'wholesome'. Yes, wholesome, because we work on 3 tiers- academics+ personality+ physical fitness.
Physical fitness is today's highlight. Combined Defence Service (CDS) examination is a sub- strata of UPSC, which marks your entry into the Indian Military Academy, Indian Air Force Academy, Indian Navy Academy and Officer's Training Academy. Nationally conducted twice a year, CDS is hailed as an ultimate career choice of the Indian Defence aspirants.
Medical Standards for CDS
With great prestige come great standards. Apart from written exam and interview, CDS aspirants must have certain medical standards. So here is an easy- to- comprehend list of the medical criteria for CDS:
Board of Medical Service Officer shall conduct a medical test of the shortlisted candidates. Women applicants will be examined separately by a female doctor, a gynaecologist. Once the officers declare you fit, the stage is all yours!
MAJOR CRITERIA:
Permanent tattoos can be present only on the inner face of forearm. Relaxation may be given to tribal candidates
No sign of weak constitution of body, overweight or other bodily defects
Presence of good physical+ good mental health
EXCLUSIVE CRITERIA:
Take a piece of suggestion, get yourself medically examined, especially in context to refractory error of eyes, fungal infection, wax in ears etc. prior to SSB interview.
You must be imagining Army uniform, Air Force jets and naval cruise when CDS is mentioned. But before all these luxuries you will have to face severe academy training in harsh weather, grim conditions, and remote areas. Hence, any bodily limitation will be harmful. To be clear of this candidate must ensure that:
He can undergo training and cope up with the physical and mental requirements of Armed Forces
He is free from any such disease that could lead to hospitalization or loss of time on duty
He is healthy enough to adjust to military life, even without medical facility
He is bereft of any contagious disease that could harm other people
Height:
| | |
| --- | --- |
| Minimum acceptable height for male | 157.5 cm (157 cm for Navy and 162.5 cm for Air Force) |
| Minimum acceptable height for female | 152 cm |
| Relaxation for Gorkhas and North Eastern candidates | 5 cm less |
| Relaxation for Lakshdweep candidate | 2 cm less |
Desired weight as per height for Army and Navy (for men):
Height (in cm)

Weight(in kg)

| | | |
| --- | --- | --- |
| 18 years | 20 years | 22 years |

152

155

157

160

162

165

168

170

173

175

178

180

183

185

188

190

193

195
Desired weight as per height for Army and Navy (for women):
Height (in cm) (without shoes)

Weight(in kg)

| | | |
| --- | --- | --- |
| 20 years | 25 years | 30 years |

148

150

153

155

158

160

163

165

168
For Air Force candidates the weight will be ± 10% of the average weight given above.
Visual standard: minimum 6/9 distant vision in one eye and 6/9 in another eye
Head and neck: There must be no muscolo- skeletal deformities such as would interfere in usage of cervical rib, or safety gear.
Skin: no sign of vitiligo, scars, vascular malformations chronic skin diseases.
Chest: absence of musculoskeletal diseases is must
Limbs and spine: no hyper flexible or restricted movements of joints. Add to that thare should be no Cubitus valgus, Cubitus varus, genu recurvatum, deformities of hands and feet, kyphosis, scoliosis, congenital deformities, like spina bifida etc.
Abdomen or reproductive system: Candidates must see to it that they have no hernia, organomegaly, vascular deformities, renal deformities, gall stones, renal tones etc. There must be no deformities of reproductive system.
To end, become CDS- ready with a fully packed preparation. Dear candidates to safeguard your selection in CDS mould yourself to the best both academically as well as physically and success will be on your side!
Read More About
Medical Standards for NDA 2019
Medical Standards for Airforce X and Y group