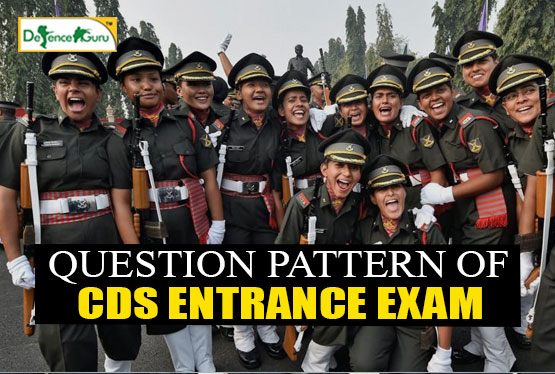 Approach without complete information is futile.
A warrior never goes blank- minded, he gathers prior knowledge before keeping his moves. Following the same pattern an aspirant of CDS would like to know all about the exam for which he is about to appear so here is some handy information about the same:
Combined Defence Services (CDS) is a national level competitive exam held twice a year to admit capable candidates into one of the 4 fields: Indian Military Academy, Officer's Training Academy, Indian Naval Academy and Air Force Academy.
There are 2 phases of the entrance procedure: UPSC written exam followed by SSB training. The written exam is scheduled for 2 hours and is objective in nature. Various subjects included in the curriculum of CDS written exam includes Mathematics, English and General Awareness.
Each subject is of 100 marks with 120 questions while there is 1/3 negative marking for wrong answers. OTA is exceptional as there are only 2 subjects: English and General Knowledge with same count of marks and questions.
Coming on to the question pattern let me simplify the topics for you:
ENGLISH- Questions in English range from sentence correction, jumbled sentence, reading comprehension & finding errors and omissions, to the right use of English words, tenses and verbs.
The question paper is framed in such a way so as to examine the candidate's basic understanding of English+ knowledge and ability of common usage of the language.
MATHEMATICS- C.D.S mathematics is elementary and hence does not dig deep rather questions fundamental concepts only such as: arithmetic, geometry, algebra, trigonometry, statistics, and menstruation.
The level is of matriculation unlike other competitive exams which are based on graduation level.
GENERAL KNOWLEDGE- Commonly known as G.K, this subject includes currents happenings, business, politics, sports, entertainment, Indian economy, books and authors name.
This area assesses your everyday knowledge of global activities, your education standard and your updated information graph about the world, its history- geography and various phenomenon.
Add to the above here is a secret tip for you: do go through previous year question papers and take mock tests for complete information. You can log in to www.defenceguru.co.in to check last year papers as well as grab best study material.
Read More About
Detail About CDS Exam Preparation
Qualifying Marks for CDS written Exam
Medical Standards for CDS Exam