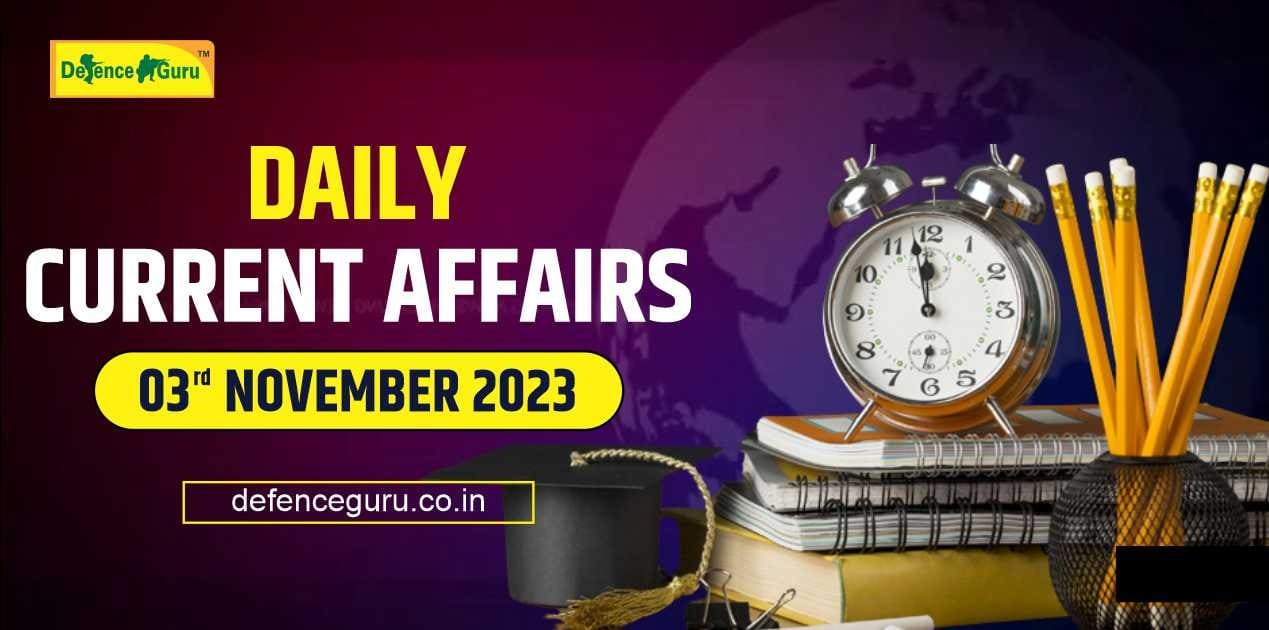 In an ever-evolving world, staying updated with the latest news and events is of paramount importance. Today, we bring you the Daily GK Update for the 03rd of November 2023, providing a comprehensive overview of the most significant current affairs from around the globe.
Staying updated with the 03rd November Current Affairs 2023 is essential for students who are preparing for NDA, CDS, AFCAT, MNS & Other Defence exams, as it forms an important part of the syllabus.
The US military has set its latest Minuteman III missile launch to "showcase" its nuclear capability
The Minuteman III, an intercontinental ballistic missile, demonstrates 60 years of continuous advancement in U.S. nuclear deterrence.
The United States military recently conducted a Minuteman III missile launch, showcasing its nuclear capability. The Minuteman III is a vital component of the nation's strategic deterrent forces, managed by the Air Force Global Strike Command.
India And UAE Sign MoU To Strengthen Educational Ties
India and UAE sign an MoU to facilitate academic collaboration between higher education institutions in both countries, which is the first of its kind in the Gulf Cooperation.
National Skill Development Corporation of India and EFS Facilities Services Group (EFS), a Facilities Management Firm based in the UAE, have signed a Memorandum of Understanding (MoU) to promote Skilled International Workforce Mobility (IWM) for Indian nationals, with a specific focus on the GCC countries.
NSDCI and EFS will jointly develop courses for the Skill India Digital App.
BOB Appoints 'Kadgatoor Sheetal Venkatesmurt' As Head Of Digital Channels

As Akhil Handa, the head of digital lending, departs from Bank of Baroda (BOB), the bank has appointed Kadgatoor Sheetal Venkatesmurt to assume the responsibility of digital lending.
Bank of Baroda (BOB) is facing a significant change in its digital leadership as Akhil Handa, the head of digital lending, has decided to leave the organization.
India vs Sri Lanka: Mohammed Shami becomes India's leading wicket taker in World Cup history
Mohammed Shami's exceptional five-wicket haul propelled him to become India's top wicket-taker in World Cup history with 45 wickets, surpassing Zaheer Khan and Javagal Srinath.
In a thrilling showdown between India and Sri Lanka during the 2023 ODI World Cup match at Mumbai's iconic Wankhede Stadium, Mohammed Shami etched his name in the annals of cricket history.
Eminent Writer T. Padmanabhan Receives Prestigious Kerala Jyothi Award
Kerala government has selected renowned writer T. Padmanabhan as the recipient of the prestigious Kerala Jyothi award.
Kerala government has selected renowned writer T. Padmanabhan as the recipient of the prestigious Kerala Jyothi award.

Sarbananda Sonowal to launch 1st International Cruise Liner in Mumbai
Union Minister of Ports, Shipping and Waterways, Sarbananda Sonowal will launch the domestic sailing of the first International Cruise Liner 'COSTA SERENA' in India at Mumbai.
Costa Cruises is expected to carry approximately 45,000 passengers in its next 2 months voyages.
Such cruise initiatives are part of 'Dekho Apna Desh'.
Rajnath Singh inaugurates 'India Manufacturing Show' in Bengaluru

Raksha Mantri inaugurated the event in Bengaluru, Karnataka on November 02, 2023.
The show has been jointly organised by Laghu Udhyog Bharti & IMS Foundation and supported by Department of Defence Production, Ministry of Defence.
The theme of the event is 'Make in India, Make for the World'.
Rajnath Singh also underlined the ability of small industries to adapt to the requirement changes.
28 Countries sign world's 1st agreement to contain risks associated AI

India, along with 27 other countries and the European Union have signed world's first agreement on artificial intelligence (AI) safety at a meeting in the United Kingdom.
The agreement pledges to work together to assess the risks associated with artificial intelligence.
The agreement will be known as the Bletchley Declaration.

Stay informed on the latest International, National, Sports, Economy, schemes, appointments, and current affairs updates with the comprehensive coverage provided by Defence Guru Current Affairs. Our platform is your reliable source for daily updates and insights into the dynamic world of current affairs. Keep yourself up to date with us!

Read Also:
02nd November 2023 Current Affairs
01st November 2023 Current Affairs