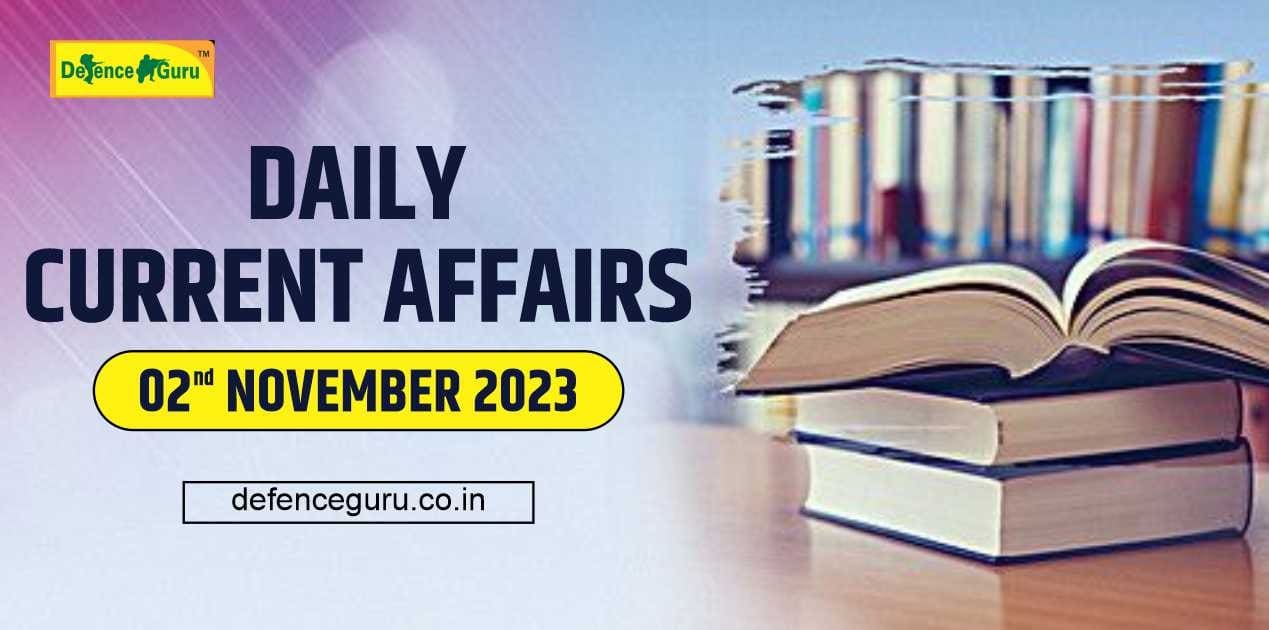 In an ever-evolving world, staying updated with the latest news and events is of paramount importance. Today, we bring you the Daily GK Update for the 02nd of November 2023, providing a comprehensive overview of the most significant current affairs from around the globe.
Staying updated with the 02nd November Current Affairs 2023 is essential for students who are preparing for NDA, CDS, AFCAT, MNS & Other Defence exams, as it forms an important part of the syllabus.
GoI approves $25 mn investment to Global Solar Facility under ISA
International Solar Alliance's Global Solar Facility is set to receive a capital contribution of $35 million dollars.
Government of India is considering a $25 million investment as capital contribution to the Global Solar Facility.
ISA to provide $10 million to the GSF.
Amidst a $12.5 trillion global renewable energy investment gap, the GSF steps up to bridge the divide.
UNESCO: Kozhikode as City of Literature; Gwalior as City of Music
The UNESCO has designated Kozhikode in Kerala as the City of Literature in its latest List of Creative Cities Network. Besides Kozhikode, Gwalior has also found a place in the Network, as the City of Music.
55 cities have been designated by the UNESCO Director-General Audrey Azoulay in seven creative fields like crafts and folk art, design, film, gastronomy, literature, media arts and music.
Indian Rly. to operate Bharat Gaurav train to North Eastern States
IRCTC's special tour offering to India's North East covering Assam, Arunanchal Pradesh, Nagaland, Tripura and Meghalaya.
On November 16, 2023 from Delhi Safdarjung Railway Station on a 14 nights/15 days itinerary, the train will depart.
Deluxe AC Tourist Train with AC I, AC II & AC III classes will accommodate 204 tourists.
PM participates in program marking culmination of Meri Maati Mera Desh
Lays foundation stone for Amrit Vatika and Amrit Mahotsav Memorial developed from soil collected from every part of country.
Presents Azadi Ka Amrit Mahotsav Awards to top 3 performing States or Union Territories - 1. Jammu and Kashmir, 2. Gujarat and 3. Haryana and Rajasthan.
Launches 'Mera Yuva Bharat' - MY Bharat platform.

David Willey to retire from international cricket after World Cup
England all-rounder David Willey announced that he will retire from international cricket after the end of the ongoing World Cup and insisted that his team's underwhelming performance in the showpiece has not influenced his decision.
Willey's decision has come a week after England Cricket Board excluded him from the list of cricketers who were offered central contracts for the 2023-24 season.
Modi - Hasina to jointly inaugurate 3 Indian-assisted development work
Prime Minister Narendra Modi and his Bangladesh counterpart Sheikh Hasina will jointly inaugurate three Indian-assisted development projects.
The three projects are the Akhaura-Agartala Cross-Border Rail Link; Khulna-Mongla Port Rail Line; and Unit-II of the Maitree Super Thermal Power Plant.
Jaishankar meets Portugal PM; discusses contemporary challenges
External Affairs Minister S Jaishankar met with Portuguese Prime Minister Antonio Costa and appreciated his guidance for the further development of India-Portugal ties.
Jaishankar, who arrived here on the first leg of his four-day visit to Portugal and Italy with an aim to further bolster India's bilateral ties with two key European nations, appreciated Portugal's support for India-EU ties.
Saima Wazed to lead World Health Organization's South-East Asia Region

Bangladesh's Saima Wazed has been nominated to lead the World Health Organisation South-East Asia Region.
Member countries voted to nominate her as the next Regional Director of the United Nation's health body, according to WHO South East Asia Region Office.
Wazed is a clinical psychologist and the daughter of Bangladesh Prime Minister Sheikh Hasina.

Goa High Court orders for Tiger Reserve in Mhadei Wildlife Sanctuary
After the state government failed to notify the Mhadei Wildlife Sanctuary as a tiger reserve within the three-month deadline set by the high court of Bombay at Goa, the Goa Foundation approached the high court seeking a direction to issue notice under the Contempt of Courts Act.
After the judgement, the state government sought relief from the Supreme Court, which was not granted.
RBI launches two key surveys for monetary policy inputs.
The Reserve Bank of India has announced the introduction of two crucial surveys - the 'Inflation Expectations Survey of Households' and the 'Consumer Confidence Survey.'
They're aimed at gathering essential data for the upcoming bi-monthly monetary policy.
The 'Inflation Expectations Survey of Households' is designed to capture subjective assessments on price movements and inflation.
SEBI reconstitutes panel on alternative investment policy
The Securities and Exchange Board of India (SEBI) has reconstituted its alternative investment policy advisory committee with 25 members to advise on issues impacting the development of the Alternative Investment Fund (AIF) space.
The committee is chaired by Infosys co-founder N R Narayana Murthy and includes members from Sebi, the Ministry of Finance, and industry associations.
Innovative Drug Formulation Offers New Hope for Scorpion Sting Patient

The new drug comprising of low doses of commercial equine anti-scorpion antivenom for inhibiting the Indian red scorpion venom-induced toxicity and associated symptoms.
The scientists from the Institute of Advanced Study in Science and Technology, under Department of Science and Technology and researchers from Tezpur University & NIELIT, Guwahati have invented it.
Stay informed on the latest International, National, Sports, Economy, schemes, appointments, and current affairs updates with the comprehensive coverage provided by Defence Guru Current Affairs. Our platform is your reliable source for daily updates and insights into the dynamic world of current affairs. Keep yourself up to date with us!

Read Also:
01st November 2023 Current Affairs
31st October 2023 Current Affairs