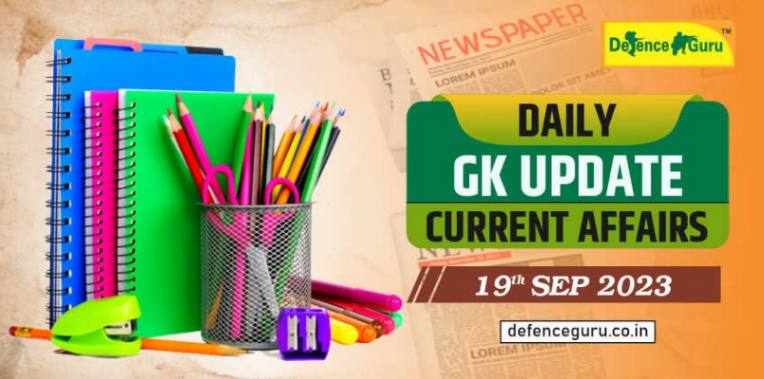 Defence Guru is a dedicated platform to provide Daily Current Affairs Updates to Defence Aspirants. Our Daily Current Affairs Update covers National Affairs, International Affairs, Economy, Sports, Awards and Honours, Books, Appointments, etc. You can follow us for regular current affairs updates. Current Affairs cover almost 15-20% of NDA, CDS, AFCAT, and MNS Exam syllabus. That's why It becomes very important for Defence Aspirants to cover Daily Current Affairs Updates. Our Current Affairs Update is accurate, reliable, and useful for every defence exams and other exams in India.
Current Affairs

National Affairs

Recently, Udhampur railway station of Jammu and Kashmir has been renamed after martyr 'Captain Tushar Mahajan'.

Jammu and Kashmir's Udhampur railway station has now been renamed as 'Martyr Captain Tushar Mahajan Railway Station' after Captain Tushar Mahajan who lost his life while trying to protect his fellow Army personnel during a gunfight with terrorists.

Recently, Prime Minister Narendra Modi inaugurated the expansion of the 'Delhi Airport Metro Express Line'.

Prime Minister Narendra Modi inaugurated the extension of the Delhi Airport Metro Express line from Dwarka Sector 21 to a new metro station 'YashoBhoomi Dwarka Sector 25'.

ICCR has organized 'Vaishali Festival of Democracy' in the state of Bihar.

The Indian Council for Cultural Relations (ICCR) organized the Vaishali Festival of Democracy at Nalanda University in Bihar.
The festival was held on International Democracy Day to showcase India's democratic traditions.

Cabinet approves 30% reservation to women in Lok Sabha and State Assemblies.

Union Cabinet has approved reservation for women in Lok Sabha and State Assemblies.
The women's reservation bill seeks to reserve 33 percent of seats in the Lok Sabha and state legislative assemblies for women.

International News

Canada has expelled Indian High Ranking Diplomat.

The Canadian Prime Minister has accused the Indian Government of killing of the Khalistan Liberation Force Leader.
After the accusation, the Canadian Government has decided to expel Indian Diplomat also.

Awards and Honours

Recently, Vice President Jagdeep Dhankhar has honored 84 artists with 'Sangeet Natak Akademi Amrit Puraskar '.

Vice President Jagdeep Dhankhar presented the one-time Sangeet Natak Akademi Amrit Awards to 84 artists from varied fields of performing arts. About Sangeet Natak Akademi Amrit Awards: It is a national honor bestowed on performing artists as well as teachers and scholars in the field of performing arts.

Sports

Recently, Indian javelin thrower Neeraj Chopra stood second in 'Diamond League 2023' with a throw of 83.80 meters.

Olympic champion Neeraj Chopra finished second in the Diamond League champion's title with the best throw of 83.80 meters in Eugene.
Read Also:
18th September 2023 Current Affairs
16th September 2023 Current Affairs