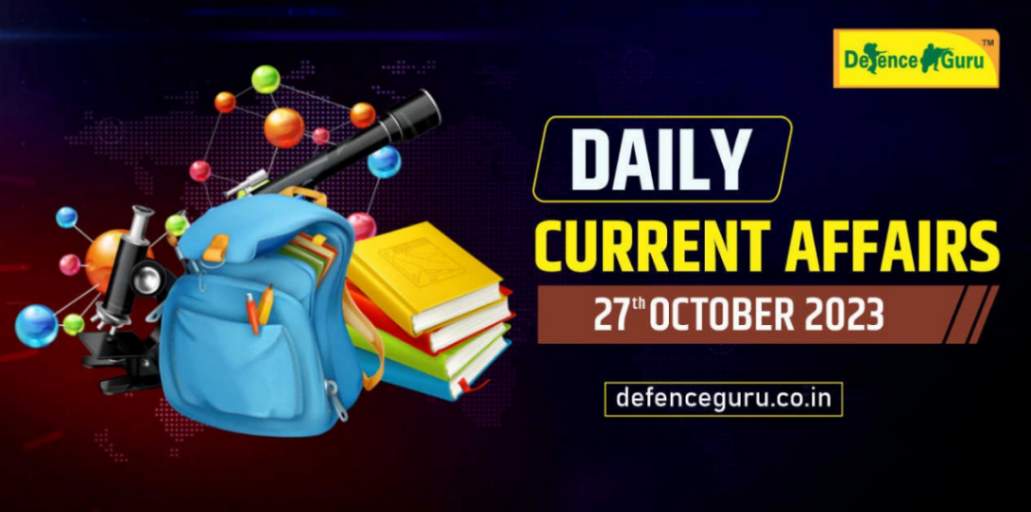 In an ever-changing world, remaining informed about the latest news and events is of utmost significance. Today, we present the Daily GK Update for the 27th of October 2023, offering a thorough glimpse of the most notable current affairs worldwide.
Being well-versed with the current affairs of October 27, 2023, is imperative, especially for students gearing up for NDA, CDS, AFCAT, MNS, and other defense examinations, as it constitutes a crucial segment of the syllabus. Stay tuned for the latest updates.
Olympian fencer Bhavani Devi defends National Games gold
Olympian fencer CA Bhavani Devi, representing Tamil Nadu, defended her National Games god medal in the women's sabre individual event after beating S Sowmiya of Kerala 15-5 in the final.
Devi had won gold in the same event in the 2022 National Games in Gujarat.
Shiksha Ballouria of Himachal Pradesh and Jagmeet Kaur of Punjab won the bronze medals.

Rajnath Singh inaugurated the two-day Air Force Commanders' Conference

It has been commenced in New Delhi.
Defence minister emphasised on the need to enhance operational preparedness and highlighted the importance of joint planning & execution of operations by the three services.
He praised the stellar role played by the IAF during the recent Humanitarian Assistance and Disaster Relief missions in Himachal Pradesh, Sikkim and other flood affected areas.

'Virupaaksha': Indigenous advanced radar
IAF signs contract with Indian manufacturer for Automatic Weather Stations procurement
Working on upgrading its fleet of its Russian-origin Su-30 MKI combat aircraft, the Indian Air Force is planning to equip them with an indigenous advanced radar named 'Virupaaksha'.
Virupaaksha is one of the names of the God Mahadev, worshipped by Hindus living across the world.
Special Forces Training School gets cutting edge vertical wind tunnel

The Special Forces Training School (SFTS) at Bakloh, Himachal Pradesh, gets Indian Army's first Vertical Wind Tunnel.
The state-of-the-art wind tunnel is set to refine the Combat Freefall skills of armed forces personnel.
It creates a column of air at specific velocities, orchestrating different CFF conditions within controlled environment.

Mike Johnson elected new speaker of US House of Representatives

Republican Congressman from Louisiana Mike Johnson has been elected as the Speaker of the House of Representatives.
The position of Speaker of the House of Representatives is one of the most powerful political chairs in the country and is third in the line of succession after the US President.
Kevin McCarthy was unceremoniously voted out of the seat for the first time in US history.
Iceland: One day strike to protest against gender discrimination
Iceland, known for its gender equality, witnessed a one-day strike by women, including Prime Minister Katrin Jakobsdóttir, to protest gender discrimination.
Despite topping global gender gap rankings for 14 consecutive years, two major issues persist:
Gender pay gap, where women earn 21% less than men in some professions
Gender-based violence affects over 40% of women.

IRDAI forms panel to simplify insurance policy wordings

The Insurance Regulatory and Development Authority of India has constituted a 12-member committee for simplification of insurance policy wordings.
The eight-member committee has been asked to submit its recommendations within 8-10 weeks.
The panel has been asked to examine the existing insurance policy wording and suggest 'simple and plain' wording that is legally correct and enforceable.

Piyush Goyal to attend G-7 Trade Ministers' Meeting in Osaka, Japan

Union Commerce and Industry Minister Piyush Goyal will attend the Group of Seven Trade Ministers' Meeting in Osaka, Japan from 28th to 29th of this month.
Under its Presidency, Japan has invited India along with other invitee countries including Australia, Chile, Indonesia, and Kenya to participate in the outreach program.

Stay informed on the latest International, National, Sports, Economy, schemes, appointments, and current affairs updates with the comprehensive coverage provided by Defence Guru Current Affairs. Our platform is your reliable source for daily updates and insights into the dynamic world of current affairs. Keep yourself up to date with us!

Read Also:
26th October 2023 Current Affairs
25th October 2023 Current Affairs