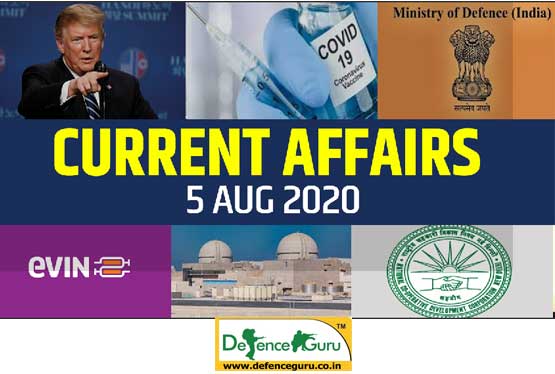 CURRENT AFFAIRS 5 AUGUST 2020
1-Union Minister launches SahakarCooptube NCDC Channel
The SahakarCooptube NCDC Channel has been launched by the Union Minister of Agriculture & Farmers' Welfare Shri Narendra Singh Tomar. The channel is a new initiative by National Cooperative Development Corporation (NCDC).
During the launch event, the minister also rolled out guidance videos made by NCDC on 'Formation and Registration of A Cooperative' for 18-different states in Hindi and regional languages. These videos have been released to strengthen and deepen the major measures taken by Government of India to promote and form 10,000 Farmer Producer Organizations (FPOs)
2-UAE first gulf nation to produce nuclear energy
United Arab Emirates (UAE) is the first Arab Nation to produce the nuclear energy after the Unit 1 of Abu Dhabi-based Barakah nuclear power plant became operational. The unit is now using the nuclear fuel for production of energy under the 'criticality' phase. The plant will begin commercial operations later this year
3-eVIN to provide immunization services amid Coronavirus Outbreak
The Electronic Vaccine Intelligence Network (eVIN) will ensure to provide essential immunization services amid the COVID-19 pandemic. The announcement was made by Union Ministry of Health and Family Welfare. eVIN provides real-time data on vaccine stocks as well as ensure optimum storage temperatures for all cold chain points.
4-US President Trump states TikTok to be out of business if not sold by 15 September
US President Donald Trump recently made statement that TikTok will turn out of business in the US if it is not sold by 15th September. The President stated that the app will be closed down on September 15 if it is not acquired by Microsoft or any other firm. The operations of TikTok will be banned through an executive order.
5-MoD releases draft Defence Production and Export Promotion Policy 2020; aimed at $5 bn export by 2025
On August 3, 2020, the Ministry of Defence (MoD) publicized a draft 'Defence Production & Export Promotion Policy (DPEPP) 2020 for public feedback by August 17, 2020 after which the policy would be promulgated by the MoD. The policy aims to achieve a manufacturing turnover of $25 bn or Rs 1,75,000crore, including exports of $5 bn or Rs 35,000 Crore in aerospace and defence goods and services by 2025.
ii.The DPEPP 2020 is MoD's overarching guiding document for providing significant thrust to defence production capabilities for self-reliance and exports.
iii.The Department of Defence Production (DDP) will be the nodal department for coordination on various components of the DPEPP 2020 and to achieve the objectives set in this Policy.

About Ministry of Defence (MoD):
Union Minister– Rajnath Singh
Minister of State (MoS)– ShripadYessoNaik