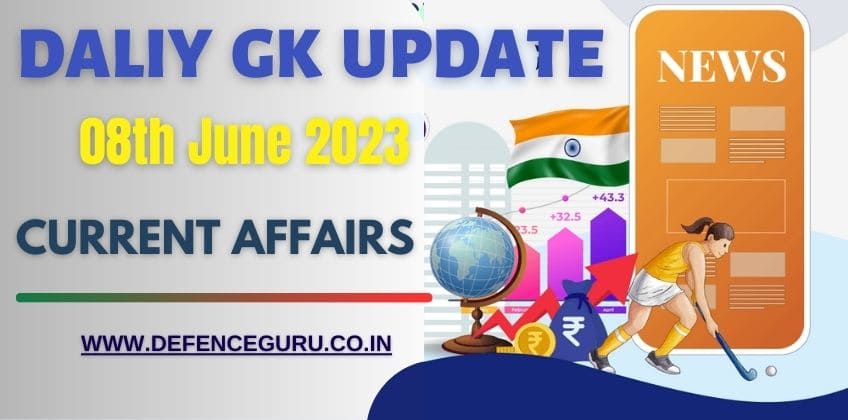 Defence Guru is a dedicated platform to provide DailyCurrent Affairs Updates to Defence Aspirants. Our Daily Current Affairs Update covers National Affairs, International Affairs, Economy, Sports, Awards and Honours, Books, Appointments, etc. You can follow us for regular current affairs updates. Current Affairs cover almost 15-20% of all defence exam syllabus. That's why It becomes very important for Defence Aspirants to cover Daily Current Affairs Updates. Our Current Affairs Update is accurate, reliable, and useful for every defence exams and other exams in India.
Current Affairs

National Affairs

The PM launches two schemes on world environment day.

Prime Minister Narendra Modi has launched two schemes i.e. MISHTI and Amrit Dharohar Yojna on the occasion of world environment day.
MISHTI (Mangrove Initiative for Shoreline Habitats & Tangible Incomes) aims at protecting mangrove forests.
Amrit Dharohar is a scheme that will be implemented over the next three years to encourage the optimal use of wetlands and enhance biodiversity, carbon stock, eco-tourism opportunities and income generation for local communities.

Joint Military Exercise Ekatha begins in the Maldives.

Joint Military Exercise 'Ekatha' between India and Maldives began in Maldives.
Marcos (Marine Commandos) are participating from the Indian side and Maldives is being represented by Maldives National Defence Force.

Cyclone 'Biporjoy' is likely to make landfall on the western coast of India.

A very severe cyclone 'Biparjoy' is likely to make landfall on the western coast of India.
This cyclone has been named 'Bangladesh'.

GalaxEye Space is going to launch the World's First Multi Sensor Earth Observation Satellite.

'Drishti' the World's First Multi Sensor Earth Observation Satellite is going to be launched by GalaxEye Space.
GalaxEye Space is a startup incubated by IIT Madras.

A new species of Frog has been discovered in Arunachal Pradesh.

The new species of Frog has been named as 'Patkai Green TreeFrog'.
This frog was discovered in the Patkai Hills of Arunachal Pradesh.

Uttar Pradesh Government launches Nand Baba Milk Mission Scheme.

Nand Baba Milk Mission will provide facilities to milk sellers to sell their milk at reasonable prices.

International Affairs

NATO is going to hold the Air Defender 2023 Exercise.

NATO (North Atlantic Treaty Organisation) is going to hold the largest Air Defence Exercise 'Air Defender 2023' exercise.
More than 250 aircrafts from25 countries will participate in this exercise.

Israel conducts the first test of autonomous flying taxis.

Israel has carried out a test of an autonomous flying vehicle that can carry passengers and heavy cargo.

Economy

SIDBI has signed a pact with HDFC Bank to provide financial solutions to MSMEs.

Small Scale Development Bank of India (SIDBI) has signed a pact with HDFC Bank to

The Government of India to approve a third revival package of 89,000 Crore for BSNL.

The Union Cabinet on Wednesday approved the third revival package for Bharat Sanchar Nigam Ltd (BSNL) with a total outlay of ₹ 89,047.82 crore that includes an allotment of 4G/5G spectrum through equity infusion

Obituary

Former Doordarshan Anchor Gitanjali Aiyar passes away at the age of 71 years.

71 years old former anchor of Doordarshan TV has passed away.
She was famous for her show 'Doordarshan Prime Time'.

Important Days

World Food Day- 7th June

Theme- Food Standards Save Lives.
Slogan- Food Safety is Everyone's Business.
Read More:
Daily GK Update - 07th June 2023 Current Affairs
Daily GK Update - 06th June 2023 Current Affairs