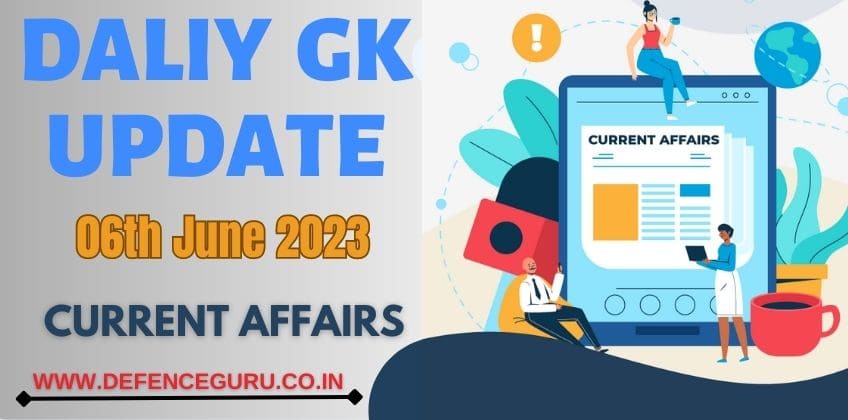 Defence Guru is a dedicated platform to provide DailyCurrent Affairs Updates to Defence Aspirants. Our Daily Current Affairs Update covers National Affairs, International Affairs, Economy, Sports, Awards and Honours, Books, Appointments, etc. You can follow us for regular current affairs updates. Current Affairs cover almost 15-20% of all defence exam syllabus. That's why It becomes very important for Defence Aspirants to cover Daily Current Affairs Updates. Our Current Affairs Update is accurate, reliable, and useful for every defence exam and other exams in India.
Current Affairs

National Affairs

IIT Madres has been named the Top institute in India in NIRF.

Madras tops the NIRF Rankings 2023 as the best engineering college, followed by IIT Delhi and IIT Bombay. The Indian Institute of Science (IISc) Bengaluru secures the top position in the research category.

To implement the right to the internet, Kerala is going to provide high-speed internet to every citizen.

Kerala is going to implement Kerala Fibre Optical Network to provide high-speed internet connectivity in Kerala.
Kerala is the first state in India to provide right to the Internet to its citizen.

Government sets up an institute for the safety of dams during earthquakes.

The government has set up a national center for earthquake safety of dams in Jaipur Rajasthan.

Lavender Festival was organized in Jammu and Kashmir.

Lavender Festival was organized in the Bhaderwah District of Jammu and Kashmir.
Bhaderwah is also known as the 'Lavender Capital of India.'

International Affairs

After a gap of 7 years, Iran is going to open an Embassy in Riyadh.

Iran and Saudi Arabin had closed down their embassies in 2016. Since then there was no diplomatic relations between the two countries.
A few months ago, both countries ended their diplomatic stand-off and re-started diplomatic relations.

Economy

RBI's Income increases by 47.06% according to RBI Annual Report.

RBI has recently released its annual report for 2022-23.
According to RBI Annual Report 2022-23, RBI's Income increased by 47.06%.
Readl GDP Growth Rate for 2023 is 7% and FDI equivalent to 46 billion $ came into India.

Obituary

Gufi Paintal, one of the lead actors in the Mahabharat serial passed away at the age of 78.

Gufi Paintal is known for his role of 'Shakuni' in the Mahabharat Serial.

Sports

Dhanush Shrikant wins Gold Medal in Junior Shooting Worldcup.

Dhanush Shrikant won Gold Medal in 10 meters Air Rifle in International Shooting World Cup at Suhl, Germany.

Shot Putter Siddarth wins Asian Unter-20 Title.

Shot Putter Siddarth has won a gold medal in the Under 20 Athletics Championship.

Khelo India University Games concluded in Uttar Pradesh.

Punjab University topped in Khelo India University Games.
Guru Nanak Dev University got 2nd position and Jain University got the 3rd position.
Read More:
Daily GK Update - 05th June 2023 Current Affairs
Daily GK Update - 03rd June 2023 Current Affairs