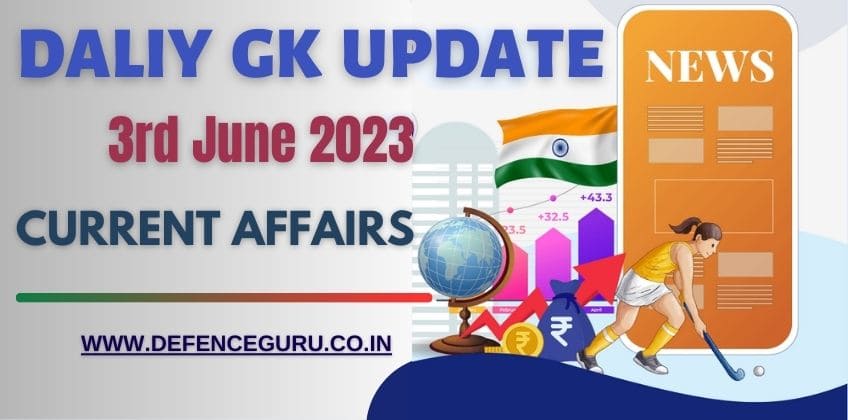 Defence Guru is a dedicated platform to provide DailyCurrent Affairs Updates to Defence Aspirants. Our Daily Current Affairs Update covers National Affairs, International Affairs, Economy, Sports, Awards and Honours, Books, Appointments, etc. You can follow us for regular current affairs updates. Current Affairs cover almost 15-20% of all defence exam syllabus. That's why It becomes very important for Defence Aspirants to cover Daily Current Affairs Updates. Our Current Affairs Update is accurate, reliable, and useful for every defence exam and other exams in India.
Current Affairs

National Affairs

Minister for Housing and Urban Affairs Minister Hardeep Singh Puri launches PM- SVANidhi App.

PM SVANidhi App will facilitate loan applications by street vendors.
This app was launched on the completion of 3 years of the PM SVANidhi Scheme.
The Scheme is available for beneficiaries belonging to only those States/UTs which have notified Rules and Scheme under the Street Vendors (Protection of Livelihood and Regulation of Street Vending) Act, 2014.

India successfully tests MRBM Agni-1 Missile.

DRDO has successfully tested Medium Range Ballistic Agni-1 Missile.
MRBM is a nuclear-capable ballistic missile that has a range of 700 km.

News Species of Eel have been discovered in Odisha.

The Zoological Survey of India (ZSI) recently made an exciting discovery in the waters of Odisha's Ganjam district. Scientists from ZSI identified a previously unknown species of eel, which has been named Pisodonophis Kalinga.

Union Jal Shakti Ministry has launched Swachh Jal Se SUraksha Campaign.

The Union Minister for Jal Shakti recently unveiled the report detailing the advancements made during the Jal Jeevan Mission: Swachh Jal se Suraksha (SJSS) Campaign.
The primary objective of the campaign is urging the States and Union Territories (UTs) to prioritize and actively engage in water quality monitoring and surveillance endeavours.

New Liberation War Gallery Inaugurated at Indian Cultural Centre in Dhaka.

New Liberation War Gallery Inaugurated at Indian Cultural Centre in Dhaka: The 1971 Liberation War Gallery was inaugurated at the Indian Cultural Centre of the High Commission of India in Dhaka.

International Affairs

NATO conducts Arctic Military Challenge Exercise 2023.

This exercise was conducted by NATO (North Atlantic Treaty Organisation) to protect its newest member Finland.
The North Atlantic Treaty Organization, also called the North Atlantic Alliance, is an intergovernmental military alliance between 31 member states – 29 European and two North American.

Dennis Francis has been elected president of UNGA for the 78th session.

Trinidad and Tobago's Ambassador Dennis Francis was elected as the next president of the U.N. General Assembly.

Latvian Parliament elects foreign minister Edgars Rinkevics as the new president.

The 100-seat Saeima legislature elected Edgars Rinkevics, the country's top diplomat since 2011, as president to serve for a four-year term.

Economy

TCS, Reliance, and Jio's top best Indian brands 2023 ranking.

TCS, Reliance, and Jio top best Indian brands 2023 ranking: Interbrand has declared that headquartered technology giant TCS and India's most valuable company Reliance Industries have topped its list.

Important Days

World Bicycle Day 2023- 3rd June

Theme- The theme for this year's World Bicycle Day is "Riding Together for a Sustainable Future."

Awards and Honours

Department of Animal Husbandry and Fisheries, Chandigarh Awarded Skoch SILVER Award 2023.

The Department of Animal Husbandry and Fisheries, Chandigarh got Skoch SILVER Award 2023 for e-Governance for the computerization of medical records of livestock being treated by the department.

Sports

Indian Hockey Team has won Hockey Junior Asia Cup 2023.

Indian Junior Hockey Team defeated Pakistan to win Hockey Junior Asia Cup.
Indian hockey has defeated arch-rivals Pakistan in the final of the Men's Junior Asia Cup 2023 in Salalah, Oman by 2-1.

Shalini Singh becomes the first female NCC cadet to complete the mountaineering course

Shalini Singh made history as she completed the mountaineering course in the Himalayan area of Uttarakhand as the country's first female NCC cadet.
Read More:
Daily GK Update - 02nd June 2023 Current Affairs
Daily GK Update - 01st June 2023 Current Affairs