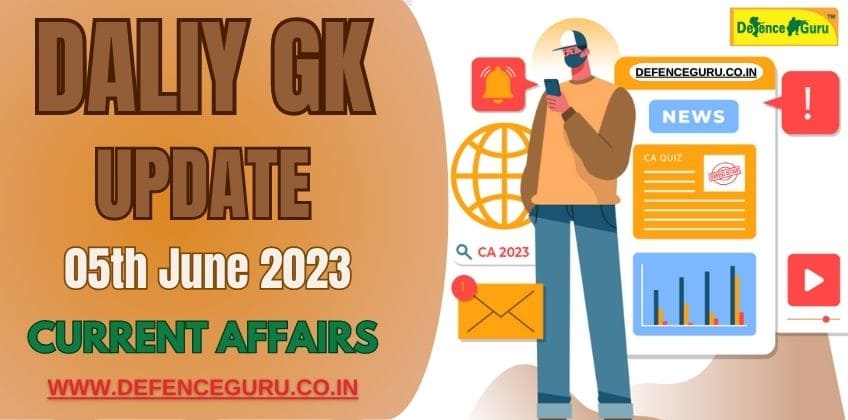 Defence Guru is a dedicated platform to provide DailyCurrent Affairs Updates to Defence Aspirants. Our Daily Current Affairs Update covers National Affairs, International Affairs, Economy, Sports, Awards and Honours, Books, Appointments, etc. You can follow us for regular current affairs updates. Current Affairs cover almost 15-20% of all defence exam syllabus. That's why It becomes very important for Defence Aspirants to cover Daily Current Affairs Updates. Our Current Affairs Update is accurate, reliable, and useful for every defence exam and other exams in India.
Current Affairs

National Affairs

Indian Army's Sapt Shakti Command conducted the 'Sudarshan Shakti 2023 Exercise'.

Indian Army's Sapt Shakti Command conducted the 'Sudarshan Shakti 2023 Exercise' on its western border i.e. Rajasthan and Punjab.
'Sudarshan Shakti 2023 Exercise' was conducted to validate the operational preparedness of the Indian Army.

Amrita Univerisity has emerged as the top university in TIMES Higher Education Impact Ranking.

Western Sydney University has topped in the overall ranking and Amrita University has got the 52nd position in the overall ranking.

A panel has been formed to study ethnic clashes that took place in Manipur.

India's Ministry of Home Affairs has formed a three-member judicial inquiry panel to probe ethnic violence in Manipur, led by former Chief Justice of Gauhati High Court Ajai Lamba, to investigate the causes and spread of the violence and riots targeting members of different communities.

India is going to join the 'Centralised Laboratory Network (CLN)'.

India recently joined the Centralised Laboratory Network (CLN) to test vaccines during pandemics and epidemics. This network currently has 15 partner facilities in 13 countries.
CLN is a part of the Coalition for Epidemic Preparedness Innovations (CEPI) and the Network is the largest global group that has standardized methods and materials for testing.

International Affairs

UAE is going to launch a space mission to investigate an asteroid.

The United Arab Emirates (UAE) plans to send a new spacecraft to an asteroid belt to investigate the history of the solar system and the potential origins of life.
Emirates Mission to the Asteroid Belt (EMA) aims to visit seven different asteroids and land on one of them called (269) Justitia. It is scheduled for launch in 2028.

Economy

TATA Group to set up 13,000 crore rupees Lithium Ion Giga Factory in Gujrat.

India's leading business groupTata Group on Friday announced its plan to set up a lithium-ion cell manufacturing giga factory in Gujarat.
In the initial stage of the project, the Ratan Tata-backed group will infuse ₹13,000 crores.
The development is part of the country's commitment to creating its own electric vehicle supply chain.

Indigo is going to sign a deal with Airbus to supply 500 Jets.

European planemaker Airbus is set to finalise a record deal to sell 500 narrow-body A320-family jets to IndiGo.

Important Days

World Environment Day 2023- 5th June

World Environment Day 2023: World Environment Day is celebrated on June 5 every year to raise awareness and encourage action for the protection of our planet.
The theme of world environment day 2023 is "Solutions to plastic pollution"

Obituary

Veteran Hindi and Marathi Actress Sulochana dies at the age of 94.

Renowned actress Sulochana Latkar, known for her captivating performances in Hindi and Marathi cinema, passed away at 94 due to an age-related illness.
She has worked in more than 250 Hindi and 50 Marathi films.

Sports

Max Verstappen wins Spanish Grand Prix.

Max Verstappen won Spanish Grand Prix with 53 Points.
Lewis Hamilton got the second position in Spanish Grand Prix.

Aravindh wins Dubai Open Chess.

Grandmaster Aravindh Chithambaram wins the 22nd Dubai Open Chess Tournament with 7.5 points. R. Praggnanandha was in the second spot with five others.
Read More:
Daily GK Update - 03rd June 2023 Current Affairs
Daily GK Update - 02nd June 2023 Current Affairs