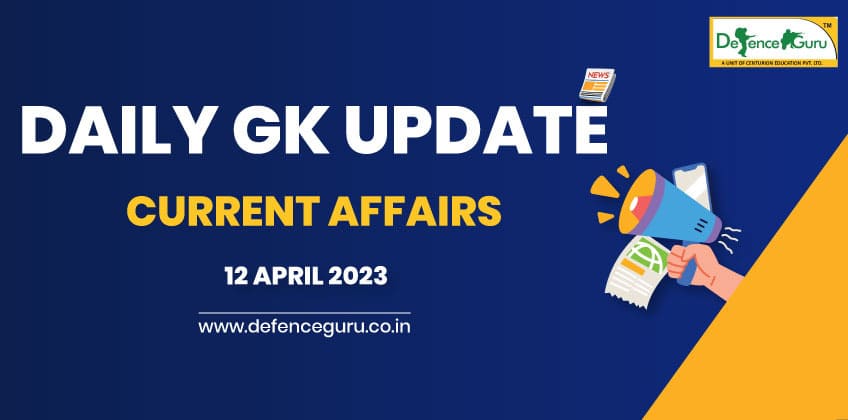 Defence Guru is a dedicated platform to provide DailyCurrent Affairs Updates to Defence Aspirants. Our Daily Current Affairs Update covers National Affairs, International Affairs, Economy, Sports, Awards and Honours, Books, Appointments, etc. You can follow us for regular current affairs updates. Current Affairs cover almost 15-20% of all defence exam syllabus. That's why It becomes very important for Defence Aspirants to cover Daily Current Affairs Updates. Our Current Affairs Update is accurate, reliable, and useful for every defence exams and other exams in India.
Current Affairs

National Affairs

Aam Aadmi Party (AAP) has become a national party of India.

The status of the national party has been given by the election commission of India.
There are three types of political parties in India- 1. National Party 2. State Party and 3. Regional Party.
To become a national party, the state party must fulfil some conditions laid down by the Election Commission of India.

Criteria to Become a National Party in India:

If the party wins at least 2% of seats in the Lok Sabha (the lower house of Parliament) from at least three different states in a general election.
If the party secures at least 6% of the total valid votes polled in any four or more states, at a general election to the Lok Sabha or to the Legislative Assembly.
If the party is recognized as a state party in at least four states.

Gujarat has topped in using the funds allocated under the MPLAD.

Gujarat has used the full amount allocated under the MPLAD(Member of Parliament Local Area Development) Scheme.
Uttar Pradesh was allocated the highest amount under the MPLAD.
The MPLADS is a Plan Scheme fully funded by the Government of India. The annual MPLADS fund entitlement per MP constituency is Rs. 5 crores. This scheme was started in 1993.

The Ministry of Power has released the State Energy Efficiency Index 2023.

Karnataka (Top performer), Kerala, Andhra Pradesh, Rajasthan and Telangana are the front runners.
Assam (Top performer), Haryana, Maharashtra, and Punjab are the achievers.
This index has been developed by the Bureau of Energy Efficiency (BEE) in association with the Alliance for an Energy-Efficient Economy (AEEE).

Mumbai has become the 19th best city in Public Transport.

This report is published by 'Time Out" which is a media outlet based in the United Kingdom.

According to this report, Top Performing Countries are the following:

1st- Berlin

2nd- Prague

3rd- Tokyo

UIDAI and IIT Bombay are going to develop a touchless Biometric System.

Aadhaar issuing body UIDAI - Unique Identification Authority of India - has announced a partnership with the Indian Institute of Technology, Bombay (IIT-Bombay) to develop a touchless biometric capture system and enhance the Aadhaar ecosystem.

International Affairs

Italy is going to sign a defence pact with India.

The Defence Pact will allow officials from both countries to coordinate over security issues.
Italy will be able to sell its defence platforms to India through this pact.

Economy

The International Monetary Fund has lowered India's GDP Growth Rate for Financial Year 2024 from 6.1% to 5.9%.

The International Monetary Fund (IMF) has cut its GDP growth forecast for India for the financial year 2023-24 by 20 basis points to 5.9 percent. The fresh revision in the growth forecast by the Washington-based multilateral body in its latest bi-annual World Economic Outlook

National Stock Exchange launches India's first Nifty and InvITS index.

These Indexes have been launched to track real estate Investment Trusts and Infra Investment Trusts.

Books and Authors

"The Banker to Every Indian" is a coffee table book launched by SBI (State Bank of India).

This book talks about SBI's contribution to nation-building.

Awards and Honours

Nilesh Sambare has been awarded Maratha Udyog Ratna 2023 Award.

Nilesh Bhagwan Sambre, the founder of Jijau Educational and Social Foundation, was recently honoured with the "Maratha Udyog Ratna" award at the "Maratha Entrepreneurs Conference 2023".
Read More:
Daily GK Update - 11th April 2023 Current Affairs