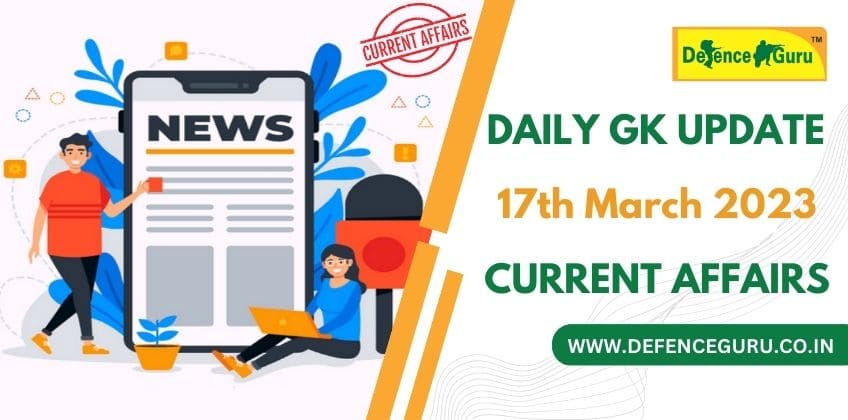 Daily GK Update - 17th March 2023 Current Affairs
Defence Guru is a dedicated platform to assist Defence Aspirants to fulfill their defence dreams. Being a Defence Aspirant you must be aware of the importance of Current Affairs for NDA, CDS, MNS, AFCAT, and SSB. Current Affairs cover almost 15-20% of all defence exam syllabus. To help candidates prepare for Current Affairs, we are providing every important current affair related to many fields such as National Affairs, International Affairs, Economics News, Sports News, Science & Technology, Defence News, Days, Books, and awards.
Current Affairs

National Affairs

Uttarakhand Government approves 10% reservation to those people who fought for statehood.

This 10% reservation will be horizontal reservation provided to Statehood Activists.
There are two types of reservations- 1. Vertical Reservation and 2. Horizontal Reservation.
Vertical Reservation is the reservation for Scheduled Castes, Scheduled Tribes, and Other Backward Classes is referred to as vertical reservation.
Horizontal Reservation refers to the equal opportunity provided to other categories of beneficiaries such as women, veterans, the transgender community, and individuals with disabilities, cutting through the vertical categories.

The Indian Navy participated in Naval Exercise Sea Dragon 2023 in Guam, USA.

Name Of Naval Exercise- Sea Dragon 2023
Venue- Guam Island, USA
Participants- USA, India, Australia, Japan, Canada, and South Korea.

AAHAR 2023: Asia's the Biggest International Food And Hospitality Fair Begins In Delhi.

This food fair is being organised from 14 to 18 march at Pragati Maidan in New Delhi.
This food festival is being organised with the help of the ministry of food processing.

According to Basic Animal Husbandry Statistics 2022, India's milk production increased by 5.29% to 221.02 metric tonnes.

India is the largest producer of milk in the world.
In India Uttar Pradesh is the largest producer of milk.
Per Capita availability of Milk in India is 444 grams.

Yaoshang Festival is being celebrated in Manipur.

This festival is similar to Holi and it is celebrated for a period of five days.
This festival is celebrated to mark the coming of the spring season.

International Affairs

An earthquake of 7.1 magnitudes hit New Zealand. This earthquake hit Kermadec Island in New Zealand.

The Kermadec Islands lie northeast of Wellington, New Zealand's capital.
New Zealand is prone to earthquakes as it is located on the boundary of two of the world's major tectonic plates- the Pacific Plate and the Australian Plate.

Skytrax Airport which is situated in Singapore has been judged as the Best Airport in the World.

Skytrax Airport of Singapore was given award of 'World's Best Airport in 2023'.
This was was given at Passenger Terminal Expo 2023 which is being hosted in Amsterdam.

Appointments

Shreya Ghodawat has been appointed as Ambassador of the She changes climate change campaign.

Climate entrepreneur Shreya Ghodawat has been appointed as India's ambassador for She Changes Climate– a global campaign driving awareness of the crucial role of women.
'She Changes' is a global campaign driving awareness of the crucial role of women in accelerating just climate action

Honeywell International appoints Vimal Kapoor as its new CEO (Chief Executive Officer).

Vimal Kapur, will succeed Darius Adamczyk as the new chief executive officer (CEO).
Honeywell International Inc. is an American publicly traded, multinational conglomerate corporation headquartered in Charlotte, North Carolina.

Gianni Infantino has been re-elected as president of FIFA.

The Fédération internationale de football association is the international governing body of association football.
It was founded in 1904 to oversee international competition among countries.
Its Headquarter is situated in Zurich, Switzerland.

Eric Garcetti has been appointed as Ambassador of the USA to India.

The US Senate Committee has announced the appointment of Eric Garcetti as the new US Ambassador to India.
He was nominated by President Joe Biden almost two years ago.

Awards and Honours

Bengaluru has won 'Healthy Cities Award from World Health Organization for tobacco control efforts.

A Total of Five Cities have been awarded the "Healthy Cities Award' by WHO
These Five Cities are-

Bengaluru (India)
Montevideo (Uruguay)
Mexico City (Mexico)
Vancouver (Canada)
Athens (Greece)

Economy

Suryodaya Small Finance Bank launches Blossom Women's saving Account.

Blossom Women's saving Account is a Women's Savings Account' with 7 percent per annum interest rate with monthly interest credit.

Sports

Dane Van Niekerk, a South African Woman Cricketer has taken retirement from International Cricket.

Former South Africa captain Dane van Niekerk has announced her retirement from all forms of international cricket.

Real Madrid defeats Liverpool by 1-0 and has entered the quarterfinals of the Champions league.

Karim Benzema scored a goal for Liverpool that proved to be decisive for Liverpool.
Read More:
Daily GK Update - 16th March 2023 Current Affairs
Daily GK Update - 15th March 2023 Current Affairs