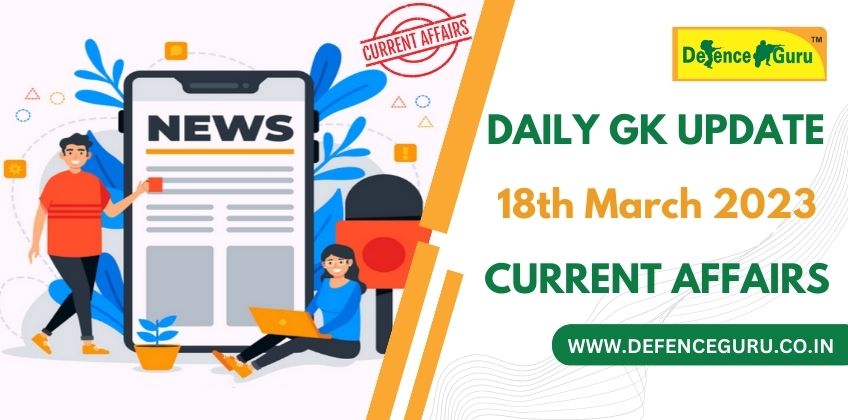 Daily GK Update - 18th March 2023 Current Affairs
Defence Guru is a dedicated platform to assist Defence Aspirants to fulfill their defence dreams. Being a Defence Aspirant you must be aware of the importance of Current Affairs for NDA, CDS, MNS, AFCAT, and SSB. Current Affairs cover almost 15-20% of all defence exam syllabus. To help candidates prepare for Current Affairs, we are providing every important current affair related to many fields such as National Affairs, International Affairs, Economics News, Sports News, Science & Technology, Defence News, Days, Books, and awards.
Current Affairs

National Affairs

Indira Gandhi International Airport, Delhi has been judged as 'The Best Airport in South-Asia'.

This was declared by Skytrax, a UK-based consultancy that awards airports worldwide with the prestigious World Airport Awards based on customer surveys.
It has also received the award for the cleanest airport in India for the third consecutive year.

Rajasthan Government is going to create 19 new Districts.

After this decision, There will be a total 50 districts in Rajasthan.
Rajasthan is the geographically largest state in India.

Textile Parks are being set up in seven states in India

These textile parks are being set up under the PM MITRA Scheme.

Indian Institute of Astrophysics has developed Low-Cost Star Censor.

The Indian Institute of Astrophysics, with its headquarters in Bengaluru, is an autonomous research institute wholly financed by the Department of Science and Technology, Government of India.

Sokra Misawa Festival is being celebrated in Assam.

This festival is celebrated to worship Nature.
This festival is celebrated in the Karbi Anglong District of Assam.

International Affairs

Ramsahay Prasad has become the new vice-president of Nepal.

He is the third president of Nepal.
He has defeated Ashta Laxmi to become the new vice president.

International Criminal Court issues Arrest Warrant Against Putin over Ukraine Action.

Headquarter Of the International Criminal Court is situated in Hague.
This warrant was issued over the deportation of Ukranian Children.
Russia is not part of the ICC, so This ruling will have no effect.

Indian Railways to become Net Zero Carbon Emitter by 2030.

The Railways plans to achieve this ambitious target in two steps: A complete transition to electric trains by December 2023 and powering the trains and stations primarily through non-renewable sources by 2030.

40 Asiatic Lions from Gir National Park to Gujarat's Barda Wildlife Sanctuary.

Barda Wildlife Sanctuary which is situated in Gujrat is considered to be the most suitable place for the relocation of Asiatic Lions.
Gir National Park is situated in Gujrat.

Appointments

K. Krthivasan has been appointed as CEO (Chief Executive Officer) of TCS (Tata Consultancy Services).

K. Krthivasan has succeeded Rajesh Gopinathan who has recently resigned from TCS>

Awards and Honours

Aegis Graham Bell Award was given to Hello Ujjivan App.

This award was given to Hello Ujjivan App for Innovation in Consumer Technology.
Hello, Ujjivan App allows the use of micro banking in rural areas.

Economy

India's forex reserves fell $2.40 billion to a 3-month low of $560 billion.

According to data from the Reserve Bank of India, the country's foreign exchange reserves declined by $2.397 billion to $560 billion as of March 10, 2023.

National Company Law Tribunal (NCLT) approves HDFC and HDFC Bank mergers.

The merger of HDFC Ltd and HDFC Bank is considered to be the largest merger in the history of corporate India.
This merger, which is considered to be the largest transaction in India's corporate history, will create financial services giant with combined assets worth around Rs 18 lakh crore.

Books and Authors

"Bipin: The man behind the uniform" book has been written by Rachna Bisht Rawat

Other Books by Rachna Bisht Rawat-
Letters from Kargil
Shoot, Fly, and Dive

Sports

The rest of the India Team under the Captaincy of Mayank Agarwal defeats Madhya Pradesh to win ZR Irani Cup.

The man of the match was given to Yashasvi Jaiswal.

MacLaughlin Levrone breaks her own 400m Hurdles World Record.

She has broken her previous record of 51 seconds.
She has now created a record for 400m hurdles in 50.68 seconds.

Hardik and Savita have been declared 'Player of the Year 2022' at the Hockey India Awards.

Former Indian Hockey Player Gurubux Singh has been awarded Major Dhyan Chand Lifetime Achievement Award at the same Hockey India Award 2022.
Read More:
Daily GK Update - 17th March 2023 Current Affairs
Daily GK Update - 16th March 2023 Current Affairs
MNS vs NEET Exam-Best Career Options for Biology Girls Student