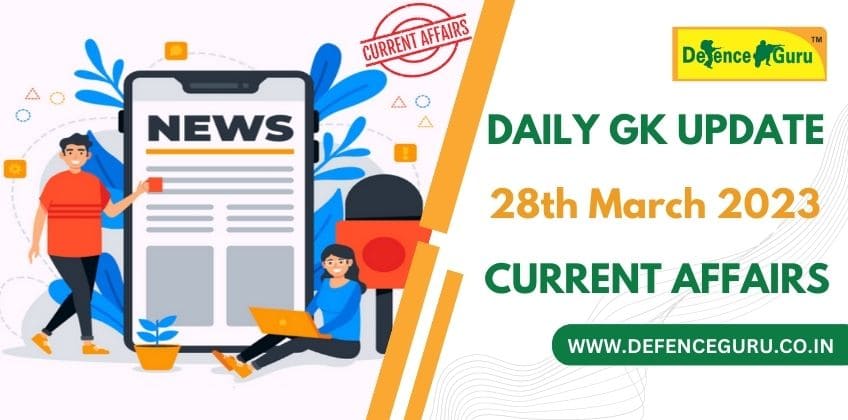 Daily GK Update - 28th March 2023 Current Affairs
Defence Guru is a dedicated platform to provide DailyCurrent Affairs Updates to Defence Aspirants. Our Daily Current Affairs Update covers National Affairs, International Affairs, Economy, Sports, Awards and Honours, Books, Appointments, etc. You can follow us for regular current affairs updates. Current Affairs cover almost 15-20% of all defence exam syllabus. That's why It becomes very important for Defence Aspirants to cover Daily Current Affairs Updates. Our Current Affairs Update is accurate, reliable, and useful for every defence exam and other exams in India.
Current Affairs

National Affairs

Prime Minister Narendra Modi launches 'Call before U dig' App.

Prime Minister Modi has recently launched an app called "Call Before U Dig" to prevent uncoordinated digging.

Union Minister for Forest Bhupender Yadac launches Aravalli Green Wall Project.

Under this project, Trees will be planted around 5 km of buffer area around Aravalli Hills.

Army Chief Manjo Pande presented 'President's Standards' to 4 Armoured Regiments.

President's Standards (Nishan) was presented by Army Chief to the following units:
49 Armoured Regiment
51 Armoured Regiment
53 Armoured Regiment
54 Armoured Regiment

President's Standards is the highest honour given to any military unit by President.

India ranks 3rd in self-made billionaires according to Hurun's global rich list report.

India has a total of 105 self-made billionaires.

The Indian Government is set to celebrate the 30th anniversary of Project Elephant with the Gaj Utsav 2023.

This two-day event aims to promote elephant conservation, protect their habitat and corridors, and prevent human-elephant conflicts. It will also ensure the welfare of captive elephants in India.

International Affairs

A new US-Canada border deal has recently taken effect with the aim to halt the flow of asylum seekers at unofficial border crossings.

The agreement has closed a loophole that previously allowed migrants to claim asylum at such unofficial ports of entry. Under the new accord, migrants caught crossing anywhere along the 3,145-mile (5,060-km) border can now be sent back.

Tanzania has recently confirmed its first-ever outbreak of the Marburg virus.

Marburg virus is a highly contagious and deadly virus that causes viral hemorrhagic fever.

Appointment

Indian Hockey Player Salima Tete has been appointed as Ambassador of the Asian Hockey Federation.

National women's hockey team midfielder Salima Tete has been appointed the AHF Athletes Ambassador from India for a term of two years. Tete accepted the certificate and the position during the Asian Hockey.

President Draupadi Murumu appoints 3 Chief Justices in 3 High Courts.

Allahabad High Court- Justice Pritinker Diwaker
Chattishgarh High Court- Justice Ramesh Sinha
Patna High Court- Justice K Vinod Chandran

Economy

First Citizens Bank Acquires Silicon Valley Bank.

First-Citizens Bank has entered a purchase and assumption agreement with the FDIC to acquire all loans and deposits of the recently failed Silicon Valley Bridge Bank in the United States.

Sports

Indian Badminton Players Satvik and Chirag won Yonex Swiss Open.

They won this tournament in the doubles category.
They defeated two Chinese players Ren Xiang and Tan Qiang to win this title.
Read More:
Daily GK Update - 27th March 2023 Current Affairs
Daily GK Update - 25th March 2023 Current Affairs