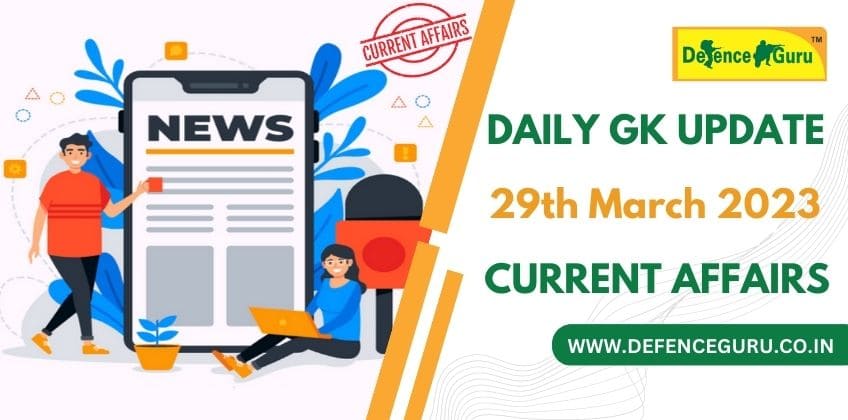 Daily GK Update - 29th March 2023 Current Affairs
Defence Guru is a dedicated platform to provide DailyCurrent Affairs Updates to Defence Aspirants. Our Daily Current Affairs Update covers National Affairs, International Affairs, Economy, Sports, Awards and Honours, Books, Appointments, etc. You can follow us for regular current affairs updates. Current Affairs cover almost 15-20% of all defence exam syllabus. That's why It becomes very important for Defence Aspirants to cover Daily Current Affairs Updates. Our Current Affairs Update is accurate, reliable, and useful for every defence exam and other exams in India.
Current Affairs

National Affairs

1st Joint Conference of Army Chiefs of India and African Countries took place in Pune.

The inaugural joint conference between the Indian and African army chiefs is scheduled to take place in Pune, with Defense Minister Rajnath Singh as the guest of honor and Indian Army Chief General Manoj Pandey in attendance.

The Indian Government has set up a committee to explore Pension Reforms.

This committee has been set up under TV Somanathan.

Union Home Minister Amit Shah unveiled two statues in Bengaluru.

He unveiled statues of Basaveshwara and Nadaprabhu Kempegowda.

Punjab High Court and Haryana Court became the first two courts in India to use ChatGpt for assessing legal cases.

Punjab and Haryana high court use Chat GPT for deciding upon bail pleas. CHANDIGARH: The Punjab Haryana high court on Tuesday became the first court in India to have used Chat GPT technology (artificial intelligence) to decide on the bail plea of an accused and it rejected the petition.

Scientists of the National Dairy Research Institute (NDRI) in Karnal have achieved a new milestone by producing the country's first Indigenous Gir cow clone calf.

The Cloned Calf has been named as 'Ganga'.

International Affairs

Humza Yousuf becomes the main leader of Scotland.

He is the first Muslim to become the main leader of any western democracy.

Afghanistan remains the most affected country because of Terrorism- According to Global Terrorism Index 2023.

The Global Terrorism Index is published by the Institute for Economics and peace.

Dalai Lama names US-born Mongolian Boy as 3rd highest spiritual leader of Tibetan Buddhism.

Khalka Jestun Rinpoche has been appointed as the 3rd highest Spiritual Leader also known as 'Dalai Lama'.

Appointment

Rafael Mariano Grossi has been appointed as Director General of the International Atomic Energy Agency.

International Atomic Energy Agency

Headquarter- Vienna, Austria
Established in- 1957
Director- Rafael Mariano Grossi

Awards and Honours

Maharashtra Metro Rail Corporation Limited has received the prestigious 'Asia Book of record' Award.

Maha Metro Nagpur gets Asia Book of Record citation for unique feats. Nagpur: Having been awarded Guinness World Records and two Asia Book of Records earlier, Maha Metro Nagpur was honoured with the prestigious Asia Book of Records certification

Economy

EPFO Board has increased the interest rate to 8.15% on Deposits.

EPFO is one of the World's largest Social Security Organisations in terms of clientele and the volume of financial transactions undertaken.

Sports

Indian Football Team wins Tri-Nation Football Championship after defeating Kyrgyzstan

India won by 2-0 after defeating Kyrgyzstan in the final match of the Tri-Nation Championship involving India, Myanmar, and Kyrgyzstan.
Read More:
Daily GK Update - 28th March 2023 Current Affairs
Daily GK Update - 27th March 2023 Current Affairs