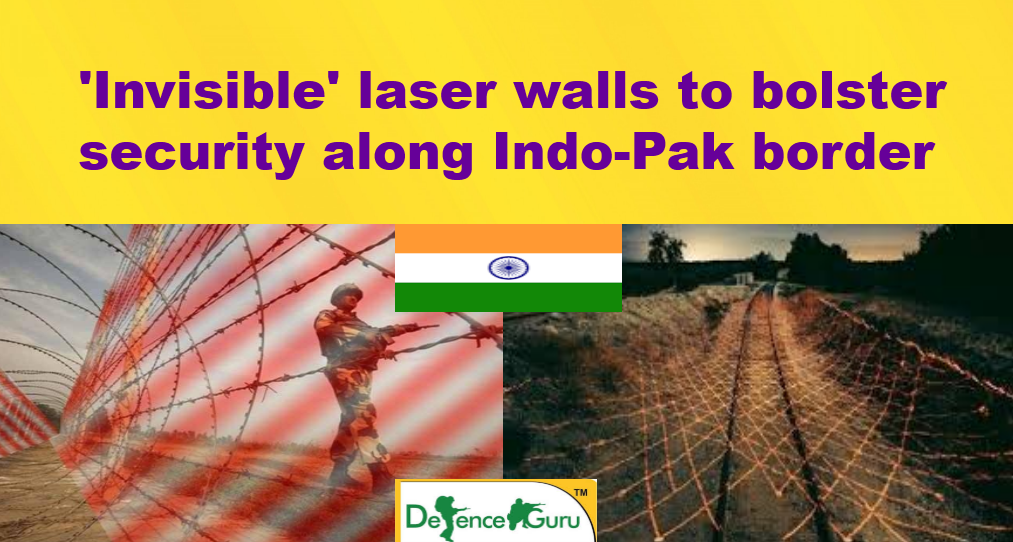 India is surrounded by Nepal,Pakistan,Srilanka,Bangladesh,Bhutan,China, Bhutan,Myanmar countries, it becomes very important for it to secure its border areas from other countries. About four years after the concept was mooted, the BSF force (Border Security Force) is ready to install the first "laser wall" along the India-Pakistan border that is intended to plug gaps in riverine areas where installation of a conventional fence is not feasible and it's difficult to deploy security forces.

Sources from the BSF told that the pilot project to develop the laser wall prototype was complete and it was expected to be implemented along the western border shortly. The Forces are , however keeping the location of the project under wraps.
A large number of riverine gaps exist along the course of Sutlej and Ravi rivers in Punjab, which criss-cross the border. In addition, several rivulets in the Kathua region of J&K as well as the marshy region of Kutch in Gujarat also pose challenges due to their terrain. 

These are stretches which cannot be fenced due to the vagaries of the terrain, making it vulnerable to infiltration. There are over 40 such points along the western border identified by the BSF as vulnerable where laser walls can prove helpful. It is believed that the perpetrators of the terrorist attacks at Gurdaspur and Pathankot in the recent past had sneaked in through such unfenced gaps. The BSF has also been experimenting with the use of various hi-tech surveillance equipment along the border to check cross-border smuggling and infiltration.

What is laser wall or laser fencing

A laser wall is a complex interface of laser beams, receptors, thermal imagers, infrared and other sensors relayed across a designated stretch of land that creates a kind of invisible fence.It is not a single linear layout, but comprises several near parallel overlapping layers of sensors that could have a depth of up to 500 meters

Type of layout, number of sensors and layers would depend upon terrain and width of gap to be covered 
3,233 km is the total length of the border that India shares with Pakistan
2,063 km area for which the MHA has sanctioned barbed wire fencing
2,005 km area along western border where fencing has been completed
40 points identified by BSF where only laser fencing is viable