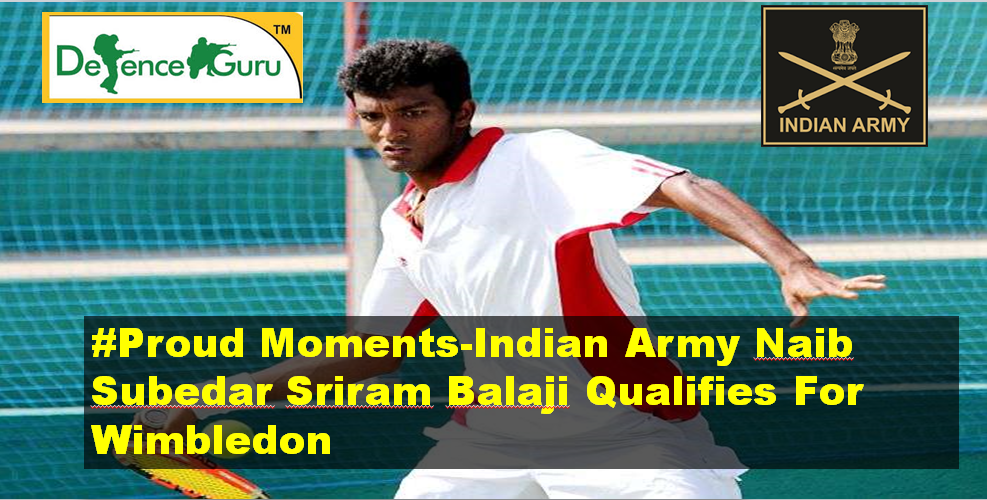 A great achievement of Indian Armed forces Army personnel Naib Subedar Sriram Balaji has created history by becoming the first player from Indian Army to qualify for the Wimbledon draw..N Sriram Balaji now became the first player in the history of Indian Army  who reached  Wimbledon main draw on Wednesday. Indian pair of Vishnu Vardhan and N Sriram Balaji qualified for the main draw after a 6-3 6-4 winning over top seeds Denys Molchanov and Igor Zelenay in the second qualifier round of Wimbeldon.
Jeevan Nedunchezhiyan, who partnered Austin Krajicek in the doubles also made it to main draw but Ankita Raina's hopes of a maiden Grand Slam main draw appearance ended in a heartbreaking defeat.Ankita lost 2-6 7-5 4-6 from Russian world number 132 against Vitalia Diatchenko after a brave two-hour-23-minute battle in the second round of the grass court major.
India has not seen a female singles player competing in the singles Grand Slams since Sania Mirza's first round loss at the 2012 Australian Open.But here Balaji and Vardhan  made Indian fans happy  for as they booked their Wimbledon main draw berth with 6-3 6-4 win. It will be a maiden Grand Slam main draw appearance for Vardhan and Balaji.
Later, Jeevan and his American partner Krajicek prevailed over the local team of Edward Corrie and Llyod Glasspool 7-6(5) 6-3 in the final round.It will be the second time that Jeevan will play at Wimbledon.As he had played last year with Jared Donaldson but lost a tough five-setter against Jay Clarke and Marcus Willis.
Indian Army congratulated Balaji on his achivement.
"Naib Subedar Sriram Balaji has qualified for the Wimbledon Main Draw. First in the history of Services, player to qualify & reach this level.#IndianArmy #Proud #SagaOfTheChampion", tweeted ADG PI - INDIAN ARMY.
We along with all Indians congratulate him on this great achievement.