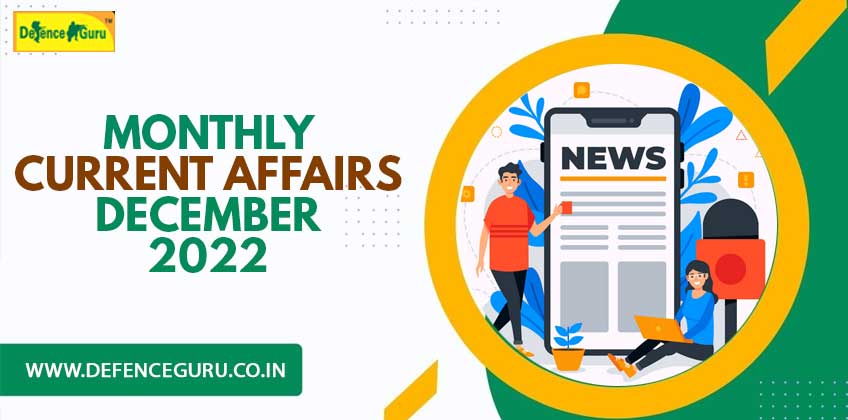 This article is a monthly highlight of important current affairs from December 2022. With the onset of new year, your preparation strategy should also be doubled and therefore Defence Guru makes sure you get all the updates on defence related topics which will help you not only with the upcoming 2023 written exams of NDA/ MNS/ AFCAT/ Airforce etc but will also come handy when you will be preparing for your SSB interview. Current affairs play an important role in the student life. It will help you at the crucial time when you want to study for the examinations. Current means recent, day to day life and affairs mean events and issues, etc. Therefore current affairs relate to the day to day incidents and events around us. The growing importance of Current Affairs poses the question on the utility of exerting energy on updating oneself with news. The significance of current affairs is undoubtedly different for different people who fall in different age brackets, pursue different objectives and have different interests. However, it can be stated that all social beings are bound to be affected by Current Affairs in more ways than one. Therefore, reading current affairs and making it a daily habit will be much more useful for all the competitive exams. We have rooted out Current Affairs specially from the defence column which will help you in cracking defence exams-
IAF Sukhoi plane test fires Air version of BrahMos Missile with 400 km Range
The Indian Air Force successfully tested the extended range version of the Brahmos Air Launched missile against a ship target in Bay of Bengal from Su-30 MKI fighter jet on 29 December 2022. Brahmos supersonic missile has been developed by the Brahmos Aerospace ltd. The company is a joint venture of the Defence Research and Development Organisation (DRDO) of India and Russia's NPOM.
"Prahari app"(Border Security Force) was launched by Union Home Minister Amit Shah
Amit Shah said that the BSF 'Prahari' app is a great example of Proactive Governance. "Now jawans can get personal information and information related to accommodation, Ayushmann-CAPF and leaves on their mobiles.
India, Japan to conduct first-ever air combat exercise 'Veer Guardian 23'
The exercise will be conducted during the duration of January 16 to January 26. The drill will be conducted at Hyakuri Air Base north-west of Tokyo. Japan Air Self-Defense Force (JASDF) will conduct bilateral combat training with the Indian Air Force (IAF). This exercise aims to promote mutual understanding and strengthen defence cooperation between the Air Forces of the two nations.
Nuclear-capable ''Agni-5 missile'' trials successfully carried out by India
The Agni 5 missile is capable of striking targets at ranges up to 5,000 kilometres and that too with a very high degree of accuracy. Now in a lighter than before form, new technologies and equipment were validated on the missile in the test which was conducted.
Navy Day 2022 to be celebrated at Eastern Naval Command Visakhapatnam
Every year since 1972, 4th December has been observed as Navy Day in India. The day is celebrated to honour the Indian Navy's role during the India Pakistan war of 1971. This year for the first time the Navy Day celebration is taking place outside New Delhi at Eastern Naval Command headquarters Visakhapatnam.
New variant: Omicron XBB.1.5 of the deadly Corona Virus causes concern
Omicron XBB.1.5 is a variant of the Covid-19 virus which has caused concern among experts due to its immune-evasive and highly contagious nature. Guidelines to take precautions and use sanitizers and masks were advised by the state governments.
Global population to reach a whopping 7.9 billion by 1st January 2023
The global population will hit 7.9 billion on the 2023 New Year's Day, as projected by the US Census Bureau, on December 30, 2022. The US Census Bureau's population also marks that over 73.7 million people were added since the 2022 New Year's Day.
Amrit Bharat Scheme
The Union Ministry of Railways has launched a new scheme called Amrit Bharat Station Scheme to modernize railway stations across India. This will help promote easy transactions and systematic approach to every Railway station in the nation.
Implementation of Project Vaani
Project Vaani will be implemented jointly by the Indian Institute of Sciences (IISc), ARTPARK (AI and Robotics Technology Park), and Google to gather speech data from across India for the creation of an AI-based language model that can understand diverse Indian languages and dialects.
FIFA 2022 Trophy won by Argentina
The 2022 FIFA World Cup final was the final match of the 2022 FIFA World Cup, the 22nd edition of FIFA's competition for men's national football teams. The match was played at Lusail Stadium in Lusail, Qatar, on 18 December 2022, the country's National Day, and was contested by Argentina and 2018 champions France, where Argentina's captain Lionel Messi held the final trophy.
Read More
Monthly Current Affairs November 2022
FIFA World Cup 2022 - Full List of Award Winners
Monthly Current Affairs September 2022