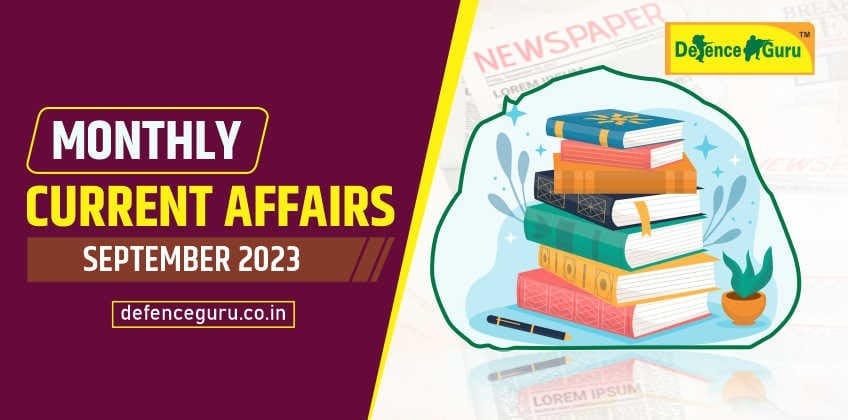 The intelligent approach to mastering your upcoming defence exam preparation is consistency. Mostly all defence exams like NDA/ CDS/ MNS/ AFCAT/ NAVY/ AGNIVEER etc have sections of current affairs and general knowledge. Current affairs also help you score better in SSB interview as they enhance your personality. But when it comes to topics like current affairs there is just a lot of information to deal with. Defence Guru brings you this special article on monthly current affairs for the month of September 2023 where we have segregated the important current affairs from the defence exam point of view. Instead of last-minute cramming, invest time in monthly current affair update September 2023. In this article, we dive into all the important defence events of contemporary issues, exploring the latest developments that impact nations, communities, and individuals alike. Join us on this journey through the headlines, as we analyze, dissect, and make sense of the events shaping our present and influencing our tomorrow. Here we have rooted out some important defence current affairs for the month of September 2023-
1. Culture Corridor-G20 Digital Museum-
The G20 Summit showcased the rich art and culture of its member nations through an exhibition at the Bharat Mandapam venue. The second level of Bharat Mandapam featured both physical and digital displays of iconic artworks from all 20 member countries and 9 guest nations.
2. ISRO Successfully Launches Aditya L1 Sun Observatory-
The Indian Space Research Organisation (ISRO) has achieved a significant milestone by successfully launching the Aditya L1 spacecraft, an observatory designed to study the Sun from a distance of 1.5 million kilometers.
3. China's Vigilance Campaign-
China, under the leadership of President Xi Jinping, has launched a nationwide campaign to guard against perceived threats to the country's national security. This campaign includes mandatory courses on protecting state secrets even in unlikely departments like veterinary medicine.
4. Major Tracks of G20-
The G20 Summit, an annual gathering of world leaders, took place in New Delhi on September 9 and 10. It is the culmination of various G20 processes held throughout the year, involving ministers, government officials, and civil society representatives. Established in 1999, the G20 initially consisted of finance ministers and central bank governors but evolved into a leaders' forum after the 2008 financial crisis due to the need for high-level discussions on global economic challenges and policy coordination.
5. Sculptures at Bharat Mandapam-
India has unveiled two remarkable sculptures ahead of the G20 Summit, showcasing its rich cultural heritage and symbolism: The Nataraja Sculpture: standing at 27 feet and weighing approximately 20 tonnes, this Nataraja sculpture was crafted by traditional Sthapatis of Swamimalai, specialists in Hindu temple architecture. And The Harappan Dancing Girl: represents the rich cultural history of the Sindhu-Saraswati Civilization. Its placement at the G20 Summit venue highlights India's archaeological treasures and historical legacy.
6. Jharkhand Incorporates Transgender Community into Universal Pension Scheme-
In a pioneering stride towards social inclusion, the Jharkhand government has extended the scope of its universal pension scheme to encompass transgender individuals. Under the newly implemented Mukhyamantri Rajya Samajik Suraksha Pension Yojana, eligible transgender beneficiaries are entitled to a monthly financial aid.
7. India – Middle East – Europe Economic Corridor-
On the sidelines of the G20 Summit in New Delhi, several countries, including India, the US, Saudi Arabia, the European Union, the UAE, France, Germany, and Italy, signed a Memorandum of Understanding (MoU) to establish the India – Middle East – Europe Economic Corridor (IMEC).
8. Mukhyamantri Ladli Bahna Awas Yojana-
The Madhya Pradesh Government has changed the name of the state-run housing scheme, previously known as Mukhyamantri Antyodaya Awas Yojana, to Mukhyamantri Ladli Bahna Awas Yojana. The decision, aimed at aligning with Chief Minister Shivraj Singh Chouhan's Ladali Bahna Yojana, was unanimously approved by the state cabinet.
9. Swachhta Abhiyan 3.0-
The Ministry of Civil Aviation is set to embark on Special Campaign 3.0 from October 2nd to October 31st, 2023, with preparatory activities commencing on September 15th, 2023. Building on the success of Special Campaign 2.0 in October 2022, this campaign focuses on institutionalizing cleanliness and reducing bureaucratic backlog.
10. Indian Air Force Receives First C-295 Transport Plane in Spain-
The Indian Air Force (IAF) marked a significant milestone as it officially received the first C-295 transport plane during a ceremony in Seville, Spain. The C-295 is a state-of-the-art aircraft capable of various missions, including special operations, disaster response, and maritime patrol.
11. India Approves Rs 45,000 Crore Defense Procurement Proposals-
India has given the green light to nine defense procurement proposals valued at approximately Rs 45,000 crore. These proposals, sanctioned under the 'Make in India' initiative, include the acquisition of 12 Su-30 MKI fighter jets, Dhruvastra air-to-surface missiles, and upgrades for the Dornier aircraft.
12. Santiniketan: UNESCO World Heritage Recognition-
Santiniketan, the cultural and educational hub in West Bengal founded by poet Rabindranath Tagore, has been designated as a UNESCO World Heritage Site. The announcement was made during the 45th session of the World Heritage Committee in Saudi Arabia.
13. ICGS Samudra Prahari's ASEAN Deployment for Marine Pollution Response-
The Indian Coast Guard Ship Samudra Prahari went on an overseas deployment to ASEAN countries from September 11 to October 14, 2023, as part of India's ASEAN initiatives for Marine Pollution Response. The ship aims to showcase the Indian Coast Guard's capabilities and commitment to addressing marine pollution issues in the region.
14. India-Saudi Investment Forum 2023-
An India-Saudi Arabia Investment Forum 2023 was organized in New Delhi during the state visit of Saudi Arabia's Crown Prince. This marked a significant milestone as the first formal investment symposium between the two nations.
15. ASEAN Defence Meeting Plus Counter-Terrorism Exercise-
An Indian Army contingent embarked on a journey to Russia to participate in the ASEAN Defence Ministers Meeting Plus Expert Working Group on Counter Terrorism.
16. General SF Rodrigues Memorial Lecture-
The Indian Army organized the inaugural General SF Rodrigues Memorial Lecture at the Manekshaw Centre to honor the late General Sunith Francis Rodrigues, former Chief of the Army Staff (COAS) and Governor of Punjab, on what would have been his 90th birthday.
Read Also:
Monthly Current Affairs August 2023
Monthly Current Affairs July 2023