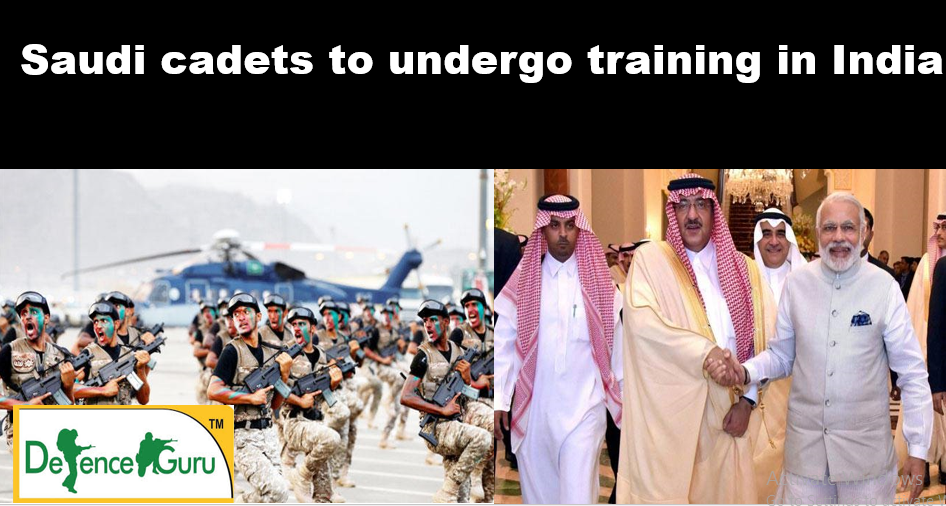 Since its independence in 1947, India has sought to maintain strong ties with Saudi Arabia which is a regional power and a great trading base in West Asia. The visit by King Saud of Saudi Arabia to India during November 1955, both nations agreed to shape their relationship based on the Five Principles of Peaceful Co-existence. The home to more than 1.4 million Indian workers is Saudi Arabia. India that was the only South Asian country to recognise the Soviet-backed Democratic Republic of Afghanistan, whereas Saudi Arabia was one of the key supporters of the Afghan Mujahideen, who fought the Soviets and their Afghan allies from Pakistan.
Now developing new relations Saudi Arabia cadets are traveling to India for training at the National Defense Academy (NDA). The cadet training includes a language and adaptation program as part of a three-year training, which will start from June 27 at the NDA at Khadakwasla near Pune ,Maharashtra.
The NDA is the joint services academy of the Indian armed forces where cadets of the three forces receive training together before they go on to their respective service academies for further pre-commissioning training.
The NDA is the Only world's first tri-service academy. After training there for three years, the cadets are awarded with Bachelor of Arts or a Bachelor of Science degree. Hifzur Rahman, Indian Embassy spokesman, informed Arab News on Monday: "The Indian envoy in Saudi Arabia, Ahmed Javed, received five cadets from the Royal Saudi Land Forces who will be traveling to India, and interacted with them ahead of their journey."
According to him this is the second group of Saudi military cadets proceeding to the NDA for military training, first batch of Five cadets is already undergoing training at the Indian Military institution.
The focus during the military training will include sub-unit level training, leadership, physical and mental robustness .The Indian ambassador told that this is aimed at boosting bilateral military cooperation between the two friendly countries. It is the first time Saudi Arabia has conducted pre-commissioned training for their military cadets in India, the envoy said.He also said that this military training and defense education is a follow-up to the Indo-Saudi defense cooperation memorandum signed during the last visit to India of King Salman — then crown prince, deputy premier and minister of defense  in February 2014, for expanding defense cooperation between Riyadh and New Delhi.
During the visit of King Salman, the two countries signed a memorandum of understanding (MoU) on defense cooperation to deepen bilateral ties as part of their strategic partnership. The exchange of defense-related information and military training and education. The first indication that the two sides were serious about cooperating came in 2012 when the first meeting of the India-Saudi Arabia joint committee on defense cooperation took place in New Delhi and both countries expressed interest in defense exchanges and increasing military-to-military contacts.