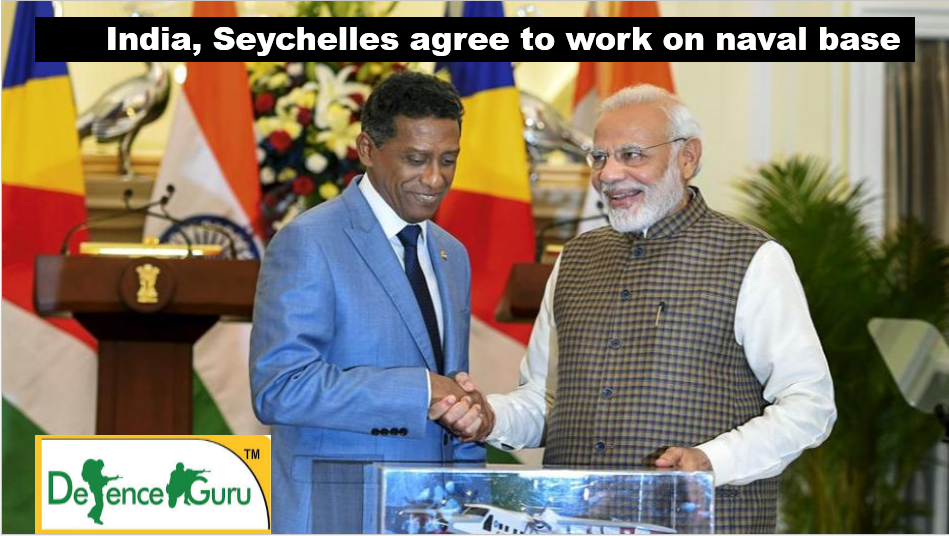 Its India's foreign policy that finally made successful of developing a naval base in Seychelles. India and the Seychelles on Monday finally agreed to continue discussions on jointly developing a naval base in Assumption Island 'based on "each other's interests", even the opposition in the island nation Seychelles have rejected the proposed 20-year pact which entails building an airstrip and a jetty on the island.
During a joint press conference after official bilateral talks with, President of the Republic of Seychelles Danny Antoine Rollen Faure at Hyderabad House in New Delhi, Prime Minister Narendra Modi announced that India had agreed to extend a $100 million line of credit to Seychelles to allow it to buy defence equipment from India.
A second Dornier aircraft, aimed at enhancing the maritime security of the Indian Ocean nation off the southeast coast of Africa, would be formally handed over Tuesday. Also, "Under the Special grant, India is ready to finance three civilian infrastructure projects in Seychelles. These include Government House, new Police Headquarters and Attorney General's Office," Modi declared.
The two leaders also signed six agreements. The Assumption Island deal, which Modi had inked during his trip to Seychelles in March 2015, has been stuck due to opposition claims that it violated the country's sovereignty. During that trip,PM Narendra Modi had also launched the first of an array of 32 coastal surveillance radars being built by India. New Delhi had also gifted the Seychelles with patrol boats and a Do-228 aircraft to augment the capabilities of the country's coast guard. The Indian navy regularly visits Seychelles as part of its anti-piracy and patrol sorties in the region.
President Faure, who arrived on an official five-day, four-city visit to India landed in Ahmedabad on Saturday, and then went to Goa before arriving in Delhi on Sunday. After the ceremonial reception at Rashtrapati Bhavan and the traditional wreath laying ceremony at Rajghat, he held formal delegation talks with Modi at Hyderabad House before the joint press conference. Apart from a high level delegation, Faure also brought two giant Aldabra tortoises as a gift for the Hyderabad zoo. These tortoises have a lifespan of 200 years.
The six agreements signed between India and the Seychelles
*Grants for small development projects,
*Twinning Agreement between the Corporation of the City of Panaji and the City of Victoria,
*An agreement on cooperation in cybersecurity,
*A cultural exchange programme,
*Technical Agreement on Sharing White Shipping Information between the Indian Navy and the Seychelles National Information Sharing and Coordination Center,
*MOU between the Foreign Service Institute of the Ministry of External Affairs of the Republic of India and the Department of Foreign Affairs of the Republic of Seychelles.