NDA vs TES Entry Know which is most suitable career for you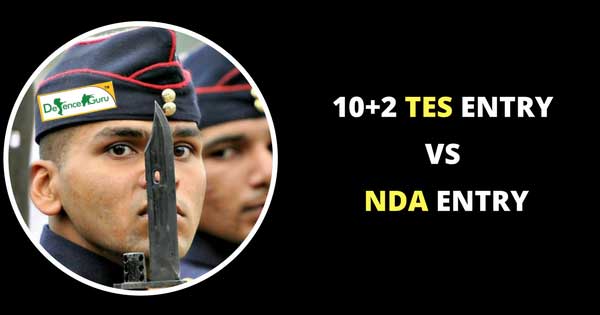 There is a huge difference between the two.
For NDA students from all streams can appear. Whereas for TES (Technical Entry Scheme) only students with 70% aggregate in PCM can only apply.
For TES entry you directly appear for your SSB On other side for NDA you need to clear the written.
TES candidates gradute with BTech  While NDA provides you with a BSc. or BA
NDA is for all three services namely Air Force, Army, Navy. While TES is only for Army
Technical Entry officers receive technical allowance (10k/month approx) which ex-NDA officers don't.
Through NDA Entry a cadet spends 3 years in NDA and 1 year at IMA before getting commissioned. While TES Entry cadets spend 1 year at OTA Gaya - Military Training and another 4 years at the respective military colleges at CME Pune, MCTE Mhow and MCEME Secunderabad (1 year post commission training)
Both the entries have their own merits and demerits. Anyhow none of the entries would make clearing the SSB easier than the other. SSB is a complete different topic to discuss about.
If a student is eligible for TES then he should surely go for it. And that doesn't mean that he shouldn't try for NDA. Keep all options open until and unless you have to make a final decision.
For a student with a science background and an interest in technology, TES is the best way to join the army. All the technical arms in the Indian Army (Artillery, Signals, EME, etc) have ex-TES officers excelling in their respective fields because of a clear foundation.
TES entry Officers can also join fighting arms (Infantry, Artillery, Para, Army Aviation, etc) but that's a very rare case.
Difference between the entries:-
NDA Entry
The requirements for entry into NDA is as follows:
Age16 ½ to 19½ yrs(at the day the course is expected to begin) ie. Born Between 2nd Jan to 1st Jul for Dec Course and 2nd Jul to 1st Jan for Jul Course
Qualification12th Class of 10+2 for Army and with Physics and Maths for AF/Navy
Marital Status Unmarried
Application to be Received by 10-15 Nov for Jan Course and 10-15 Apr for Jul Course
Likely SSB Date Sep to Oct and Jan to Apr
Date Commencement of Training Jan and Jul
Training Academy NDA , Khadakwasla, Pune
Duration of Training 3 Yrs at NDA and then 1 Yrs at IMA, Dehradun
Technical Entry Scheme (TES 10+2)
The TES entry is open twice a year.
Form availability Apr and Sep Notified by Additional Directorate General of Recruiting
The requirements for entry into TES is as follows:
Age 16 ½ to 19 yrs ie. Born Between 1st Jul to 1st Jul for Jan Course and 1st Jan to 1 Jan for Jul Course
Qualification 10+2 Physics, Chemistry & Maths (aggregate 70% and above to apply)
Marital Status Un Married
Application to be Received by 30 Jun and 31 Oct
Likely SSB Date Aug to Oct and Feb to Apr
Date Commencement of Training Jan and Jul
Training Academy OTA Gaya
Duration of Training – 5 Yrs (1 Yrs OTA & 4 Yrs CME Pune, MCTE Mhow and MCEME Secunderabad)
Click here for free OIR Test
Click here for best NDA Coaching in India
Click here for SSB Guidance

Leave a Reply
Defence Guru Team feels pleasure to appreciate from you ! Required fields are marked *.
Latest Comments (2)
Visitor

"Sir I want to know if there are money given in hand to NDA and tes during training period?or we have to pay for training in NDA and TES"
Wrote on 04-01-2020 at 11:03:33

---

Visitor

"Awesome"
Wrote on 29-12-2019 at 07:25:37

---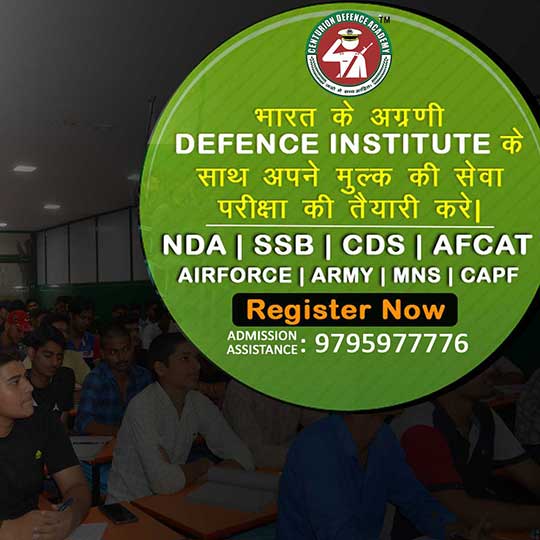 Newsletter Sign Up
Sign up to our newsletter and get exclusive deals you will not find anywhere else straight to your inbox!
-->