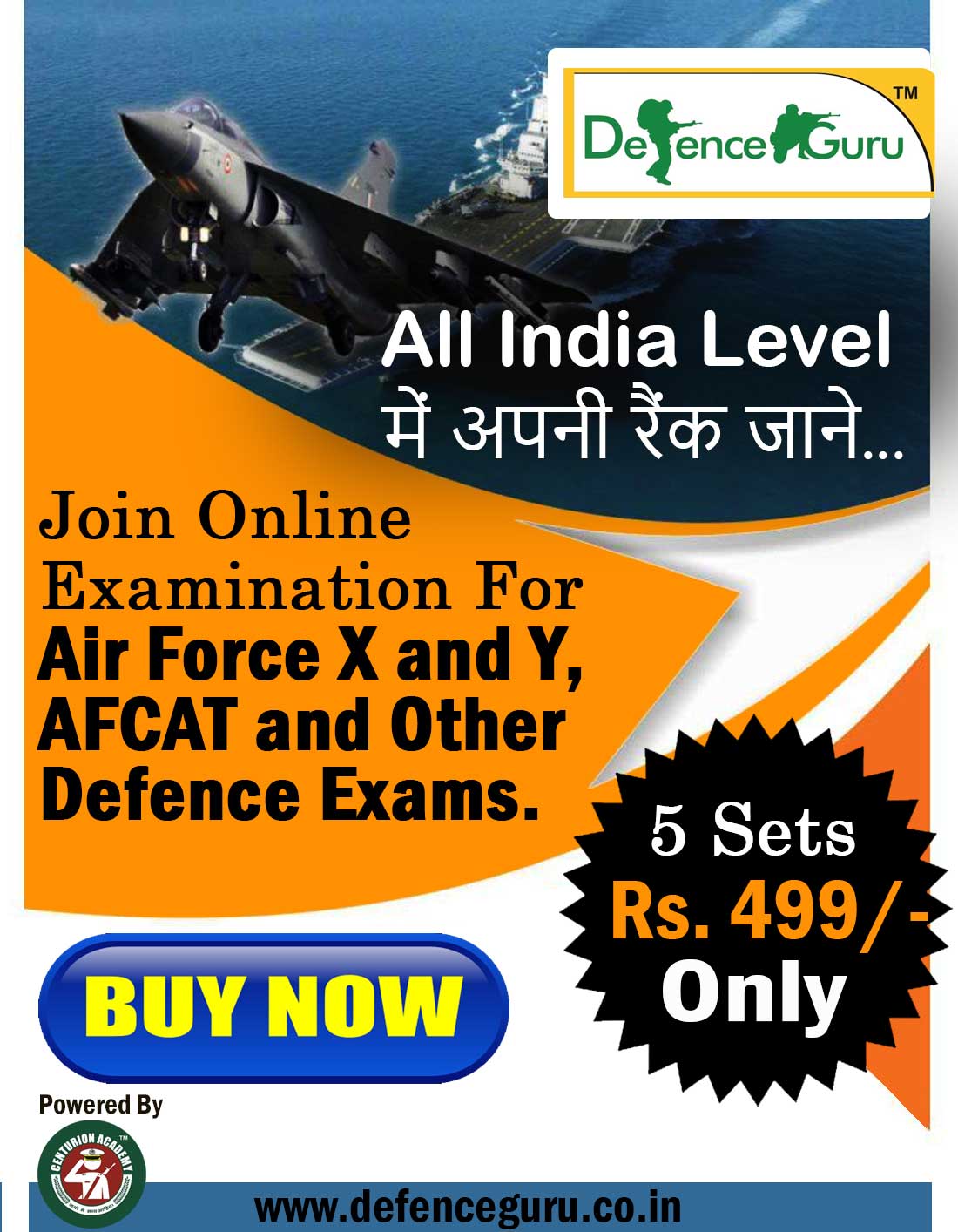 Online Test Series for Air Force X and Y, AFCAT and Other Defence Exams
Dear Students,
Assessment of skills plays a vital role in our preparation. One must evaluate one's performance time to time so that one can work on speed, accuracy and confidence.
Defence Guru feels immense pleasure to launch online examination for all the defence aspirants. Here you get test series for NDA, CDS, MNS, AFCAT, AIR FORCE X GROUP, AIR FORCE Y GROUP and also verbal and non verbal section of SSB Interview. Verbal and Non verbal is also called OIR (Officer Intelligence Rating/ Overall Intelligence Rating).
Online examination is the best utility of internet usage for student's career. Now most of the organizations are opting online examinations. For Air Force, one has to appear for online examination only. AFCAT (Air Force Common Admission Test) is also being conducted online. In some time, it is expected that UPSE will also conduct NDA and CDS exam online only. So it has become the necessity of the present time.
Working on online platform makes a student comfortable with system. It removes the hesitation they have. Here at defence guru portal, the following benefits a defence aspirant going to get in online examination module.
Variety of questions covering conceptual, basic, high, higher and highest level. The purpose to cover all the levels is just to make a candidate ready for all the challenges. There is no set criteria for the difficulty level of the exam. So an aspirant must cover all the levels while preparing for it. That is called the real preparation. At the time of examination, there will no scope to recall chapters or to relate the questions to chapters. Thus a rigorous practice can give required exposure to a defence aspirant. These questions have been collected and made by the subject experts who in content development team of Defence Guru portal. It takes time to categorise and collect questions of variety. At defence guru portal, a defence aspirant can easily get it.
Along with the online examination, students get a question bank too. Here they can get questions as per the selected levels. Questions are available in all the formats like topic wise, difficulty level wise, questions asked in previous exams, subject wise and many more. This level wise description makes a candidate full confidence that he or she has gone through at least these many questions. Covering the variety of questions also develops common sense in students. They may guess the answer as per their experiences.
Machines are better than manual working where accuracy and time efficiency is to be ensured. With online examination system of defence guru you get all these constraints very well. As soon as the allotted time gets over, you are redirected to result page. It ensures your accuracy and efficiency.
Online examination is the cheapest resource for preparation. It does not cost much as compared to manual paper.
As soon as the exam is over, one gets the result right away. There is no need to wait for it.
One can get to know his all India rank in an exam as Defence Guru portal is being operation on pan India basis. This single platform has brought thousands of aspirants at one portal.
There is review section available on each paper. Students can given their review too about the collection of the questions.
Previous year papers have also been organized here. It is better to refer the previous year questions and pattern. It ensures your readiness for the upcoming exam.
The best utilization of smart phone or computer device. Sometimes mobiles or electronic gadgets become the part of disturbance but when an aspirant utilizes them for his studies, there is no problem as he/she becomes habitual to make it's usage for career development only. Online examination of Defence Guru portal is a great utility. Any time, you can just login and check out the number of available practice papers and start solving them. It adds to fun and makes you ready for the challenges.
Option of mobility makes very attractive. No matter you are location anywhere, you can opt the online examination and get to know your status.
So these all the convincing reason to opt online examination system of Defence Guru portal. Keep visiting Defence Guru (India's leading educational portal for defence aspirants). Wish you all the best for your career!