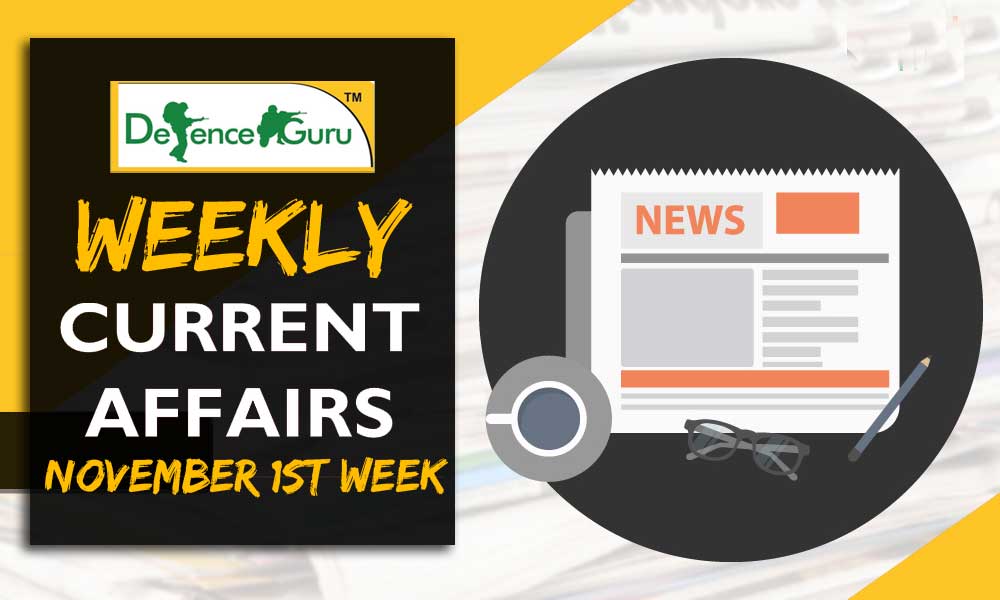 Weekly Current Affairs November 2018 - Week 1st
You are Searching weekly current affairs for NDA, CDS, SSB, AFCAT & all competitive exam preparation. Here We are sharing Weekly Current Affairs November 1st Week, 2018. Learn important current affairs of last week and latest GK questions. Weekly Current Affairs is a collection of important news and events that occurred every week.
Weekly Current Affairs November 2018
1. Dinkar Asthana has been appointed as India's ambassador to Laos
Dinkar Asthana , an Indian Foreign Service Officer (IFS) of the 1990 batch. Currently, he is Additional Secretary in the Ministry of External Affairs. He has been appointed as the next Ambassador of India to Lao People's Democratic Republic.
Capital: Vientiane || Currency: Lao kip
 
2.Saurabh Netravalkar, ex-India U-19 star, now US cricket captain
The 27-year-old former Mumbai medium pacer, who had quit the game to study computer science in Cornell University, became the captain of the US national cricket team. The six-foot-tall left-arm seamer was India's highest wicket-taker in the team's ill-fated U-19 World Cup campaign in 2010.Two of his notable victims were England's future captain Joe Root and Pakistan's turbulent opener Ahmed Shehzad. Three years later, Netravalkar played his only Ranji Trophy game for Mumbai against Karnataka and claimed three wickets.
3. S. S. Deswal appointed as DG, ITBP
The ACC has approved the appointment of Shri S. S. Deswal, IPS (HY: 84) as Director General, Indo Tibetan Border Police (ITBP). He took charge from Shri R K Pachnanda, the outgoing DG of ITBP, who superannuated on October, 31. An MHA order said that Shri Deswal will hold the additional charge of the post of DG, Sashastra Seema Bal (SSB) till further orders.
4. Mary Kom named as brand ambassador of women's world C'ship
Five-time world champion Mary Kom has been named as the brand ambassador of the upcoming 10th edition of the International Boxing Association (AIBA) Women World Championship. AIBA Women World Championship is slated to be held from November 15-24 in New Delhi.
 
 
5. 'Pather Panchali' is only Indian movie to feature in BBC's 100-best foreign language films
Satyajit Ray's epic masterpiece 'Pather Panchali' has been included by BBC's 100 best foreign language films but it is the only film from India to feature in the list. Ray's film, released in 1955, was placed at number 15 in the list, which has been topped by Akira Kurosawa's 'Seven Samurai'. 27 of the highest-rated films were in French, followed by 12 in Mandarin, and 11 each in Italian and Japanese.
6. Harsimrat Badal confers prizes to cleanest Mega Food Parks and Cold Chain Units
Swachhta Pakhwada activities by the Ministry of Food Processing Industries have come to a close. On the penultimate day Union Minister Smt Harsimrat Kaur Badal distributed prizes for cleanliness among Mega Food Parks and Cold Chain Units for maintaining, promoting and encouraging Swachhta Culture. The first prize was awarded to M/s. Patanjali Food and Herbal Park (P) Ltd. in Haridwar, the second prize by Satara Mega Food Park (P) Ltd., Satara District, Maharashtra and third by Pagro Frozen Foods Pvt.(P) Ltd. (Cold Chain Project) in Fatehgarh Sahib, Punjab.
7. Karen Khachanov lifts Paris Masters Men's Singles title
In Tennis, Karen Khachanov has lifted the Paris Masters Men's Singles title with a stunning win over world number two Novak Djokovic. With the victory, Khachanov has become the first Russian since Nikolay Davydenko in 2009 to win a Masters 1000 title.
8. Women's World Championship
MC Mary Kom has been appointed as brand ambassador of 10th edition of Women's World Championship. 2018 AIBA Women's World Boxing Championships will be held in New Delhi.
 
9. ICC Women's World Twenty20
The 2018 ICC Women's World Twenty20 will be hosted in the West Indies from 9 to 24 November 2018. Current champion: West Indies cricket team || Next tournament: 2018, West Indies || Tournament format: Round robin and knockout || Number of teams: 10 || Most runs: Charlotte Edwards (768) || Most successful: Australia (3 titles) || Most wickets: Ellyse Perry (27)
 
10. Ambati Rayudu has retired
Cricketer Ambati Rayudu has announced retirement from 1st-class cricket to focus on 50-over and T20 cricket. India Cricket Team :- Captain: Virat Kohli || Location: India || Coaches: Ravi Shastri (Head coach), Ramakrishnan Sridhar, Sanjay Bangar, Bharat Arun (Bowling coach).
 
11.Pakistan sweeps series by beating Newzealand
Babar Azam became the quickest batsman to reach 1,000 Twenty-20 international runs as Pakistan whitewashed New Zealand 3-0 with a comfortable 47-run win in the third and final match in Dubai. Azam, when on 48, completed 1,000 T20Is runs in just 26 innings, bettering Virat Kohli's record of reaching the mark in 27 innings.
12.Doha to host World Corporate Games
World Corporate Games 2019 will be held for the first time in the Middle East in Doha, organisers of the Games announced. The 23rd edition is held under the patronage of Prime Minister and Interior Minster H E Sheikh Abdullah bin Nasser bin Khalifa Al Thani and will bring together the local, regional and international business sporting community. It will be the first time that the World Corporate Games, established nearly 30 years ago, incorporate eSports and mindsports.
13. Azhar Ali announces retirement from ODIs
Senior Pakistan batsman Azhar Ali announced his retirement from limited overs cricket in order to concentrate fully on Test cricket. A prolific player in the longest format, the 33-year-old played the last of his 53 ODIs against New Zealand in January, earlier this year.
14. Pankaj Advani clinches Asian Snooker title
Ace cueist Pankaj Advani won the Asian Snooker Tour by defeating Ju Reti of China. The 33-year-old registered a domination 6-1 victory over his Chinese opponent to finish on top. Pankaj had won his first international title in China way back in 2003.
 
15. Britain to allow Commonwealth nations to join the Armed Forces
Britain has allowed foreign nationals from Commonwealth nations to join the Armed Forces. The Commonwealth of Nations is an intergovernmental organisation of 53 member states that are mostly former territories of the British Empire.
 
16. MOU between India and Malawi
India and Malawi have signed 3 MOUs.
Extradition Treaty
Cooperation in the field of Atomic Energy for peaceful purposes.
VISA Waiver for Diplomatic and Official Passports.
 
17.India, South Korea sign MoU on cooperation in sports
India and South Korea signed a Memorandum of Understanding on cooperation in sports in New Delhi. Sports Minister Col. Rajyavardhan Rathore and Minister of Culture, Sports and Tourism of South Korea Do Jong-hwan signed the MoU. The objective of the MoU is to establish a framework to facilitate and promote cooperation between the two countries on the basis of reciprocity and mutual benefit.
18. Palau becomes first country to ban sunscreen to save coral reefs
The Western Pacific nation of Palau has become the first country to ban many kinds of sunscreen, in a move to protect its coral reefs from chemicals that scientists say cause significant damage. Under the ban, which will take effect in 2020, "reef-toxic" sunscreen — defined as containing one of 10 prohibited chemicals, a list that could grow later — can be confiscated from tourists when they enter the country, and retailers who sell it can be fined up to $1,000.
19. VP Venkaiah Naidu reaches Malawi on final leg of his 3-nations Africa tour
Vice President M Venkaiah Naidu arrived in Lilongwe, the capital of Malawi. At the Kamuzu International Airport, he was received by Minister of Foreign Affairs and International Cooperation of Malawi, Dr. Emmanuel Fabiano, Minister of Education, Science and Technology of Malawi, V Bright Masaka and Minister in waiting, George Mkondiwa. He will address the Indian community in Malawi at a reception function in Lilongwe later tonight. Mr Naidu reached Malawi on the final leg of his three nations Africa tour after visiting Botswana and Zimbabwe.
20.1st WHO Global Conference on Air Pollution and Health Held in Geneva
The first Global Conference on Air Pollution and Health was held at WHO Headquarters in Geneva on 30 October – 1 November 2018. The conference responds to a World Health Assembly mandate to combat one of the world's most significant causes of premature death, causing some 7 million deaths annually.
21. India Pavilion Inaugurated at Videocittà 2018 in Rome Film Festival
India was partner country at Videocitta 2018, an event focussing on Virtual Reality, Video gaming, Animation, Film Making, etc. was organized along with Rome Film Festival and Mercato Internazionale dell' Audiovisivo (MIA) (the International Audio Visual Market). India's participation at Videocitta 2018, Rome was organized by Ministry of Information & Broadcasting and coordinated on Ministry's behalf by FICCI. India Pavilion at Videocitta 2018 showcased Indian films' heritage, ease of film shooting in India, promoted film shooting locations in India, International Film Festival of India, Indian Cinema from different regions, Audio Visual Co Production between India and Italy.
22. Vice President embarks on three nation Africa visit
Vice President of India, Shri M. Venkaiah Naidu embarked on his first Africa visit from 31st October to November 6. In his weeklong visit, he will visit Botswana, Zimbabwe and Malawi where he is scheduled to interact with heads of state of the three nations, business fora and address Indian Community. visit underlines the high priority, the government of India accords to Africa and is line with India's efforts to have a sustained and regular engagement. Vice President is accompanied by a high level Parliamentary delegation comprising of the Minister of State for Social Justice and Empowerment, Shri Krishan Pal Gurjar, and four Members of Parliament. Vice President will reach Botswana's capital Gaboron on 31st October evening to attend the Official opening of the 13th Annual Global Expo where 25 Indian companies are participating for the first time showcasing India's economic and Industrial proves.
23. Japan joins International Solar Alliance
In a boost to Prime Minister Narendra Modi-initiated International Solar Alliance (ISA), Japan announced joining the group submitting the instrument of ratification. Japan will be the 71st country to sign and 48th country to ratify the ISA Framework. The decision was announced at the end of bilateral Summit between Prime Minister Modi and his Japanese counterpart Shinzo Abe.
 
24. Prime Minister felicitates crew of INS Arihant on completion of Nuclear Triad
Prime Minister Shri Narendra Modi received the crew of Strategic Strike Nuclear Submarine (SSBN) INS Arihant. The submarine recently returned from its first deterrence patrol, completing the establishment of the country's survivable nuclear triad. The Arihant class (Sanskrit, for Slayer of Enemies) is a class of nuclear-powered ballistic missile submarines being built for the Indian Navy.
25. India's country pavilion at CIIE in Shanghai showcases India's strength
On the invitation of China's Ministry of Commerce, India has set up a Country Pavilion in the 1st China International Import Expo (CIIE) which was inaugurated at the National Exhibition & Convention Centre, Shanghai, China. During the Joint Economic Group Meeting held in Delhi in March 2018, China's Commerce Minister Mr Zhong Shan had extended an invitation to participate in this event. China is India's largest trading partner with a total trade expecting to reach $ 100 billion mark in near future. Both countries have expressed a resolve to address India's concern regarding large trade deficit with China. Government of India is consistently making sincere efforts to promote its exports to China. This has been achieved through various bilateral meetings at the government level and continuous engagement of Indian businessmen with China.
26. Ministry of Food Processing Industries issues guidelines for OPERATION GREENS
Ministry of Food Processing Industries(MoFPI) under Union Minister Smt Harsimrat Kaur Badal has approved the operationalisation strategy for Operation Greens. Operation Greens was announced in the Budget speech of 2018-19 with an outlay of Rs 500 crores to stabilize the supply of Tomato, Onion and Potato(TOP) crops and to ensure availability of TOP crops throughout the country round the year without price volatility. NAFED will be the Nodal Agency to implement price stabilisation measures. MoFPI will provide 50% of the subsidy on the following two components:
Transportation of Tomato Onion Potato(TOP) Crops from production to storage;
Hiring of appropriate storage facilities for TOP Crops;
 
27.Government launches Unreserved Mobile Ticketing facility
Union Ministry of Railways has launched Unreserved Mobile Ticketing facility (UTS on Mobile) to enable seamless booking of unreserved tickets including season tickets and also platform tickets all over Indian Railways. UTS on Mobile aims to promote three C': Cashless transactions (Digital payment), Contact less ticketing (no need to physically visit the point of sale and Customer convenience and experience. With this, booking of unreserved tickets on all non-suburban sections across all Zonal Railways will be now made available on mobile. The facility for booking unreserved tickets is available through 'UTSONMOBILE' app, available for mobile phones with Android, IOS and windows operating system.
28. Union Cabinet approves opening up of International Solar Alliance membership to all UN countries
The Union Cabinet chaired by Prime Minister Narendra Modi has given ex-post facto approval for opening up International Solar Alliance (ISA) membership to all countries that are members of the United Nations. In this regard, Cabinet has approved to move Resolution in first Assembly of ISA for amending the Framework Agreement of ISA. It will make ISA inclusive, whereby all member countries of UN could become member. Thus, expanding membership will lead to ISA initiative benefitting the world at large.
29. India, Sharjah to bolster economic ties
Over 100 Indian investors participated in a business conference in the UAE to strengthen Sharjah's trade relations with India and to promote the Gulf emirate as a leading business and investment hub in the region. The 'Sharjah-India Business Roundtable', held on the sidelines of the last week's Indian-UAE Partnership Summit, was part of India's continued interest in the emirate's diversified economy. Sharjah is one the key drivers for Indian outbound investment into the Gulf region, valued at more than USD 137 billion and a primary non-oil trade partner.
30. President Kovind inaugurates Gyan Kumbh in Haridwar
President Ram Nath Kovind has stressed the need to impart quality education to the students. After inaugurating a two-day Gyan Kumbh at Patanjali Yogpeeth in Haridwar on Saturday, He said that besides educating children, it is imperative on the part of teachers to inculcate good manners and character building in the students. The president appreciated the role of Uttarakhand Government in forging co-ordination with Centre in a matter of providing education which falls under the concurrent subject.
31. Ministry of Drinking Water & Sanitation announces Swachh Bharat World Toilet Day Contest
Ministry of Drinking Water and Sanitation has announced Swachh Bharat World Toilet Day Contest for districts and States. The purpose of the Contest is to encourage all districts in India to re-intensify the sanitation movement with a special focus on Open Defecation Free-ODF Sustainability. As per the advisory issued by the Ministry, top 10 District Collectors, top 3 State Mission Directors and State Secretary in-charge of Sanitation will be recognized and awarded by the Swachh Bharat Mission. The Contest does not apply to the five States of Rajasthan, Madhya Pradesh, Chhattisgarh, Telangana and Mizoram. Districts can apply for the Contest through the online portal. The application window will be opened on the occasion of World Toilet Day on 19th November and will remain open till the end of this month.
 
32. IIT-Madras creates 'Shakti', India's first microprocessor
Researchers at Indian Institute of Technology-Madras (IITM) have designed and booted up India's first microprocessor, Shakti, which could be used in mobile computing and other devices. According to IITM, the Shakti microprocessor can be used in low-power wireless systems and networking systems besides reducing reliance on imported microprocessors in communication and defence sectors.
33. India ranked 12th in web-borne threats
India is ranked 12th worldwide when it comes to the dangers associated with surfing the web, according to a recent report by global cybersecurity company, Kaspersky Lab. In the third quarter (July- September), 32.8 per cent of the users were attacked by web-borne threats in India. Kaspersky Lab products detected 48,093,743 Internet-borne malware incidents on the computers of KSN participants in India.
34. Decommissioned carrier INS Viraat to become a floating museum
The Maharashtra Cabinet has approved the conversion of decommissioned carrier INS Viraat into a floating museum. As per primary estimates, the project worth 852 crore rupees will be implemented through public-private-partnership (PPP). The decision has been taken to elicit interest among the school and college students in the marine sector. Besides, it will make the new generation familiar with the glorious history of INS Viraat.
35. Ayurveda Day to be celebrated throughout the Country on 5th November
Ministry of AYUSH observes Ayurveda Day every year on Dhanawantari Jayanti (Dhanteras). This year Ayurveda Day is being observed on 5th November 2018. On this occasion, Ministry is organising a "National Seminar on Entrepreneurship and Business Development in Ayurveda" in association with NITI Aayog on 4th & 5th November 2018 at Dr. Ambedkar International centre, Janapth, New Delhi. Its aim is to encourage entrepreneurs and Ayurveda stakeholders towards businesses opportunities in the sector.
36.PM launches historic Support and Outreach Initiative for MSME sector
The Prime Minister, Shri Narendra Modi, launched a historic support and outreach programme for the Micro, Small and Medium Enterprises (MSME) sector. As part of this programme, the Prime Minister unveiled12 key initiatives which will help the growth, expansion and facilitation of MSMEs across the country.
The Prime Minister said that the 12 decisions that he is announcing today, will mark a new chapter for the MSME sector. Noting that MSMEs are one of the principal employment generators in India, the Prime Minister recalled the glorious Indian traditions of small scale industry, including Ludhiana's hosiery, and Varanasi's sarees.
The Prime Minister said that the success of economic reforms launched by the Union Government, can be gauged from the rise in India's "Ease of Doing Business Rankings," from 142 to 77 in four years. As the first announcement, the Prime Minister announced the launch of the 59 minute loan portal to enable easy access to credit for MSMEs. He said that loans uptoRs. 1 crore can be granted in-principle approval through this portal, in just 59 minutes.He said a link to this portal will be made available through the GST portal. The Prime Minister asserted that in New India, no one should be compelled to visit a bank branch repeatedly.
37. Naval Commanders' Conference concludes
The second edition of this years' bi-annual Naval Commanders' Conference concluded after three days of fruitful deliberations. The Hon'ble RM addressed Naval Commanders and complimented all personnel of the Indian Navy for maintaining a high operational tempo and ensuring maritime security of the country. The Hon'ble RM reiterated the need for the nation to be strong at sea and the Navy to be ready and vigilant to counter any challenge in the maritime domain.
38. Anupam Kher resigns as FTII Chairperson
The Ministry of Information & Broadcasting has received letter from Shri Anupam Kher, Chairperson, Film & Television Institute of India, Pune in which Shri Kher has intimated his upcoming international shooting commitments. Due to those commitments, Shri Kher has informed that he will not be present in the country for nearly nine months between 2018-19. He feels that it will not be possible for him to discharge his responsibilities as Chairperson, FTII due to his commitments.
39. K J Alphons presides over the Program and Budget Committee meeting of UNWTO
The Minister of State (Independent Charge) for Tourism, Shri. K. J. Alphons along with a delegation of senior officials is attending the 109th session of United Nations World Tourism Organization (UNWTO) Executive Council in Manama, Bahrain.The three day Session of UNWTO Executive Council began on 30th October 2018. The Executive Council will discuss several topics on the agenda that are related to the development of global Tourism sector. During the opening day of the Executive Council meeting, Shri. K. J. Alphons chaired the 'Programme and Budget Committee' meeting of UNWTO. In his opening remarks, the Minister highlighted the role of tourism in socio-economic development through job creation, enterprise and environment development and foreign exchange earnings. As the chair of the Committee, the Minister informed the session that for the first time, UNWTO had a surplus budget and most of the arrears due have been paid. India will be the chair of Programme and Budget Committee of UNWTO Executive Council till 2021.
40.Jharsuguda Airport renamed as "Veer Surendra Sai Airport, Jharsuguda"
The Union Cabinet chaired by Prime Minister Shri Narendra Modi has approved renaming of Jharsuguda Airport, Odisha as "Veer Surendra Sai Airport, Jharsuguda" Veer Surendra Sai is a well-known freedom fighter of Odisha. Renaming of the Jharsuguda airport in his name will fulfill long-pending demand of the Odisha Government, which reflects the sentiments of the local public of the respective area. It will also be a befitting tribute to the contribution of the revered personality associated with the State.
41. India-Japan military exercise Dharma Guardian-2018 begins in Mizoram
Armies of India and Japan began their first-ever joint military exercise at a jungle warfare school in Mizoram's Vairengte. The focus of the two-week-long exercise 'Dharma Guardian-2018″ will be to enhance tactical skills against global terrorism and increase interoperability between the two forces. The Japanese contingent is represented by 32nd Infantry Battalion, while the Indian side by 6/1 Gorkha Rifles.
42. MHA approves Rs.194.44 crore Safe City Project for Lucknow
The Ministry of Home Affairs (MHA) has approved a Safe City project for Lucknow at a total cost of Rs.194.44 crore under the Nirbhaya Fund Scheme. The project would be implemented as a Centrally Sponsored Scheme with Centre and State sharing the funding in 60:40 ratio. This approval is a part of MHA's plans to implement Safe City projects in 8 selected cities, namely, Mumbai, Delhi, Kolkata, Chennai, Bengaluru, Hyderabad, Ahmedabad and Lucknow under Nirbhaya Fund with the purpose of strengthening safety and security of women in public places. The projects are being implemented in consultation with Ministry of Women and Child Development, Ministry of Urban Development, Ministry of Electronic and Information Technology, respective Municipal & Police Commissioners of the cities and civil society organizations.
43. NMCG & UN Habitat organize a policy dialogue - Urban Cafe: 'River for Habitat'
The National Mission for Clean Ganga partnered with UN Habitat to organize a policy dialogue- 'Urban Cafe: River for Habitat' in New Delhi on the occasion of World Cities Day 2018 on October, 31. Experts in the sector got together to discuss the deep association that rivers have with various aspects of human civilization – our cities, our economy and various facets of our daily lives, the challenges to maintaining healthy river ecosystems and ways to deal with the same.
44. The Fourth NITI Aayog- DRC Dialogue Held in Mumbai
The Fourth Dialogue of the NITI Aayog - Development Research Centre (DRC) of the State Council, Peoples' Republic of China was held in Mumbai. The Chinese delegation was led by Mr. Li Wei, President of DRC and the Indian delegation was led by Dr Rajiv Kumar, Vice Chairman of NITI Aayog. This is the second ministerial dialogue between China and India since the meeting of Chinese President Xi Jinping and Indian Prime Minister Narendra Modi in Johannesburg during the BRICS summit in July 2018.
 
45.Indo-French Conclave held in Nagpur
Indo-French Conclave was held in Nagpur, Maharashtra, in which French and Indian firms signed 12 agreements worth 200 million euro. These agreemnents will help to create 3,000 jobs in Maharashtra. The Indo-French Conclave was organized by Indo French Chamber of Commerce & Industry (IFCCI) and the Embassy of France in India.1
46. India and Japan signs a Loan Agreement worth Rs. 1817 crore
A Loan Agreement worth of Rs. 1817 crore approximately was signed between India and Japan for the construction of Turga Pumped Storage (I). The objective of the Project is to strengthen the capability to respond to fluctuation in supply and demand of power and to improve stability of the power supply. India and Japan have had a long and fruitful history of bilateral development cooperation since 1958.In the last few years, the economic cooperation between India and Japan has steadily progressed. This further consolidates and strengthens the Strategic and Global Partnership between India and Japan.
47.India Improves Rank by 23 Positions in Ease of Doing Business
The World Bank released its latest Doing Business Report (DBR, 2019) in New Delhi. India has recorded a jump of 23 positions against its rank of 100 in 2017 to be placed now at 77thrank among 190 countries assessed by the World Bank. India's leap of 23 ranks in the Ease of Doing Business ranking is significant considering that last year India had improved its rank by 30 places, a rare feat for any large and diverse country of the size of India. As a result of continued efforts by the Government, India has improved its rank by 53 positions in last two years and 65 positions in last four years.
The Doing Business assessment provides objective measures of business regulations and their enforcement across 190 economies on ten parameters affecting a business through its life cycle. The DBR ranks countries on the basis of Distance to Frontier (DTF), a score that shows the gap of an economy to the global best practice. This year, India's DTF score improved to 67.23 from 60.76 in the previous year. For the third year in a row, New Zealand retained its position at the top of the Doing Business rankings.