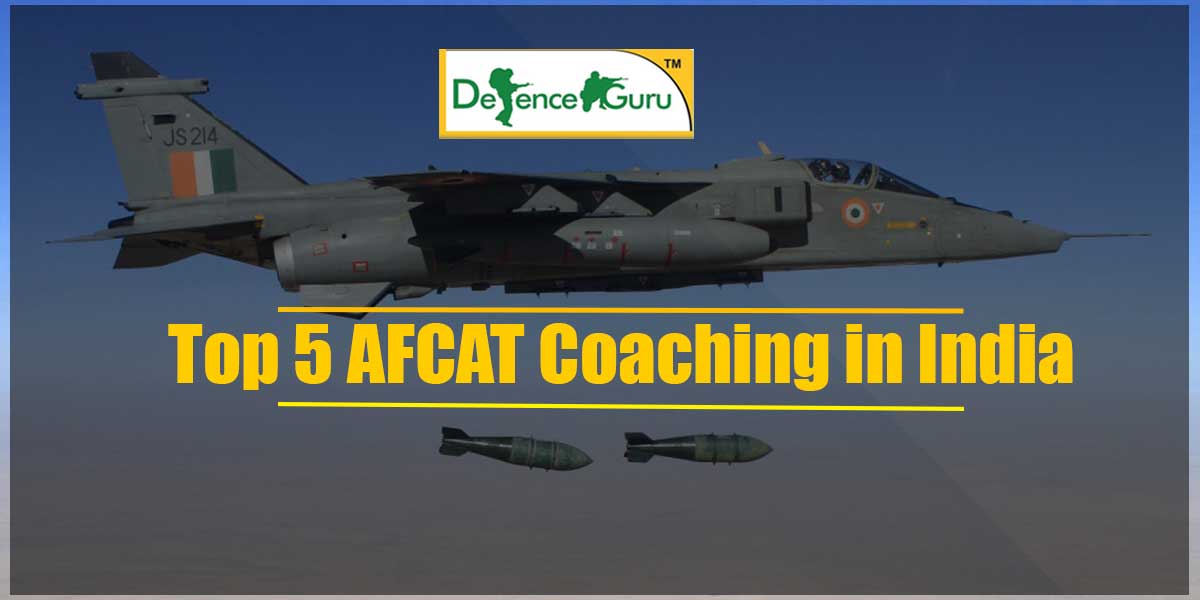 AFCAT Exam
The AFCAT or the Air Force Common Admission Test is a national level competitive examination that is conducted twice a year to recruit eligible air force aspirants for different air force departments. Every year a huge number of aspirants appear for the examination to get selected in any of the three air force departments i.e. the ground staff, the technical staff, and the flying staff.
AFCAT EXAM PATTERN
AFCAT tests your basic knowledge, and therefore you don't have to fear the exam too much. The exam is in online mode and for a duration of 120 minutes comprising of 100 marks.
It tests you on four aspects
NUMERICAL ABILITY
GENERAL AWARENESS
ENGLISH
REASONING & MILITARY APTITUDE TEST
Best AFCAT Coaching in India
It becomes very difficult to score a good rank in such type of competitive examinations, especially when thousands of other applicants are also competing to get the same position. In that case, you should join an institute that not only prepares you for the written examination but also prepares you for clearing the non-written selection processes as well. If you want best coaching centre for AFCAT Exam, Here are list of 5 Best AFCAT Coaching In India .
List Of Top 5 AFCAT Coaching in India
1- Centurion Defence Academy, lucknow
Centurion Academy is a Best AFCAT Coaching in Lucknow, India & faculty of Centurion is highly qualified and vastly experienced in successfully coaching students for AFCAT examinations. The Centurion Academy offers coaching for the AFCAT written examination and AFCAT SSB. Not only do we cover the entire syllabus subject by subject as per AFCAT, we also prepare our students with mock tests, previous year question papers and doubt clearing sessions which are conducted each week to monitor each student's progress.
Mock test (ONLINE-Test) / weekly test results are also discussed to pin point where the student may be lacking. This ensures that the students know what to expect in the examination, how to approach the examination, manage time efficiently and get the best possible results. Centurion Academy is supervised by EX defence officers.
Infrastructure: The Centurion Academy campus provides unmatched infrastructure, in addition to separate hostel and mess facilities for boys and girls over lush green, pollution free PRO-SSB environment.We also provide Computer lab for online test .
Timed Discipline: Centurion Academy is a Defence preparatory institute with strict rules that all students must abide by. All students are expected to follow the Honour Code and Discipline Code of Conduct of Centurion Academy, failing which they may be expelled without refunds. These guidelines enforced by the academy inculcate good values and discipline in the students. Students also learn the importance and benefits of proper time management. Sundays and other holidays are not observed to maintain continuity and to ensure students can focus on upcoming exam without distractions.
Classroom preparation: Our daily scheduled 240 mins classes (NUMERICAL ABILITY, GENERAL AWARENESS, ENGLISH, REASONING & MILITARY APTITUDE TEST) covering all aspects and entire syllabus of the examination as prescribed by the AFCAT. Free PD and spoken English classes are also conducted Every day.
Exhaustive test series: Weekly practice tests of each subject to prepare students for upcoming competition and provide them with vital self assessment tools. Mock tests are also held to prepare the student for NDA, CDS exams.
Current affairs/GK: Special weekly updates on defence related news, and finest developments, events and people in news. General Knowledge is taken up thoroughly.
India's best and exclusive Study Material: We provide our own books for written exams , Question banks practice sets of each subject, ready reference notes for important topics, all extensively researched and prepared after analysis of previous years exam patterns of AFCAT.
Doubt clearing Sessions: Daily assignment for each class and practice sets help students to assess their own progress. Model papers are also provided as important questions for exams. Doubt clearing sessions are held to answer all queries of students with our best possible ways.
E-Learning: We Also have E-Learning for self study. We provide Free of cost E-Learning on computer as well as on Mobile . We provide Free of cost Computer Lab for E-Learning.
Online test: We have online test as per real time senior for self assessment. We provide Free of cost online test on computer as well as on Mobile .
Teachers: The highly qualified, experienced and updated faculty for AFCAT written coaching provides students with the right guidance to get best results in the exam. Students are coached by permanent faculty members.
Library: Only Centurion academy offers the facility of a fully equipped library offering 1000+ relevant and important books pertaining to the syllabus of the examination and competitive exam preparation. Students can issue these books for self study, revision, practice etc.
Contat Us at: +91 9795977776, +91 9795977779
2. General Ranjit Academy
General Ranjit Academy is a premier SSB Coaching Academy and one of the best for SSB Interview Coaching, NDA Coaching, SSB Training, Soldier Recruitment and SSB Guidance. The Training Institute aims to provide training in a manner which makes an excellent platform for nurturing students for Defence forces (Army, Airforce, Navy, TA and Para-Military Forces).
3. Siddhu Defense Academy
Best Coaching Institute in Hardoi has surfaced as one of the best Defense Coaching Centers in Haryana.The Siddhu Defence Academy sharp preparing gets ready people to break the pined for resistance exams and interviews.nda coaching,cds coaching,best nda coaching institutue in Haryana,best top defence . This protection guiding focus in Haryana has confidence in transforming the instruction into a rumored Job. Top Best AFCAT Coaching Centre in Haryana As the organization has effectively crossed the markup of 200 choices into upright assignments as pilot officer, acting sub-lieutenant, second lieutenant, Air Craftsmen and so forth it has set turning points for guiding foundations. As respects the past accomplishments, the SDA has contributed almost a large portion of the aggregate determinations accomplished for safeguard subsequent to 2012 in Haryana which without anyone else input says a ton. No. 1 Airforce Coaching Centre in Haryana Nothing else verge on it.
4. Accent Coaching
Accent Coaching Institute is known as best academy for preparation of AFCAT coaching in Hisar (Haryana). We at Accent Academy provide coaching for AFCAT written examinations with expert guidance.
5. Chauhan Defence Academy
It was a small thought once, emerged out of the fact that the least number of boys were participating / looking forward their career in the armed forces from this region. Whatsoever might the reason be, inspired me to guide and motivate the youth of this region to look forward to their career in this field also.
The main objective of this academy is to guide the students in a way which generate self confidence among them so that they are capable of securing their position, as per their calibre by their own.
Academy was established in 2008-09. At beginning, it was quite hard to convince the students that they can get through these exams with proper guidance and their hard work, without any bribe. Some of them agreed and succeeded. Since than the mentality of people or nature of query coming to this academy changed and now they are stepping in this field without any hesitation.