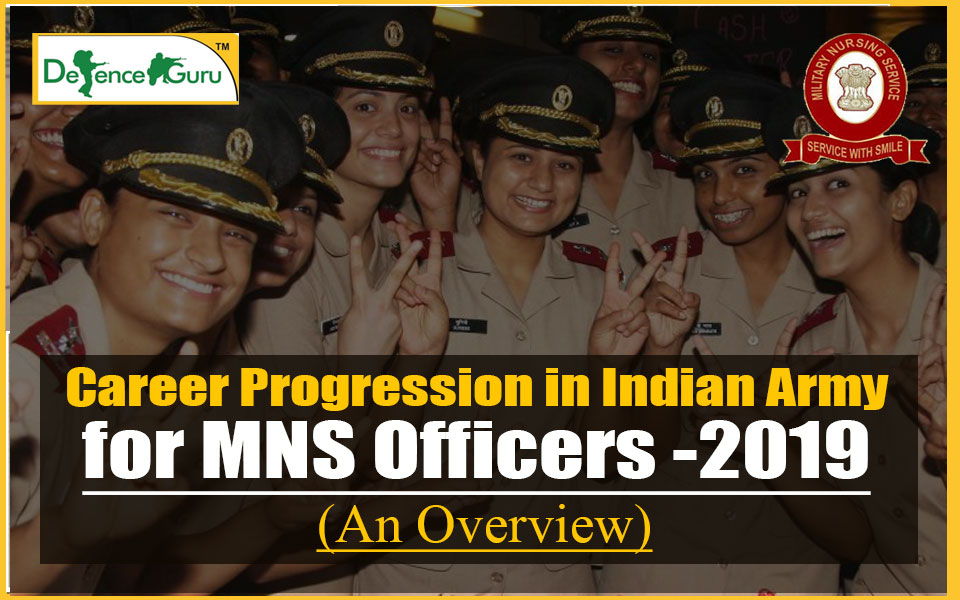 Career Progression in Indian Army for MNS officers-2019 | An overview
Since our past days, we are facing career progression hurdles for young lady candidates in indian armed forces. A serious analysis about the career progression of young lady candidates reveals their aspiration restricted and their potential is deprived due to limited scope after 12th for joining them into prestigious indian military services. It becomes patetic for them who nurtures dream to wear olivegreen since their childhood. Recently in 3rd week in may 2019, MNS has caught the attention of high level authorities including chiefs of Indian armed forces and ministry of defence. After 12th class female candidate may join Indian armed forces through single entry that is known as military nursing services. However, MNS entry is only for biology stream female students of 12th standard. MNS officers perform duties in Militry hospitals / station medicare centres of indian armed forces and serving in close control with medical officers in all medical related operations.
Since induction of military nursing services into Indian armed forces in 1943, members of MNS have not achieved status as compared to Brother and Sister officers (Commissioned officers) serving into indian armed forces enjoying par status. Due to the court case filed by major general Usha sikdar (retd), 28 welfare and job satisfaction related issues were raised. Now due to court's discretion, authories are looking forward to enhance the quality and job satisfaction for MNS officers. They are into agreement to promote MNS officers up the senior ranks (Brigadier and above with star plate on their service vehicles) and also to offer them ESM (ex-serviceman) status which will enable their career more secured while getting discharge from Indian armed forces.
After the revolutionary reforms in tanure of existing government to promote women empowerment this initiative seems good news for female defence aspirants those who are seeking career into Indian armed forces as an officer having Biology stream in 12th.
To join MNS, aspirants need to go through selection procedure in 3 stages
(a) written (1 day)
(b) interview (1 day)
(c) medical (3 to 4 days)
MNS Syllabus
Syllabus for MNS as per 2019 exam schedule is as follows
MNS Syllabus for english
Synonyms/ Homonyms.
Antonyms.
Spot the error.
Fill in the blanks.
Spellings.
Detecting Mis-spelt words.
Idioms and phrases.
One word substitutions.
Shuffling of sentence parts.
Shuffling of Sentences in a passage.
Improvement.
Cloze passage.
Comprehension passage.
MNS Syllabus for Biology
Taxonomy.
Cell and Molecular Biology.
Reproduction.
Genetics and evolution.
Human health and diseases.
Biochemistry.
Plant physiology.
Human physiology.
Biotechnology and its applications.
Biodiversity, ecology, and environment.
MNS syllabus for Physics 
Laws of Motion & Work, Energy, and Power.
Properties of Matter.
Electrostatics.
Current Electricity.
Magnetic Effects of Electric Current.
Electromagnetic Induction and Alternating Current.
Optics.
Dual Nature of Radiation and Atomic Physics.
Nuclear Physics.
Semiconductor Devices and their Applications.
MNS Syllabus for Chemistry
Atomic Structure.
p,d, and f – Block Elements.
Coordination Chemistry and Solid State Chemistry.
Thermodynamics, Chemical Equilibrium, and Chemical Kinetics.
Electrochemistry.
Isomerism in Organic Compounds.
Alcohols and Ethers.
Carbonyl Compounds.
Carboxylic Acids and their derivatives.
Organic Nitrogen Compounds and Biomolecules.
MNS Syllabus for General Intelligence
Analysis.
Number Series.
Observation.
Judgment.
Space Visualization.
Decision Making.
Problem Solving.
Similarities and Differences.
Figure Classification
Visual Memory
Relationship Concepts
Non-Verbal Series
Arithmetical Computation.
Analytical Functions etc.
Mns exam in india is conducted once in a year in the month of feb tentatively. Indian armed forces is facing serious shortage of MNS officers. Presently 5300 MNS officers are serving in india. Mode of examination is offline. Students can join best mns coaching for true guidance for written and interview.
Click Here for Best MNS Coaching