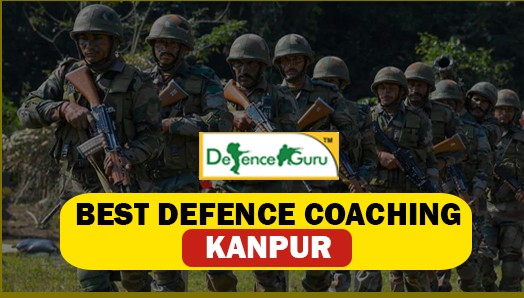 If you are looking a Top coaching Instiute in Kanpur for NDA, CDS, AFCAT, AirForce X Y Group, MNS, CAPF, ACC, Navy, SSB and other Defence Exams Preparation. Here, Defence guru share list of Best Defence Coaching in Kanpur.
Address: 117/N/96, Rawatpur Main Road, Opp, Deoki Cinema Lane, Ambedkar Nagar, Navin Nagar, Kakadeo, Kanpur, Uttar Pradesh 208025
Phone: 09453577270
Uttam Career Institute is the one of the Best Defence Coaching in Kanpur. Uttam Career Institute started way back in 1998 with the core objective of serving youth through academic and training excellence in the field of Armed Forces. All these wonderful years of Uttam Career Institute have cared, nurtured, guided and motivated thousands of the aspirants for Indian Armed Forces and supported them in achieving their most cherished dreams.Uttam Career Institute is committed to working in a holistic manner for a complete Body-Mind Equilibrium. With its state of the art infrastructure, study material, GTO ground, Expert Mentors and Teachers, Smart classes, online platform Uttam Career Institute is successively moving ahead with keeping in the mind, what Army strongly believes in. We give our student's fully-fledged environment for learning. We move along with technology and Uttam Career Institute firmly believes in up gradating ourselves regarding changes in courses, examination pattern or Interview sessions.
- At Uttam Career Institute, we have well-qualified and experienced teachers who impart knowledge and proper guidance for overall growth of individual students.
- Our institute invites a team of eminent doctors to do a medical checkup of our students so that they can meet the standards of the defence force.
- We enriched ourselves with our own online test study labs where students can do practice and give test anytime he wants.
- We have our own GTO Ground and well qualified and expert psychologists to screen the mental intelligence and analyze the psychological ability.
Address: Near Manas Park, Ambedkar Nagar, Navin Nagar, Kakadeo, Kanpur, Uttar Pradesh 208025
Phone: 09839666450
GCA offers coaching for entrance examination of various competitive examinations like NDA, AIRFORCE, NAVY, SSC, BANK PO, IBPS SPECIALIST OFFICER, SSC (Statistical Investigator), Railway exams. GCA also focuses on the all round development of the students through expert guidance and unmatched study material issued from its own publication. GCA aims to be the best coaching center in the Kanpur with regards to preparation of NDA, AIRFORCE, NAVY, SSC, Bank PO, IBPS Specialist Officer, SSC (Statistical Investigator), Railway exams etc. The team academicians at Global Career Academy comprise Subject Experts, Engineers, Retired Army Officers and Bankers. This team has immense experience in successfully train students for all government job Entrance exams. These exams have a rigorous selection process and we help our students become capable enough to successfully meet the demands of this process. We provide specialized coaching for Government jobs and Defence services.
Address: Ambedkar Nagar, Navin Nagar, Kakadeo, Kanpur, Uttar Pradesh 208025
Phone: 07755864221
Accord Career Institute is one of the best defence coaching in Kanpur for NDA, CDS, OTA, CAPF, AFCAT exams and SSB training & interview in Kanpur, India. We provide best defence coaching, Psychology Tests and SSB Interview Tips. We are guiding and coaching students to achieve success in their endeavor. We provide coaching for various written exams like the NDA, CDS, OTA, CAPF and strive to make the students confident of tackling the paper when they face it. We also provide Personality Development, Leadership, Team Building and Soft Skills Development. During coaching we lay stress on practice be it of written content or of personality development.. Extensive coaching is provided for various subjects of the competitive exams conducted by UPSC and other organizations. To make the coaching fruitful, we have analyzed previous exam papers and provide weekly and full mock test during the coaching. Accord Career Institute is a Defence institute which provides excellent teaching and training to the aspirants wishing to serve the nation by joining Indian Armed Forces (Army/Air Force/Navy) under commissioned(NDA/CDS) and non-commissioned(Airforce/Navy) category. This Defence institute is enriched with highly experienced and dedicated faculty members. Their devotion, dedication, expertise, sense of worth and service is an institution by itself. Academic excellence is the backbone at Accord Career Institute.
Address: 117/K/73 Sarvodaya Nagar, near, Deoki Chauraha, Kakadeo, Kanpur, Uttar Pradesh 208025
Phone: 09936111666
Zentex Defence Academy is a prestigious coaching center in Kanpur offering result-driven and Best Coaching Courses including Bank Coaching, NDA Classes, SSB, CDS, Air Force Training Classes, Government Jobs and B-Ed Coaching Classes. Backed by state of the art infrastructure, our academy is among the most trusted coaching centers offering outstanding preparatory courses for various jobs oriented competitive examinations. We are providing transparent coaching facilitating easy flow of knowledge to the job aspirants. All the job oriented examinations are conducted under the aegis of different sections of Government of India. Imparting best-in class coaching classes for competitive exams in Defence sector, Zentex Defense Academy provides effective training with a strong focus on all aspects of coaching making it most effective for the students. Our student-focused and transparent learning approach and enhanced interaction between the faculty members and students lead to better real time learning. Zentex Defence Academy is a professional coaching institute offering best quality and customized coaching for Banks, SSC, CDS, Air Force and Government jobs.
Address: 117/N/43 Near Allahabad Bank, Avon Market,, Kakadeo, Kanpur, Uttar Pradesh 208025
Phone: 05122503925
New Discover Academy is a well known and reputed institute of Kanpur. It helps such aspirants who want to make their career in the Armed forces . It guides at all the three levels written, physical and personal interview. The institute is playing very prominent role in Nation-building by guiding and developing innumerable students from diverse sections of Indian society (obscure villages, smaller towns as well as bigger cities) to enter the Armed Forces. New Discover Academy has a group of outstanding teachers. Each one being the best known master of his area. The institute provides quality and updated study material based on the revised syllabus. Only a manageable number of students are enrolled in a batch so that each student gets the personal attention of the teachers. Quality teaching and individual caring is the hallmark of the Academy. Since its inception the institute has helped many students to enter the Armed forces.