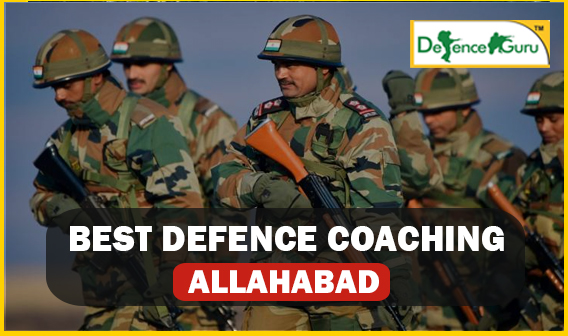 Allahabad officially known as Prayagraj, and also known as Illahabad and Prayag, is a city in the Indian state of Uttar Pradesh. Allahabad stands at the confluence of the Ganga and Yamuna (two of India's holiest rivers) and Saraswati River. The place where river Ganga and river Yamuna meet is called Sangam (union). The city of Allahabad is having a reputation in higher education and sees a number of learners and students from different parts of the country coming here. There is a single central university, one open university, deemed universities are 3 are many other colleges and institutions for technical and research purposes. The city of Allahabad has been made as one of CBSE's regional division. Here also there is the head office of the UP Board of High School and Intermediate Education. In This Post Defence Guru share List of Best Defence Coaching in Allahabad who provide classes for NDA, CDS, AFCAT, AirForce, SSB Interview and other Defence Services Exams.
Soldier's Defence Academy
SDA is a center of excellence for Defence related competitive exams, situated at Allahabad, Uttar Pradesh. Solider's Defence Academy is on of the best coaching institute for defence entrance examinations and SSB Interview. It is situated at Allahabad, U.P. We provide a well directed an planned coaching for various defence exams, i.e., NDA, AIRFORCE (GROUP X & Y), NAVY (SSR & AA), MERCHENT NAVY, MNS, CDS, CPF, AFCAT, ARMY/GD/CLERK/NURSING, ACC and Individual Mathematics etc for entry into defence as an office and also for non-commissioned ranks. We have the top faculty who is ready to help all you students in the best possible and generous ways, not only for the written exams but also for the SSB Interview, we have a dedicated SSB wing to guide our students and help them inculcate the OLQS in them, which in turn ensures their success. Taking into special communication skills development, personality development classes for the students who want to develop their communication & spoken English skills to make every moment spent at our Academy fruitful & worthy, we conduct regular class tests, weekly tests, mock tests & even mock SSB for our students.
CAPTAIN BATRA´S CLASSES
Captain Batra's Classes is a No 1 Defence Trainning Institution which provides excellent teaching and training with latest Technology Method to the aspirants wishing to serve the nation by joining Indian Armed Forces (Army / Airforce / Navy) under commissioned (NDA/CDS) or Non-commissioned(Airforce/Navy) category. Captain Batra's Classes Posses learned and dedicated faculty members for all the Subjects to the concerned examination and having varied verity of teaching and learning. Captain Batra's Classes study material is exactly accorting to the needs and standard of defence services examinations and envelops all the chapters precribed by UPSC. Captain Batra's Classes focus on the coverage and completion of the syllabus chapter wise as frequently asked questions in the examination every year and providing them enough time for revision. They also offer the technology based teaching like live classes, application based study material & Online Examination for better practice in thier subject.

Trishul Defence Academy
Trishul defence academy is the Second most prestigious center of excellence for NDA, CDS, SSB, Airforce & Navy in Allahabad. It runs under the guidance of Wing Commander Anoop Mehrotra (Ex NDA/Ex GTO), who has been serving the nation since 2004 by giving excellent results. This is the only academy to have its own GTO ground, the candidates are trained under the supervision of ex service men and retired armed force officers. Trishul Defence Academy has a record of 100 % selection rate in PABT/Computerized Pilot Testing System (CPTS). The faculty team of TDA is well experienced and skilfull who guides the students through every step to achieve their dream. Trishul Defence Academy also provides separate hostel for candidates with all the facilities like clean water, home cooked food, etc so that the students can focus and maintain the consistency on their studies.
TDA aims to provide excellent methodology to the students, specially focus on personality development and spoken English program. Trishul Defence Academy conducts Regular Mock Tests and Unit Tests, with updated syllabus with latest U.P.S.C pattern.Soon after Mock Test doubt clearing session is conducted in which students can have one on one interaction with our teachers. Trishul Defence Academy provides regular physical fitness training by Retd. defence jawans, so that once the candidate joins esteemed defence Institutes (NDA, IMA, OTA, AFA and NA) he/she does not face any sort of Difficulty. Trishul Defence Academy provides separate Hostel for boys and Girls.
Trishul Defence Academy aims at providing best guidance to the students. The preparation of written examinations like NDA, CDS, AFCAT, Air Force (X/Y) and Navy (AA/SSR) is provided under the guidance of Ex. NDA, Ex. G.T.O. officers. Separate Hindi & English Medium Batches.
Major Kalshi Classes Pvt. Ltd.
Major Kalshi Classes Pvt. Ltd. is India Oldest and Largest Armed forces Preparatory Institute. They are now a centre of organized and focused learning which is pioneering in all formats of defence, whether it's Physical, Medical or Written. The Major Kalshi classes pvt. Ltd. campus provides unmatched infrastructure, spread over 10 acres in lush green, pollution free, SSB like environment with on campus hostel and mess. Our classrooms for written coaching are air conditioned and well supported by modern Audio Visual technological aids and 24 hrs power back. Major Kalshi Classes Pvt. Ltd. specializes in motivating the youth towards serving our great nation. Students interact with candidates from all over the country working towards a common goal. Major Kalshi Classes Pvt. Ltd. is a Defence preparatory institute with strict rules that all students must abide by. All students are expected to follow the Honour Code and Discipline Code of Conduct of Major Kalshi classes pvt. Ltd, failing which they may be expelled without refunds. Major Kalshi classes pvt. Ltd. offers exam specific coaching for SSB INTERVIEW ,NDA, CDS, SSR , AA , AIR FORCE , AFCAT, CPF, ACC, TA , GD etc. After a topic completion, we conduct Doubt Removal sessions for that topic. We conduct Periodic test series to judge and monitor the performance and understanding levels of students.
Major Kalshi Classes train aspirants for regular 14 days at SSB Coaching. From the basic methods to professional, in these 14 days we try to instil all the knowledge there is about from SSB Interview Questions to How to Crack SSB Interview. We are considered as the Best SSB Coaching in Allahabad. We have the best platform available for defence aspirant to show their talent and nurture their skills in the most competitive and healthy environment.