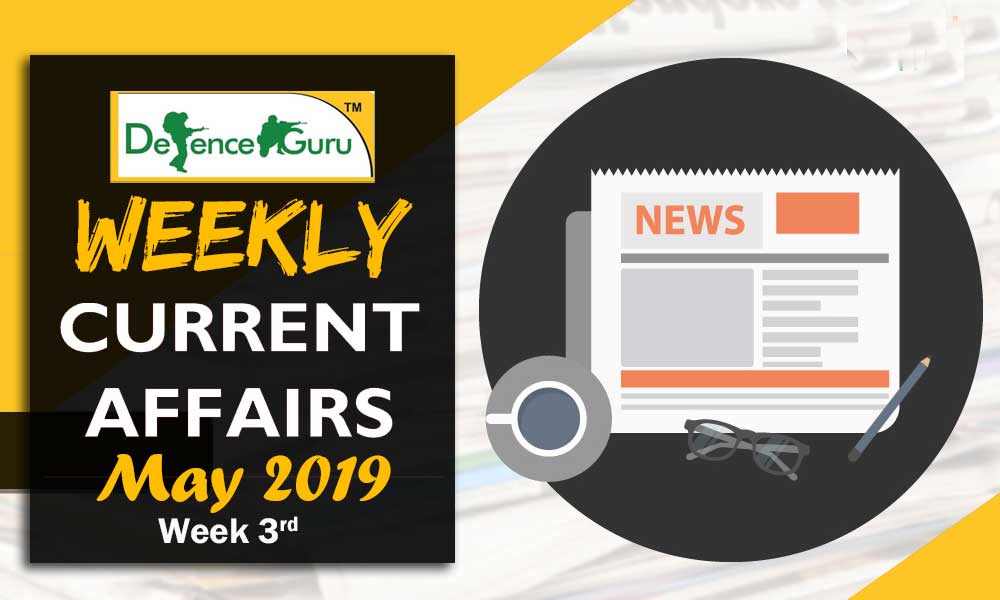 Defence Guru are here for you to provide the important Recent and Latest Current Affairs May 3rd Week 2019. Our complete Current Affairs 2019 will help you to get more marks in Defence Exams, Banking, Insurance, SSC, Railways, UPSC, CLAT and all other State Government Exams.
1. Volodymyr Zelenskiy
Volodymyr Zelenskiy took oath as new President of Ukraine, announcing snap parliamentary elections at the same ceremony. Jelensky has no experience of politics before, but she won a huge victory in the presidential election last month. Zelinskiy became Ukraine's youngest post-Soviet President after he scored a landslide election victory against incumbent Petro Poroshenko.
Points to Remember: Ukraine
Capital: Kyiv
Currency: Ukrainian hryvnia
2. Mueen Ul Haq
Pakistan has appointed career diplomat Mueenul Haq as the High Commissioner to India. Prime Minister Imran Khan approved appointments of over two dozen ambassadors in various countries including India, China and Japan. Haq, the current ambassador to France, has previously served as chief of protocol at the Foreign Office. The post of High Commissioner to India fell vacant after Sohail Mehmood was appointed Pakistan's new foreign secretary.
3. Joko Widodo
Indonesia's Joko Widodo has been re-elected as president of the country. The elections commission has said Widodo won the election by a 55.5 per cent to 44.5 per cent margin over Prabowo Subbiano. 57-year-old Widodo had been widely predicted to win according to unofficial results.
Points to Remember: Indonesia
Capital: Jakarta
Currency: Indonesian rupiah
4. Jeffrey Rosen
The United States Senate has voted to confirm Jeffrey Rosen as deputy attorney general. He will be the second-ranking official at the Justice Department. Rosen replaces Rod Rosenstein, who left the department last week.
5. Sanjiv Puri
FMCG major ITC Ltd has appointed company Managing Director Sanjiv Puri as its Chairman with immediate effect. He has been appointed following the demise of Y. C. Deveshwar who was serving as the Chairman and Non-Executive Director. Puri has been a director on the board of the company since 2015 and was appointed the Chief Executive Officer in February 2017. He had led ITC Infotech India Ltd, a wholly owned subsidiary of the company as its Managing Director from May 2006 to August 2009.
6. Croatian World Cupper Igor Stimac
Croatian World Cupper Igor Stimac has been appointed Indian football team head coach for a two-year term. The national team has been without a coach since the departure of Stephen Constantine in January 2019. The appointment was made by the All India Football Federation's Executive Committee. The 51-year-old Stimac was part of Croatia's 1998 World Cup squad and has over 18 years of coaching experience.
7. Kapil Sharma is the Most Viewed Stand-up Comedian in India and Abroad
Comedian-actor Kapil Sharma has been acknowledged as the most viewed stand-up comedian in India and abroad by the World book of Records London. He started his career as a stand-up comedian, Kapil initially performed on several comedy shows. But it was his separate show Comedy Nights With Kapil which brought him immense fame. Not only comedy, but Kapil also tried his hand at acting with Bollywood films like Kis Kisko Pyaar Karoon and Firangi. The 38-year-old is currently hosting The Kapil Sharma Show on television.
8. Indian short film wins Nespresso Talents award in Cannes
Indian filmmaker, Achyutanand Dwivedi's film, "Seed Mother", won the third prize in the international section of Nespresso Talents 2019 in Cannes. The three-minute film celebrates the exceptional spirit of Rahibai Soma Popere, a woman who champions the use of local seeds and traditional methods of farming in villages of Maharashtra. Held annually as part of the Cannes Critics' Week to encourage new perspectives in filmmaking. This year's theme was 'We Are What We Eat', aimed at exploring the world, experiencing diversity.
9. Dr P.K. Mishra conferred with prestigious Sasakawa Award 2019
United Nations Office for Disaster Risk Reduction (UNDRR) conferred Sasakawa Award 2019 for Disaster Risk Reduction to Dr Pramod Kumar Mishra, Additional Principal Secretary to Prime Minister of India. The award was announced at the Award Ceremony during the ongoing 6th Session of Global Platform for Disaster Risk Reduction (GPDRR) 2019 at Geneva. The United Nations Sasakawa Award is the most prestigious international award in the area of Disaster Risk Management. A total grant of USD 50,000 is distributed among the winners which can be either organizations or individuals. The theme of the 2019 Sasakawa award was "Building Inclusive and Resilient Societies".
10. Three-time Formula 1 World Champion, Niki Lauda dies aged 70
The former Formula One driver and three-time world champion Niki Lauda has died at the age of 70. Niki Lauda, who won titles in 1975, 1977 and 1984, was hugely admired, respected and liked within F1 community. He competed in 171 races and won 25. Post his racing career, he became an airline entrepreneur. Recently he was working as a non-executive chairman for the Formula 1 Mercedes team with British driver Lewis Hamilton.
11. BFA launches two new formats of the game - AirBadminton & Triples
The world body governing Badminton, BFA, has launched two new formats of the game -AirBadminton and Triples. The new formats will have new dimensions of the court and an innovative shuttlecock called Air shuttle. Traditional competitive badminton has been an indoor game. AirBadmintion will be outdoor sports. In Triples format, the match will be played between a team of three players each with the presence of at least one female.
12. Rafael Nadal clinches Italian Open 2019 title
In Tennis, defending champion Rafael Nadal of Spain has clinched the Italian Open 2019 title after beating Novak Djokovic 6-0, 4-6, 6-1 in the final. This is Nadal's ninth Italian Open title and is the 81st title of Nadal's career. Nadal also broke a tie with Djokovic by claiming a record 34th ATP Masters 1000 crown. In Women's single Czech's Karolina Pliskova registered two straight-set victories against Britain's Johanna Konta 6-3, 6-4 to claim the Italian Open title.
13. Ashish to lead 3-member Indian gymnastics team in World Challenge Cup
A three-member team led by 2010 Asian Games bronze medallist Ashish Kumar will represent India at the second World Challenge Cup Series gymnastics tournament in Osijek, Croatia from May 23 to 26. Besides Ashish, the Indian contingent will also have Rakesh Kumar Patra and Shraddha Talekar. The World Challenge Cup is a major FIG event with broader participation of 110 gymnasts from 30 different countries.
14. Official 2019 ICC World Cup song released
The ICC released the official song of the 2019 Men's World Cup - 'Stand By' with LORYN and Rudimental across all streaming platforms. 'Stand By'- a collaboration between new artist LORYN and one of the UK's most successful and influential acts, Rudimental - will be played in ground and city events across the tournament. It is the fifth time that the Cricket World Cup will be held in England and Wales, following 1975, 1979, 1983 and 1999 World Cups.
15. 2nd India Open International Boxing Tournament to be held in Guwahati
The Second India Open International Boxing tournament will be held in Guwahati from 20 to 24th July. 200 players from 16 countries will take place in the event. India will field a strong contingent of 38 men and 37 women in the tournament including Mary Kom in 51-kilogram category. The competition will be held in a total of 18 categories, 10 in men and 8 in women. The gold medalist will get 2500 US dollar and Silver medalist will earn 1000 US dollar.
16. China to host the 2023 Asian Cup after Korea withdraws a bid
South Korea has abandoned its bid to stage Asian Cup Football tournament in 2023, leaving the sole other bidders China with a free run to become hosts. The KFA announced the joint bid in March, but diplomatic contacts between Pyongyang and Seoul have since dwindled with North Korea-US nuclear talks deadlocked. Thailand and Indonesia had also previously expressed interest in hosting the 2023 event, but dropped their bids earlier.
17. World Bee Day: 20 May 2019
United Nations General Assembly has declared 20 May as World Bee Day. Every year on May 20, World Bee Day is celebrated in order to bring the attention of the global public towards the significance of preserving bees as well as other pollinators. The day marks the birth anniversary of Anton Janša, who in the 18th century pioneered modern beekeeping techniques in his native Slovenia and praised the bees for their ability to work so hard while needing so little attention. Bees play a crucial role as pollinators to provide food, food security and nutrition, sustainable agriculture, biodiversity, climate change mitigation and a healthy environment.
18. India-Singapore Naval drill, SIMBEX begins in the South China Sea
The Navies of India and Singapore are participating in the annual maritime bilateral exercise SIMBEX in the South China Sea. The sea phase of the bilateral naval drill started and will continue till 22 May 2019. The various maritime combat exercises such as firing on aerial or surface targets, advanced aerial tracking, coordinated targeting exercises and tactical exercises on the surface or air scenarios are being conducted during the exercise. The Indian Naval ships INS Kolkata and INS Shakti are taking part in the bilateral naval exercise, along with long-range maritime patrol aircraft Poseidon-8I.
19. World Day for Cultural Diversity for Dialogue and Development: 21 May
On 21st May, the UAE celebrated World Day for Cultural Diversity for Dialogue and Development to highlight its efforts in promoting tolerance and cultural diversity. The event coincides with the country's declaration of 2019 as the Year for Tolerance. The day provides an opportunity to help communities understand the value of cultural diversity and learn how to live together in harmony.
20. CSIR-NPL introduce Redefined International System of Units
Council of Scientific and Industrial Research and National Physical Laboratory, CSIR-NPL introduced redefined International System of Units for the country. The redefined systems are Kilogram, Kelvin, Mole and Ampere. The new SI is being implemented worldwide from 20th May 2019 i.e. the World Metrology Day. The purpose of a system of units is to enable world-wide coherence of measurements.
21. 8th Indo-Myanmar Coordinated Patrol Exercise
Myanmar Navy Ship UMS King TabinShweHtee (773) and UMS Inlay (OPV-54) have arrived Port Blair on 20 May for the 'Opening Ceremony' of the 8th Indo-Myanmar coordinated patrol (IMCOR), at Andaman and Nicobar Command. The CORPAT initiative between the two navies is meant to address issues of terrorism, illegal fishing, drug trafficking, human trafficking, poaching and other illegal activities inimical to the interest of both nations.
Started in Mar 2013, the CORPAT series has enhanced the mutual understanding and fostered improved professional interaction between the two navies. The ships would patrol along the International Maritime Boundary Line (IMBL) between the two countries covering a distance of approximately 725 Kms over a period of four days.
22. Saudi Arabia calls an emergency meeting of GCC in Makkah on May 30
Saudi Arabia has called the leaders of the Gulf Co-operation Council (GCC) member states as well as the heads of state of Arab League to convene two emergency summits in Makkah on the 30th of this month. The emergency meetings called by Saudi King Salman bin Abdulaziz Al Saud to look into the recent acts of sabotage against commercial vessels off the UAE waters and the terror attacks on two Saudi pumping stations, and their consequences on the region. UAE and Bahrain have welcomed Saudi's call.
Points to Remember : Saudi Arabia
Gulf Cooperation Council HQ: Riyadh, Saudi Arabia
Arab League HQ: Cairo, Egypt
23. Australian PM Scott Morrison wins federal elections
In Australia, Prime Minister Scott Morrison's Liberal-National Coalition won the federal elections. Prime Minister Morrison has declared victory after his coalition defied opinion polls and secured a surprise win over the opposition Labor Party. Opposition Labor Party leader Bill Shorten has announced that he is resigning after accepting defeat. The final result of the elections is yet to be announced, however, with more than 70 per cent of votes counted the Coalition is ahead in 74 seats in its quest for a 76-seat majority.
24. World Telecommunication and Information Society Day: 17th May
World Telecommunication & Information Society Day is observed all over the world on 17th May. The purpose of WTISD is to help raise awareness of the possibilities that the use of the Internet and other information and communication technologies (ICT) can bring to societies and economies, as well as of ways to bridge the digital divide. The theme for World Telecommunication & Information Society Day 2019 is 'Bridging the Standardization Gap'.
25. World Hypertension Day 2019: 17 May
World Hypertension Day is celebrated on May 17 every year. The main aim of the day is to educate the public and increase awareness of hypertension, which is also commonly known as high blood pressure. Hypertension is a major cause of a range of health problems such as strokes, heart attacks and kidney disease, and can also contribute to dementia. The theme for this year is 'Know Your Numbers'.
26. Saudi Arabia approves permanent residency for the first time
The Saudi government has approved for the first time a scheme that gives permanent residency to certain expatriates, allowing them to own real estate in the kingdom and reside with their families without a Saudi sponsor. The decision aimed at attracting long-term investments as the government tries to diversify the economy and boost domestic spending. The "Privileged Iqama" system will offer a permanent residence scheme and one that can be renewed annually to highly skilled expatriates and owners of capital funds. The decision will attract more investors and entrepreneurs to Saudi Arabia to help drive private sector growth and expand employment opportunities for Saudis.
27. Trump unveils merit-based immigration system
US President Donald Trump has rolled out a merit-based immigration system. Foreigners, including hundreds and thousands of Indian professionals and skilled workers, waiting to get Green Cards or permanent legal residency will be benefited from this scheme. President Trump said under the proposed system permanent legal residency would be given based on points for their age, knowledge, job opportunities and civic sense. The proposals significantly increase the quota for skilled workers from the existing nearly 12 per cent to 57 per cent. Besides, immigrants will be required to learn English and pass a civics exam prior to admission.
28. Israel proposes India to be the focus country in Jerusalem Film Festival, 2020
Israel proposes India to be the focus country in Jerusalem Film Festival, 2020 at Cannes Film Festival. Indian delegation met Ms Eti Cohen, Director of Film Department and Council, Israel who announced the recommendation. Israel also proposed the idea of making concept-based films in India, with a focus on regional and small budget films.Also, India has been positioned prominently on the Pocket Guide of Marche Du Film, Cannes Film Market, which celebrates Indian cinema as the world's largest film industry.
29. China blocks all language editions of Wikipedia
China has broadened its block of online encyclopedia Wikipedia to include all language editions. According to a report by the Open Observatory of Network Interference (OONI) China has started blocking all language editions of Wikipedia last month. Previously, most editions of Wikipedia besides the Chinese language version were available. China's online censorship apparatus 'Great Firewall' blocks a large number of foreign sites in the country, such as Google, Facebook and The New York Times.
30. Elections for 17th Lok Sabha conclude successfully
Elections for the 17th Lok Sabha concluded successfully. The election for 542 seats was held in seven phases. Overall around 70 per cent polling was recorded in all the phases. That this year's general elections were more peaceful as compared to the 2014 edition. With the completion of the polling process, the fate of 8,049 candidates, who were in the fray for 542 Lok Sabha seats has been sealed into the EVMs.
BJP led NDA set to form new govt at Centre- The BJP has surpassed its previous record of 282 Lok Sabha seats in 2014, winning 303 constituencies and leading in one in the 543 member house. Elections were held in 542 constituencies. All the results have come in except Arunachal West. The Congress failed to make a mark and the party could hardly improve its tally of 44 in the previous Lok Sabha and secured 52 seats in 2019 elections. The DMK gets third positions winning 23 seats followed by Trinamool Congress and YSR Congress 22 each. Two-time BJP MP C R Patil came close to surpassing the all-time victory margin in Lok Sabha polls as he won the Navsari seat in Gujarat by garnering 6.89 lakh more votes than his rival - the highest margin in 2019 polls.
31. Sushma Swaraj to attend SCO foreign ministers meet in Bishkek from May 21
External Affairs Minister Sushma Swaraj will attend a two-day meeting of the Shanghai Cooperation Organisation (SCO) in Kyrgyzstan capital Bishkek. During the meeting, several pressing issues including a thread of terrorism are expected to be discussed. The Council of Foreign Ministers (CFM) will exchange views on topical issues of international and regional importance, besides reviewing the preparation for the SCO Summit in Bishkek from June 13-14. The SCO was founded at a summit in Shanghai in 2001 by the presidents of Russia, China, Kyrgyz Republic, Kazakhstan, Tajikistan and Uzbekistan. Along with India, Pakistan was also granted SCO membership in 2017.
32. Kerala first Indian state to tap into masala bond market
The Kerala Infrastructure Investment Fund Board's (KIIFB) celebrated its debut Masala Bond listing on the London Stock Exchange with a special market open ceremony. Kerala is the first Indian state to tap into the market for masala bonds. KIIFB, a state government agency, had raised Rs 2,150 crore through its debut masala bond issue. KIIFB plans to raise Rs 5,000 crore through masala bonds to fund large and critical infrastructure projects in Kerala. Indian Rupee denominated overseas bonds are popularly known as masala bonds.
33. Centre issues drought advisory to 6 states, asks them to use water judiciously
Centre has issued a drought advisory to Maharashtra, Gujarat, Karnataka, Andhra Pradesh, Telangana and Tamil Nadu. It also asked them to use water judiciously as water storage in dams dropping to a critical level. The drought advisory is issued to states when the water level in reservoirs is 20 per cent less than the average of live water storage figures of the past 10 years. Central Water Commission monitors water storage available in 91 major reservoirs across the country. According to the report the total water storage available is 22 per cent of the total storage capacity of these reservoirs.
34. Spanish Naval ship on Mumbai visit from May 18 to 23
Spanish Navy ship 'Mendez Nunez' with a crew of 30 officers and 135 sailors is on Mumbai visit from May 18 to 23. The ship is on Overseas Deployment and is docked at the Mumbai Port Trust. 'Mendez Nunez' will interact with Rear Admiral Rajesh Pendharkar, Flag Officer Commanding, Maharashtra Naval Area, during its stay. The visit by the Spanish Navy ship to Mumbai would further strengthen the existing bonds between the two navies.
35. Indian Navy conducts successful fire trial of MRSAM
The Indian Navy achieved a significant milestone in enhancing its Anti-Air Warfare Capability with the maiden cooperative engagement firing of the Medium Range Surface to Air Missile (MRSAM).
The firing was undertaken on the Western Seaboard by Indian Naval Ships Kochi and Chennai. In test the missiles of both ships were controlled by one ship to intercept different aerial targets at extended ranges. The firing trial was carried out by the Indian Navy, DRDO and Israel Aerospace Industries. The MRSAM has been manufactured by Bharat Dynamics Limited.
36. NSG commandos summit Mt Everest in maiden attempt
Commandos of the National Security Guard, NSG, scaled the Mount Everest, the world's highest peak, in their maiden attempt. The NSG team led by Lt Col J P Kumar successfully unfurled the Indian flag at the 8,848-metre tall peak. The 12-member team was flagged off by Home Secretary Rajiv Gauba on March 29 from in New Delhi. Five other members of the team are likely to summit the peak on May 22 as per schedule.
37. 11th Joint Consular Committee meet between India, Iran held in Delhi
The 11th Joint Consular Committee meeting between India and Iran took place in New Delhi. Both sides discussed the early conclusion of Agreement on Mutual Legal Assistance on civil and commercial matters and extending the longer duration of e-Visa for each other nationals on reciprocity. The meeting provided an opportunity to review the status of ongoing cooperation in consular and visa related issues. It also discusses ways and means to further expand people to people contacts and promote friendly exchanges between India and Iran.
38. Lokpal website launched
The website of the Lokpal has been launched. The website, www.lokpal.gov.in, was inaugurated by Chairperson Justice Pinaki Chandra Ghose in presence of all the Members of Lokpal in New Delhi. It provides basic information about the working and functioning of the anti-corruption ombudsman. The Lokpal is the first institution of its kind in India established under the Lokpal and Lokayuktas Act, 2013 to inquire and investigate into allegations of the corruption against public functionaries.
Points to remember : Lokpal
Chairperson of Lokpal is Pinaki Chandra Ghose
39. Sikkim Statehood Day: 16th May
Sikkim celebrated its 43rd statehood day on 16 May 2019. It was on this day in 1975 that Sikkim had officially become the 22nd state under the Union of India.
Points to remember : Sikkim
In 1975 Kazi Lhendup Dorjee became its first chief minister.
Points to remember
Governor: Ganga Prasad
Chief Minister: Pawan Chamling
Rajya Sabha seats: 1
Lok Sabha seats: 1
40. MoU signed for Plantation of Rudraksha Trees in Uttarakhand
A Memorandum of Understanding was signed between National Mission for Clean Ganga, HCL Foundation and INTACH for taking up a project of Plantation of Rudraksha Trees in Uttarakhand. Trees will be planted as a part of CSR initiative under the Namami Gange Programme.
The project aims at planting 10 thousand Rudraksha trees in the catchment area of river Ganga in Uttarakhand in association with the local community and other stakeholders. It will also help in generating income for people residing in those areas.
41. Workshop on Artificial Bio Organs held in Visakhapatnam
Andhra Pradesh MedTech Zone (AMTZ) has recently organized a one-day workshop on Organ Bio Printing at the Kalam Convention Center, AMTZ Campus in Visakhapatnam. The workshop aims to strengthen Indo-Australian Cooperation and achieve the development of the 3D printing industry in both countries. The workshop explored 3D printing, an innovative technology that covers all medical disciplines and offers new opportunities in diagnostics and therapy.
42. India signs 'Christchurch Call' to action to combat online extremism
To combat online extremism, India has decided to sign an international call initiated by the governments of France and New Zealand along with top social media companies after the Christchurch attacks. The document called "Christchurch Call To Action" was signed and adopted on with participation from 26 nations. Participants were asked to pledge to eliminate terrorist and violent extremist content on social media and other online platforms.
43. Jet Airways CEO Vinay Dube resigns with immediate effect
Jet Airways Chief Executive Officer Vinay Dube resigned from the company with immediate effect on citing "personal reasons". He is the fifth top-level official to quit the company after its deputy CEO and Chief Financial Officer Amit Agarwal and company's Chief People Officer (CPO) Rahul Taneja put in their resignation papers. The airline ceased operations temporarily around mid-April due to the acute liquidity crisis. Most of the airline's board members have also quit in the last month. Former Chief Election Commissioner Nasim Zaidi had also resigned from the Jet Airways board as its Non-Executive and Non-Independent Director citing time constraints and personal reasons.
44. BSNL Partners With Google to Expand WiFi Footprint
On the occasion of World Telecom Day, state-run telecom major BSNL has partnered with Google to increase access to its WiFi footprint in the country. With the launch of this service, people across the country will be able to enjoy BSNL's free WiFi services. This initiative will allow customers to use BSNL's high-speed internet services on WiFi. BSNL is also taking steps to increase the rural WiFi footprint, promoting the government's 'Digital India' initiative.
Points to remember: BSNL
BSNL CEO: Anupam Shrivastava
Headquarters: New Delhi
45. Spencer's Retail to acquire Nature's Basket for Rs 300 cr
Sanjiv Goenka Group's Spencer's Retail will acquire Godrej Industries' grocery chain Nature's Basket for Rs 300 crore. Natures Basket's acquisition will make Spencer's Retail a national player, giving it access to the western parts of India through its 36 stores in prime locations in Mumbai, Pune and Bangalore.
Natures Basket Limited (NBL), a 100 per cent subsidiary of Godrej Industries and reported turnover of Rs 338.28 crore for the year 2018-19. The company sells various food products and beverages through its retail stores and online platform.
46. RBI releases vision document for e-payment system
Reserve Bank of India has released a vision document for ensuring a safe, secure, convenient, quick and affordable e-payment system. The document has been named as 'Payment and Settlement Systems in India: Vision 2019 – 2021'.
The bank will implement the approach outlined in this Vision during the period 2019 - 2021.The 'no-compromise' approach towards safety and security of payment systems remains a hallmark of the vision.
47. India's overall exports registered positive growth of 1.34% in April
India's overall exports, combining Merchandise and Services, in April this year is estimated to be around 44 billion US dollars. It showed positive growth of 1.34 per cent over April last year. Overall imports in last month are estimated to be around 53 billion dollars with a positive growth of 4.5 per cent over the corresponding period of last year. Taking merchandise and services together, the overall trade deficit for last month is estimated at around nine billion dollars as compared to around seven billion dollars in the same period last year.