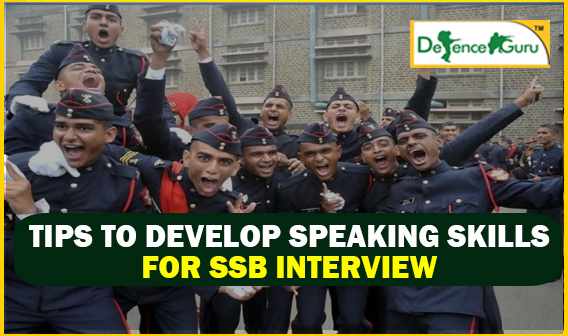 Developing good speaking skills is a prerequisite for all SSB Interview candidates who aspire to join the Armed Forces. As an officer, you will have to address your subordinates on several occasions and also give out speeches. Giving proper instructions on daily activities is also very essential. All this can be done if you have a good command over the language and have good speaking skills. There might also be situations where you have to address juniors or subordinates on a short notice. Your speaking skills will come to play in such situations.
Speaking plays vital role in getting recommended in SSB interview. Check out how to improve speaking skills in order to pass SSB interview. In this Post Defence Guru share some Tips to Develop Speaking Skills for SSB Interview. If you practice consistently keeping these guidelines in mind, you will surely become a confident speaker.
Tips to Develop Speaking Skills for SSB Interview
Good command over the language: In order to speak the language well, you have to know the language well. A good way to gain a better grasp of the language is by learning new words from the dictionary. Reading newspapers or listening to the news is also a good option. Practice speaking whenever possible and also try to use simple words and short sentences while speaking.


Improve your pronunciation: Speaking words with a correct pronunciation is also very essential. If you speak with an incorrect pronunciation, then it will not sound correct and you'll also fail to create a good impression on the listener. Pronunciation can be improved by listening to people who speak very well. You can also practice conversing with people who speak with the correct pronunciation. Again, listening to the news on television and the radio can also prove helpful.


Be Confident: You should also be able to speak confidently. There should not be any hint of nervousness in your voice while speaking. This can be developed through constant practice. Speaking in public also helps in developing confidence. You should not feel scared to speak in front of an audience. You can practice speaking in public by participating in public speaking events. This will give a boost to your confidence and you can also get rid of your nervousness.


Listen: Good speaking skills comes with good listening skills. Listen to English news and songs, watch English movies and listen to how the words are pronounced. Just one hour a day is more than enough.


Write: Writing is a great way to start producing the language. The main thing, however, is to write to get used to expressing things in the language, without the pressure of speaking with someone.


Choose appropriate mannerisms: The manner in which you deliver your speech also plays an important part in creating an overall impact on the listener. Try to begin the speech in an interesting manner. This will enable you to hold the attention of the listener. Also, try to speak in a natural and effortless manner. Putting on any artificial mannerisms while speaking also does not create a good impression. Always maintain eye contact with the listener.


Speak in a pleasant voice: Always try to speak in a voice which listeners find appealing. Do not speak in a harsh tone and modulate your voice effectively to create a lasting and good impression on the listener..


Just start Speaking: No matter what routine you follow or how much you learn, you cannot truly be fluent in English if you don't speak it more often! Start speaking! Talk with your friends and family in English. More you speak, more fluent you will become.


Include reading exercise daily for 30 minutes in your daily schedule.
So if you want to be recommended in SSB interview there is no shortcut for success. Just work hard to improve communication skills and also you need to master public speaking skills.