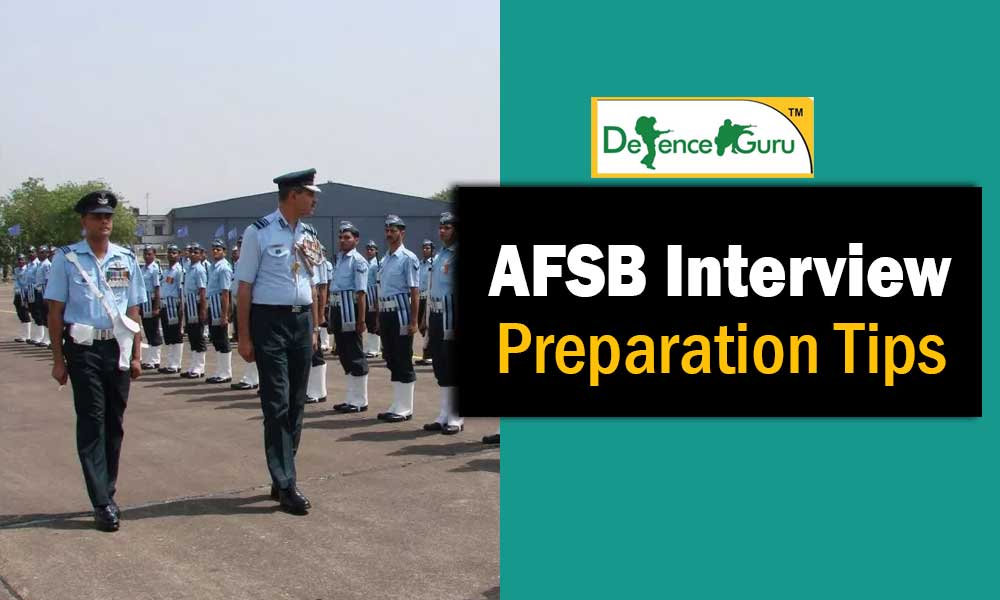 Candidates, who appear for AFCAT (Air Force Common Admission Test) and clear it successfully, are called for AFSB Interview. AFSB stands for Air Force selection board. AFSB Interview, elaborated as Air Force Selection Board Interview is the next step after clearing the entrance test for Indian Air Force. After checking the aptitude and the knowledge of candidates through the written test, the recruitment board now tests candidates' Physical and Psychological abilities. It is the most important and critical interview process, similar to SSB, which a candidate needs to prepare for sincerely. The qualities that interviewers look for during the AFSB interview process are Positive attitude, logical reasoning, Leadership, team spirit, courageous, and much more. The candidates are called to one of the four locations of AFSB, which are Dehradun, Mysore, Gandhinagar and Varanasi
The entire interview process is basically a psychological evaluation of personality traits to decide whether the aspirant fits to be an officer in Indian Air force or not. In this post, we will discuss some tips to prepare for AFSB interview.
AFSB Interview Procedure
AFSB Interview is a 5-6 day process. The procedure starts by reporting on the railway station of the city in which your interview is. Generally, the reporting time is around 6.45-7 AM and you have to be right on time. First, you will have to fill some necessary forms. After this, you have to appear for the OIR Test (Officers Intelligence Rating Test). This test is followed by PPDT (Picture Perception and Discussion Test). The results of these tests are announced around 3 PM. The candidates who have been selected are allotted rooms, whereas the candidates who are not selected, have to go back. The document check is done immediately after that, and the selected candidates are free for the remaining part of the day.
Day 2 of your interview process includes only two tests, the PABT test (Pilot Aptitude Battery Test) and Psychological Tests.
Day 3, 4, 5 There is no fixed schedule for these 3 days, the only certainty is that you have to appear for the interview and GTO tasks in these days. The time and date of these is decided by the board and candidates can check their timings on the notice board. The GTO tasks include 9 activities, which are Group Discussion, Military Planning Exercise, Progressive Group Task, Snake Race, Lecturette, Half Group Task, Individual obstacles, Command Task and Final Group Task. On the other hand, the interview lasts for 30 to 60 minutes, in which you will be required to carry all your certificates regarding academics and extra-curricular activities.
Day 6 is often called Conference Day. This day is reserved for declaring your result.
Differences Between AFSB & SSB Interview
SSB stands for Service Selection Board whereas AFSB stands for Air Force Selection Board. we have provided the key differences between both of them.
AFSB's duration is mandatory 6 days where as in SSB's the usual duration is of 5 days. One extra day is for conducting CPSS ( Computerized pilot selection system) for the candidates who have opted for flying branch.
Group progressive task will be a little bit more challenging in AFSB than SSB.
AFSB is board for recommending candidates for AIR FORCE only.
The tasks are more or less the same with the exception of Pilot Battery Aptitude Test ( now its computerised) ,this test checks the candidates reaction time and how quickly he tackles the given problem.
If you are able to get recommend the medicals standards required are tougher than other boards however i read that they have been relaxed now.
There is no difference in selection procedure. Although AFSB is exclusively for Airforce. PABT and CPSS for PILOT entry tests are conducted in AFSB only. Also individual task are bit tougher than Army.
Important Tips for AFSB interview
Communication Skills: In order to crack AFSB interview, the selected candidate must possess strong communications skills. It is extremely important as the candidate needs to participate in large group discussions, face personal interview and interact with other batch mates. The candidate should start practicing speaking in English, read newspapers, watch online news etc. You can also buy books for AFSB interview preparation.
General Awareness: In order to clear AFSB, keep yourself updated on the current affairs. You should be aware of the issues of national and international importance. Read books on general knowledge.
Physical Fitness: While preparing for AFSB interview, candidate needs to be physically fit. He should perform physical exercises daily like jogging and running to increase endurance level and stamina. This will help you to perform well in Group Planning exercises, Individual Obstacles, Group Obstacles Race, etc. Involve yourself in team sports such as football, hockey, cricket etc to develop team spirit.
Air Force Awareness: It is expected from candidates to have basic idea about Air force ranks, commands, aircraft's and missiles. If you belong to defence background then you are expected to know much more in details. Also keep yourself updated about recent defence deals and defence up gradations.
Self-Assessment is the key: One of the main reasons that candidates do not clear AFSB interview is due to lack of self-evaluation. It is most important for candidates to know everything about their likes, dislikes, choices, strengths, weaknesses, accomplishments etc.