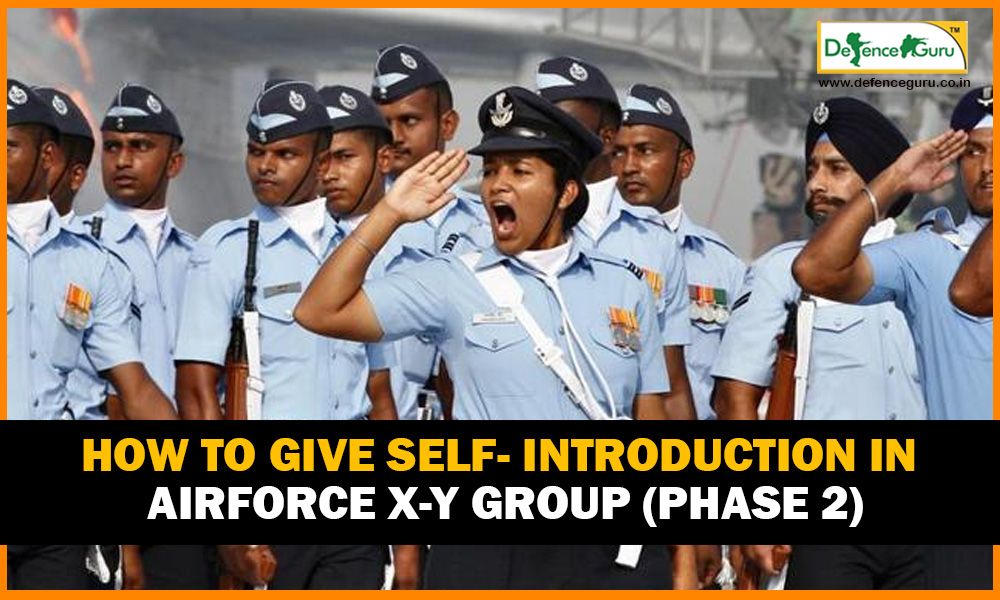 TREASURE TO BE A SHOWSTOPPER
Nothing disappoints like a grand exam and a lousy intro. Reiterating your name thousand times, cramming your strengths and weaknesses, shouting your family background so much so that even the neighbors have learned it… that is one day- before- interview reality of every Airforce applicant, isn't it?
Ranking 4th amongst world's best Air Forces, the Indian Air Force is the air arm of Indian Defence. With a stack of excellent Aircrafts and other equipments the Air Force personnel carry out integral duties of India such as: lending aerial support on Indian battlefield+ implementing strategic capabilities. With such a lofty standard, it's certain that the newcomers in this profession are expected to posses expert qualities. Self- introduction is a mirror of those qualities and talents.
Here is a secret list that sets your nervousness free and makes you a pioneer of self- introduction, be it Air Force X group or Y group:
AIM: The cause behind conducting an introduction session or to be exact, an interview is to assess the: aptitude, general awareness and personality of the applicant. Herein your qualities to be perfect Air Force personnel are exposed.
BLUEPRINT: Have a pre- planned introduction and frame it as per the following structure:
Name
Current status
Work experience
aim
Academic qualification
Professional skill
Extracurricular activities
Hobbies
Strength/ weakness
CONFIDENCE: One simple rule and you will never felt let down: "Success starts with believing in yourself!" You may know 7 out of 10 things but how confidently you portray your knowledge is the real charm. So nail your introduction with absolute confidence.
NAME: "What is your good name?" "Myself Amit"… and several other phrases used abundantly for the sake of good impression are actually grammatically incorrect. Save your chance by using correct statement, such as "My name is Amit" or "I am Amit."
TIME- WISH: As a mark of good manners, always begin your introduction by wishing the respective members. For instance 'Good morning everyone, my name is…' or 'Hello, my name is..'
AN OUTSIDER'S VIEW: Keep in mind you are not discussing your future plans with your friends. These are people who are complete alien to your life, so brief them a little about yourself. Begin with your current status (any job or course you are pursuing), followed by your academic details.
To lay a lasting impression, speak about your co- curricular activities, or any achievement before coming to your interests and hobbies.
TIME CHECK: Set a time limit, say around 45 seconds- 1 minute. Don't bore the people with a lengthy introduction. Keep it short and interesting.
YOUR HIGHS AND LOWS: Mentally note down at least 2 strength and 2 weaknesses. For instance your strength may include: responsible, helpful, optimistic, and confident while weaknesses may list: outspoken, workaholic, perfectionist.
FAMILY: Keep this element for the last. Talk about family background only when asked and be selective. Nobody is interested in your family feuds or history, for that Indian t.v serials are enough. Just keep it to the point: family kind (nuclear/ joint)+ how many family members+ father's name and occupation+ mother's name and occupation.
STUNNER: Be a trendsetter by regulating your facial expression, your posture, personality and behavior. Sleep well the night before interview, look fresh, take a smile and be positive.
Quite a suitable proverb "fortune favors the brave". You need to understand dear applicants that speaking about yourself is not a rocket science. It's the easiest step to conquer. So just have right attitude, a little preparation and you will be the reigning master!