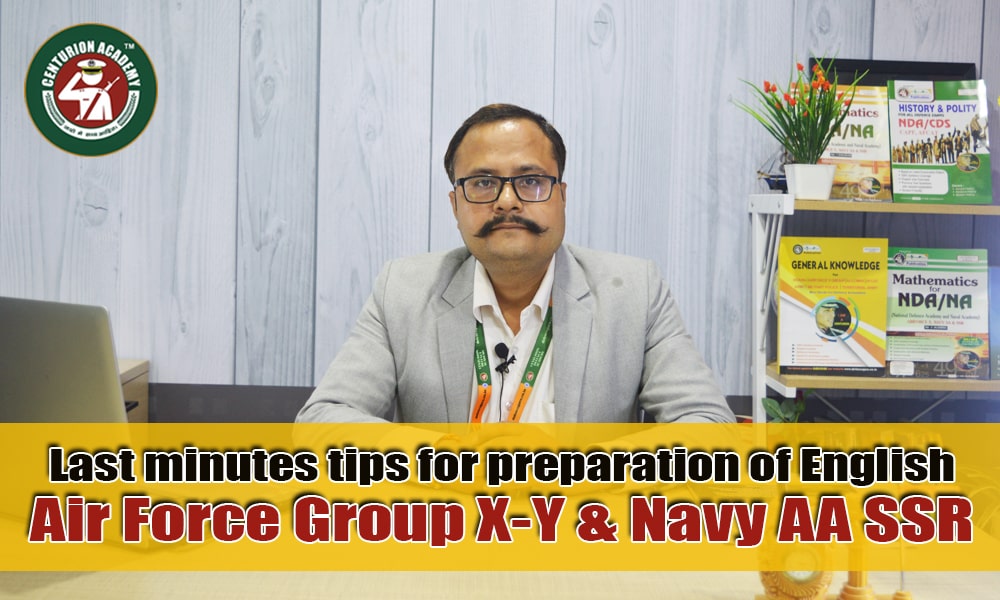 Last Minutes Tips for Preparation of English Air Force Group X-Y and Navy AA SSR
Here Defence Guru share tips for preparation of English subject asked in Air Force Group X-Y and Navy AA SSR Written Exam.
Each section has its importance; students should give equal weight-age to each section of paper. Many students think that it comes only of 2 marks so we can skip it, this way all the sections can be skipped and we shall end up with no preparation. All competitive students should understand the advantage of preparation and performance mode.
Preparation requires strategic planning of the content and its core understanding whereas performance needs all possible efforts to make gained knowledge productive. So while preparing for exam, your focus should be coverage of all possible questions. Our effort shouldn't be on leaving them on the basis of numbers.
Keep working regularly on vocabulary section as this is only the section wherein knowledge will matter more than analysis. Here if you know the answer, instant reply can be given but if you don't know, the analysis too results nothing. Vocabulary has a vast scope to prepare as it requires patience to have a good coverage.
For spellings, its better you start giving concentration. 80% of the spellings one can cover though its pronunciation only. While learning new words, just concentrate what special formation of this word is !
Ex- Twelfth, Discipline, Pronunciation, Punctuation
For Air Force group X and Y, common words of vocabulary are generally asked. It involves sounds of animals, conversion among different parts of speech, root words like phobia, cide etc. are asked so one should try to get coverage on this first.
In grammar one should refer various exercises for parts of speech. Merely by knowing the concepts will not serve the purpose. One must have competitive case studies on each topic like Articles, prepositions, conjunctions, Nouns and Pronouns.
Two topics of Grammar are sure shot in these papers, they are Passive Voice and Direct N Indirect speech. For these two topics, one should always be ready to explore newer questions and model test papers.
Exercises which are just based on common sense like sentence improvement, choosing appropriate words, cloze test are to referred in variety as it is found on Defence Guru portal for the reference.
Reading skills are enriched if one spends time in reading. Reading is an art without its consistent persuasion, one cant' expect skills. With the same objective test is conducted in competition and questions on Jumbled words, sentences, paragraphs are asked.