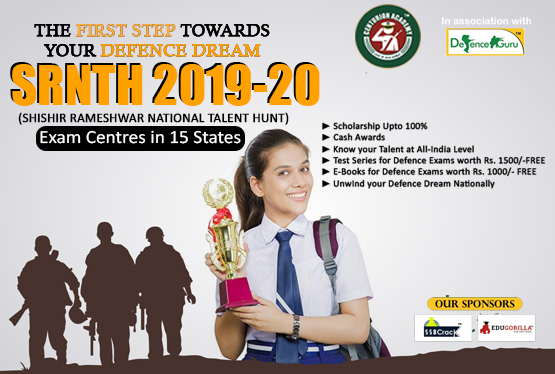 SRNTH - A GATEWAY TO DEFENCE
Touch the distant shores and make Defence the undying reality of your life with Shishir Rameshwar National Talent Hunt (SRNTH) scholarship program.
"United we stand, divided we fall." In an era of struggling to make your ends meet, much of the Indian youth forgo their dreams because of financial constraints. SRNTH comes as a savior for such people in need because unity and development is the prime constituent of our veins.
Here is a meaningful insight into SRNTH:
-What is SRNTH?
A gateway to Defence, as the tagline reads- Shishir Rameshwaram National Talent Hunt (SRNTH) is a national level scholarship program. It's the most cost effective scheme for Defence aspirants. Paired up with scholarship comes cash reward for outstanding students. It's a 2 step process: tier 1 and tier 2. In the former, an exam is conducted within the campus of top- rank shortlisted colleges while in the latter an offline national exam is conducted in various states of India.
-Aim and addressee?
SRNTH is formulated for those young souls who want to enter the Indian Armed Forces.
Objective of SRNTH is to seek spark and ignite into a fruitful fire. We look for the brightest, intelligent, and most deserving Defence aspirants and furnish their dreams with financial and academic support.
Increasing personnel and volunteers in Indian Armed Forces is the long-term motive.
Most importantly if a crisis in finance obstructs the dream of Indian youth it turns heart breaking. Hence SRNTH give platform and aid help to the weaker section of society in joining hands with Indian Defence and giving vent to their talent.
-Who conducts SRNTH?
SRNTH is a joint venture of Defence Guru, a non- governmental organization and Centurion Education Pvt. Ltd, a leading academic sector for Indian Defence preparation. The objective of these burgeoning companies is to spread awareness and motivate the young generation to join Indian Armed Forces. Not only inspiring but also training aspiring Defence student is included in our amenities. We provide exemplary self published study material, most relevant notes, intricate training and a stage to hone your overall development.
-Procedure
Easy like a Sunday breeze, SRNTH is only a 3 tier process- enroll, pay and download! Interested candidates must get themselves registered online by filling in their true and complete details followed by online payment of minimal 100 rupees. After a lapse of 2 weeks the candidates can download their admit cards online. You can log in to www.defenceguru.co.in or www.centuriondefenceacademy.com for the above.
-Eligibility
Those who want go ahead with SRNTH must be a citizen of India. They can be male or female. He can be pursuing class 10th, 11th, or 12th Appearing from any board and stream in India. Students pursuing graduation Appearing (1st year, 2nd year, 3rd year) inclusive of all subjects and stream are also eligible to apply for SRNTH.
-Benefits
SRNTH is effluent with benefits. Few lucky students achieve their dreams after battling through odds while few others could not even do so and limp back. To raise such students and stand as a ladder for them is the concern of SRNTH. Talking about benefits, you will be able to avail scholarship+ cash+ enrollment in leading Defence academy at low cost. Add to that even a resident of rural area who is pushing back his dream of Defence can gain it back by just enrolling online and taking the exam.
To sum up, opportunity does not knock on every door so if you hear a tap at your door then grab the chance and try your luck… but but but not without hard work.