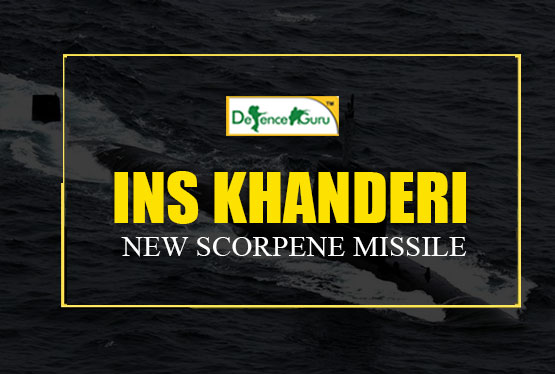 INS KHANDERI : NEW SCORPENE MISSILE
Indian Navy has seen an unprecedented growth this year. In a momentous achievement Indian Navy has announced the making of its brilliantly crafted multi- task submarine, branded as Scorpene.
Now that Scorpene is in spotlight it's time to shed special attention on its notions which include:
Indian Navy has already started working on 6 Kalvari class Scorpenes under Project- 75.
They are especial diesel- electric attack submarine constructed with the support and technology of a French company Naval Group at the Magazon Dock Limited.
The P-75 is a well proved technology with cost reducing range.
Apart from Chile, Brazil and Malaysia, India will also relish in the honor of Scorpene now on.
The first four submarines named Kalvari, Khanderi, Karanj and Vela have been under construction since 2015.
The knowledge incorporated from French Naval company for building up this submarine shall benefit India up to 2 decades.
Amongst underwater warfare, this will be the first primary weapon of 21st century close to jet recent aircraft technology.
The first Scorpene, Kalvari is endowed with certain perks such as:
it can work for longer range despite being submerged in water for weeks; it is a low noise long range stealth submarine; during peaceful time it will function for Intelligence gathering and Special Ops while in time of hostility its central role will be in Surface Warfare Tactics along with anti submarine warfare role. It's high- tech equipment with a great automation to ensure minimum manpower onboard. Kalvari is further injected with systems like PMS, PGD, Steering, propulsion, safety system etc. The PMS system is also integrated with the submarine's Integrated Combat System. Add to that, there is also an acoustic advantage to remain invisible to enemy's sonars. Not only this but the great MBDA SM- 39 anti- ship missiles as launched by French EXOCET are also fitted in Kalvari submarine. Kalvari is a variant of Ship launched SSMs. It is 4.69 long and weighs 655 kg with 350 mm diameter. It uses Inertial Navigation system. There is an RF seeker+ Kalvari can work equally well in all weathers. It can be launched from shallow water and have high- penetration probability.
Scorpene submarine, as a whole is exemplary as it possesses much modern technology, 6 torpedo launching tubes, precision- guided weapons, various sonars (Bow sonar, Stern sonar, Side looking sonar etc), surveillance radar and Integrated Combat System. All of these combined together aids in attack and counter- attack activities.
Not to forget the AIP system. Air Independent Propulsion (AIP) will help Scorpene to remain underwater for a longer duration.
So guys that's all in news for the latest Scorpene submarine. The splendid submarine just needs some finishing touch as soon the world will hear its praise!