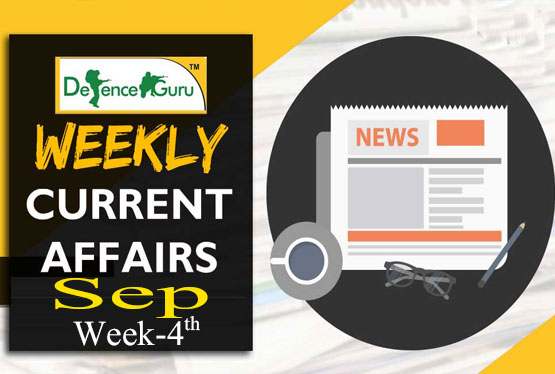 Appointments
1.Air Marshal HS Arora
Air Marshal HS Arora has been appointed the Vice Chief of Indian Air Force. He will succeed Air Marshal RKS Bhadauria who will take over as the Chief of Air Staff on September 30. The Center on September 19 appointed Air Marshal Rakesh Kumar Singh Bhadauria the next chief of the India Air Force (IAF). Bhadauria, who is currently Vice Chief of Air Staff, will take over the charge as the Chief of Air Staff after his predecessor and the incumbent IAF Chief BS Dhanoa retires on September 30. Meanwhile, Air Marshal B Suresh has been appointed as Western Air Commander of the Air Force.
2.Suresh Chitturi
Suresh Chitturi, Vice Chairman and Managing Director of India's leading poultry firm Srinivasa Farms, has been appointed as chairman of the International Egg Commission (IEC) for the next two years. The appointment was made at the IEC Global Leadership Conference in Copenhagen in Denmark. Suresh Chitturi will be the first chair from Asia in the history of the institution, as he assumes the role as the Chairman of IEC.
3.Kristalina Georgieva
Bulgaria's Kristalina Georgieva has been selected as the new head of the International Monetary Fund (IMF). She is the first person from an emerging market economy to lead the IMF. The economist succeeds Christine Lagarde for a five-year term from October.
4.Army chief Gen Bipin Rawat
Indian Army chief General Bipin Rawat will take over as the chairman of Chiefs of Staff Committee (CCS). This is the last time that this handover ceremony is taking place as the Narendra Modi government recently established the post of Chief of Defence Staff (CDS). The process to identify India's first CDS has started. General Bipin Rawat will be taking over the charge of chairman, CCS from Air Chief Marshal BS Dhanoa who will be retiring by the end of this month. The senior-most among the three services chiefs is appointed as the chairman of the Chiefs of Staff Committee.
5.Adille Sumariwalla
The President of Athletics Federation of India, Adille Sumariwalla was re-elected as member of the Council of the International Association of Athletics Federations (IAAF) for a second four-year term. The election took place during the 52nd Congress of the sport's world governing body at Doha. The former Olympian Sumariwalla received 121 votes to get elected as one of the 13 individual members of the IAAF Council. Britain's Sebastian Coe was re-elected unopposed as President of the IAAF for a second term.
6.Godavarthi Venkata Srinivas
Godavarthi Venkata Srinivas was appointed as the next Ambassador of India to the Republic of Guinea Bissau, with residence in Dakar. A 1993 batch-IFS officer, Srinivas is presently the country's Ambassador to the Republic of Senegal. For decades, India and Guinea Bissau have maintained warm and friendly relations. Guinea-Bissau is a tropical country on West Africa's Atlantic coast.
Points to remember
Capital: Bissau
Currency: West African CFA franc
7.Govinda
Actor Govinda will be the brand ambassador of Madhya Pradesh and will help promote the state's traditions and tourist places. Govinda (55), one of the most successful Bollywood stars in the 1990s, had a five-year stint as Congress Lok Sabha MP from Mumbai North constituency, having defeated BJP heavyweight Ram Naik in 2004. The state government was planning to set up a film city as several productions units are visiting places like Maheshwar, Mandu and Bhopal to shoot movies.
8.Madhukar Kamath
Madhukar Kamath, chairman emeritus of DDB Mudra group and mentor of Interbrand India, has been elected chairman of the Audit Bureau of Circulations (ABC) for 2019-20. Kamath has also been the president of Advertising Agencies Association of India. The Audit Bureau of Circulations of India is a non-profit circulation-auditing organisation. It certifies and audits the circulations of major publications, including newspapers and magazines in India.
Awards
9.President's Colours Award
President Ram Nath Kovind presented the prestigious President's Colours to the Corps of Army Air Defence at a function in Gopalpur in Ganjam district of Odisha. The award was given to the Corps on the occasion of 25 years of Army Air Defence College, AADC. It was received by Army AD Centre on behalf of the Corps of Army Air Defence. The President's Colours is the highest military honour for the armed forces bestowed in recognition of exceptional services rendered to the nation, both during the war and in peace times. One of the youngest corps of Army, the Army Air Defence Corps bifurcated from the Regiment of Artillery in 1989 and established the Army Air Defence College.
10.UN Global Climate Action Award
Digital services and consulting major Infosys has won the United Nations Global Climate Action Award in 'carbon neutral now' category. It became the only Indian corporate to earn the recognition for its efforts to combat climate change. The award will be presented to Infosys at the UN Climate Change Conference (COP25) at Santiago in Chile during December. Infosys began its action to combat climate change in 2008 with an assessment of its carbon footprint.
11.Changemaker Award-2019
17-year-old Payal Jangid from Rajasthan became the first Indian to receive the Changemaker Award by the Bill and Melinda Gates Foundation. Payal, who is from Hinsla village, about 100 kms from Jaipur, has been conferred with the award for her continuous dedication towards the abolition of child marriage in her village, which is a child-friendly village (Bal Mitra Gram), as well as in neighbouring villages. According to Payal, her activism and fight to abolish child marriage began at the age of 11, when she had to relent against being married off.
12.Centre institutes national unity award
The Centre has instituted the highest civilian award for contribution to the unity and integrity of India, in the name of Sardar Vallabhbhai Patel. The award seeks to recognize notable and inspiring contributions to promote the cause of national unity and integrity and to reinforce the value of a strong and united India. The award will be announced on the occasion of the National Unity Day on the birth anniversary of Sardar Patel on 31st of October. The award will be conferred by the President by a Sanad under his hand and seal and presented by him in a presentation ceremony along with the Padma award presentation ceremony at Rashtrapati Bhawan. The award would consist of a medal and a citation. No monetary grant or cash award would be attached to this Award.
13. 'Global Goalkeeper'
Prime Minister Narendra Modi was conferred the "Global Goalkeeper" award by the Bill and Melinda Gates Foundation for the Swachh Bharat Abhiyan launched by his government. Mr Modi dedicated the award to those Indians who transformed the Swachh Bharat campaign into a 'people's movement' and accorded topmost priority to cleanliness in their day-to-day lives. The campaign has not only improved the lives of crores of Indians, but it has also played a significant role in achieving the goals set by the UN. The cleanliness campaign was launched by the Modi government during its first term on October 2, 2014.
14.SASTRA-Ramanujan Prize-2019
The 2019 Sastra-Ramanujan Prize will be awarded to number theorist Adam Harper of the University of Warwick, England. This annual prize is given to honour outstanding contributions by individuals not exceeding age of 32 in areas of mathematics, influenced by Indian mathematician Ramanujan. The prize, which includes a cash award of USD 10,000 and a citation, will be awarded at the international conference on number theory scheduled for December 22 (Ramanujan's birthday).
15.Dada Sahab Phalke award
Veteran actor Amitabh Bachchan has been named for the prestigious Dada Sahab Phalke award for his outstanding contribution to the film industry. The legend who entertained and inspired for two generations has been unanimously selected for the award. The award is conferred by the Government for outstanding contribution to the growth and development of Indian Cinema. It consists of a Swarn Kamal and a cash prize of ten lakh rupees.
16.71st Prime Time Emmy Awards
The 71st Primetime Emmy Awards honoured the best in U.S. prime time television programming from June 1, 2018, until May 31, 2019.
Outstanding Drama Series: Game of Thrones (HBO)
Outstanding Comedy Series: Fleabag (Amazon)
Lead Actor, Drama: Billy Porter, Pose
Lead Actress, Drama: Jodie Comer, Killing Eve
Lead Actor, Comedy: Bill Hader, Barry
Lead Actress, Comedy: Phoebe Waller-Bridge, Fleabag
17.first Gauri Lankesh Memorial Award
Senior journalist and Ramon Magsaysay awardee Ravish Kumar received the first Gauri Lankesh Memorial Award in Bengaluru. He was chosen for the award for sharp news analysis and uncompromising secular stance by the Gauri Lankesh Memorial Trust, founded in memory of the journalist. Three books were launched at the event titled 'Delhi Nota' by senior journalist D Umapathi, Ravish Kumar's 'Free Voices' translated as 'Maatige Enu Kadime', and 'Neera Nade' by Prof Vinaya Okkunda. Gauri Lankesh was an Indian journalist-turned-activist from Bangalore, Karnataka.
18.FIFA players of the year
Argentine star Lionel Messi bagged his sixth FIFA Men's Player of the Year award. Also, US' Megan Rapinoe, who captained her team to victory in this year's World Cup, has been named Women's Player of the Year. Messi had ensured Barcelona's victory in the La Liga and helped the team reach the semi-finals in the Champions League. On the other hand, Rapinoe's achievement was recognised after the American forward netted six goals in the FIFA Women's World Cup in July.
19.Google honours mountaineer Junko Tabei with a doodle on her 80th birthday
Google honoured Junko Tabei, the first Japanese woman to reach the summit of Mount Everest, on her 80th birthday with a animated doodle. She is also the first woman to ascend all Seven Summits by climbing the highest peak on every continent. The doodle depicts a graph along with seven ice-capped mountains which symbolise all the "seven summits" - the highest peaks such as Everest, Aconcagua, Denali, Kilimanjaro, Vinson, Elbrus, Puncak Jaya, on each continent that was climbed by Tabei. Apart from the mountains, the doodle also shows a moving animated cartoon representing Tabei.
20.Gully Boy is India's entry for Oscars
Bollywood film, Gully Boy was selected as India's official entry in the International Feature Film category at the Oscars. The film is directed by Zoya Akhtar and stars Ranveer Singh and Alia Bhatt in lead roles. Gully Boy is a coming-of-age drama centred around the life of aspiring rapper Murad, portrayed by Ranveer. The film was inspired by the real-life stories of Mumbai rappers Divine and Naezy.
21.Sardar Patel National Unity Award
The Sardar Patel National Unity Award, a new honour on the pattern of Padma awards for promoting national unity, will be bestowed on individuals or institutions for notable contributions towards the cause of the country's unity and integrity. Prime Minister Narendra Modi had announced the institution of the award. The decoration will recognise inspiring contributions to promote national unity and integrity and to reinforce the value of a strong and united India. Any person without distinction of race, occupation, position or sex is eligible for the award and it may be given posthumously in very rare and only in highly deserving cases. The award will be in the shape of a lotus leaf, six centimetres in length, six and two centimetres at its greatest breadth and four millimetres in thickness.
22.PATA Gold Awards
Kerala Tourism has won three prestigious Pacific Asia Travel Association (PATA) Gold awards. These awards include one for an ethnic food restaurant run by women at Kumarakom under its Responsible Tourism Mission. The awards, presented at a glittering function at Nur-Sultan (Astana) in Kazakhstan were received by state Tourism Minister Kadakampally Surendran and Tourism Director P Bala Kiran. The two other gold awards were for an advertisement campaign of Kerala Tourism 'Come Out and Play' and for its website (www.keralatourism.org) respectively.
Books
23.'Reset: Regaining India's Economic Legacy'- Subramanian Swamy.
Former president Pranab Mukherjee released a book 'Reset: Regaining India's Economic Legacy' written by BJP MP Subramanian Swamy. The book tracks the country's economic development over the years and offers solutions for future growth. The former president also acknowledged the Swami's input on liberalising trade when the latter was the commerce minister in the short-lived Chandra Shekhar government in 1990-91.
24.Being Gandhi- Paro Anand
A new book by award-winning author Paro Anand will mark the 150th anniversary of Mahatma Gandhi by publishers Harper Collins Children's Books have been announced. Titled "Being Gandhi", the book explores not Gandhi the man or his life as a leader, but really the Gandhian way that must remain relevant to us. The story revolves around a boy, Chandrashekhar, who is bored of doing projects on Gandhi.

Sports
25.Deepti Sharma becomes 1st Indian cricketer to bowl 3 maidens in T20Is
All-rounder Deepti Sharma had an extraordinary outing in India's first T20I against South Africa in Surat. She ended with figures of 4/8 with three of the four overs to lead India to victory. If that was not enough she bowled three maidens and made her way into the record books. This is the first time that an Indian has bowled as many maidens in a T20I match.
26.Pankaj Advani-Aditya Mehta pair wins World Team Snooker title
The Indian duo of Pankaj Advani and Aditya Mehta has won the IBSF World Snooker Team title at Mandalay, Myanmar. The Indian pair beat Thailand's team comprising C.Pongsakorn and D.Poramin 5-2 in the final. This takes Advani's world title tally to a phenomenal 23 while Aditya claimed his maiden title. For Advani, this win has ensured that his name is now there every IBSF world title on offer.
27.PT Usha honoured with IAAF Veteran Pin
The world athletics governing body, the International Association of Athletic Federations, IAAF, honoured the Indian track and field legend PT Usha with a Veteran Pin in recognition of her contribution to the growth of the sport. IAAF chief Sebastian Coe presented her the Veteran Pin during the 52nd IAAF Congress at Doha. Usha was one of three persons from Asia to receive the honour. Often called the "queen of track and field", Usha is one of the greatest sprinters to have come out of India. At the 1982 New Delhi Asian Games, she won silver medals in 100m and 200m events.
28.Manipur clinch 25th Senior Women's National Football Championship
Defending champion Manipur has clinched the title of the 25th Senior Women's National Football Championship for the 20th time. In the final at CHF Ground in Pasighat, Manipur defeated Railways 1-0 in a thrilling contest. In the 67th minute, Bala Devi gave the breakthrough for Manipur. Bala Devi is the highest scorer in the tournament with 20 goals. Railways' Sanju was declared the Player of the tournament. Arunachal Pradesh had hosted the tournament for the first time.
29.Rahul Aware wins bronze in 61 kg category at World Championship
Indian wrestler Rahul Aware has won a bronze medal in men's 61-kilogram freestyle category at the World Championship in Nur-Sultan, Kazakhstan. Rahul beat 17th seeded American Tyler Lee Graff 11-4 to ensure he finished on the podium. This, however, was not an Olympic category and thus the bronze did not help Aware qualify for the Tokyo Games. It was India's fifth medal at this edition of the World Championships with a total haul of 1 silver and 4 bronzes.
30.Carolina Marina lifts China Open title
Olympic gold medalist Carolina Marin defeated Taiwan's Tai Tzu Ying 14-21, 21-17, 21-18 in the women's badminton singles final match to lift the China Open title. In the 65-minute-long clash, Spain's Marin lost the first game but made a comeback in the next two games to clinch the title encounter. Marin, 26, is returning to the court after eight months as she had knee surgery. She missed the BWF World Championships which concluded last month in Basel, Switzerland.
31.Daniil Medvedev wins St Petersburg Open title
Daniil Medvedev strolled to a sixth career title as he defeated Borna Coric 6-3, 6-1 in the final of the St Petersburg Open. World number four Medvedev, who since July has reached five finals in as many tournaments, won his third title of the year and sixth of his career. Indian Divij Sharan and Igor Zelenay won double title past Italian pair of Matteo Berrettini and Simone Bolelli 6-3 3-6 10-8 in tie-breaker in the hard-fought summit clash that lasted for one hour and 17 minutes.
32.Amit Panghal loses in final of World Boxing Championships
Ace Indian boxer Amit Panghal settled for a silver at the AIBA Men's World Boxing Championships at Ekaterinburg in Russia. He lost to Shakhobidin Zoirov of Uzbekistan Zoirov in flyweight (48-52 kg) category, by a unanimous decision from the judges. Amit Panghal created history as he became the first Indian male boxer to qualify for the final of the Championships.
International
28 September : International Day for Universal Access to Information
September 28 is the International Day for Universal Access to Information (IDUAI). This year UNESCO is commemorating the International Day for Universal Access to Information with a series of 'Open Talks'. The day was inaugurated in November 2015 and was first held on 28 September 2016.2019 theme : Leaving No One Behind!
34.29 September: World Heart Day
World Heart Day is celebrated on 29th September of every year. It is aimed at drawing people's attention to heart illness and the range of associated health issues. The day is commemorated to promote different preventative steps and changes in lifestyle to avoid any cardiovascular diseases, like a heart attack, stroke, heart failure and any other condition related to the same.
35. Nepal releases coins to mark Guru Nanak Dev's 550th birth anniversary
To celebrate 550th Birth Anniversary of Guru Nanak Dev, the Nepal Rastra Bank has issued commemorative coins. In special ceremony coins of 2,500, 1,000 and 100 Nepali rupees were launched in Kathmandu. Nepal Rastra Bank Governor Dr. Chiranjibi Nepal and Indian Ambassador Manjeev Singh Puri released commemorative coins.
36.World Rabies Day: 28 September
World Rabies Day is celebrated annually on 28 September. The day is observed to raise awareness about rabies prevention and to highlight progress in defeating this horrifying disease. 28 September also marks the anniversary of Louis Pasteur's death, the French chemist and microbiologist, who developed the first rabies vaccine. 2019 theme: Rabies: Vaccinate to Eliminate
37.Saudi Arabia abolishes abaya rule and announces new visa scheme
Saudi Arabia announced new visa scheme for 49 countries across the globe as part of its efforts to boost the Kingdom's tourism sector. The Kingdom has also appealed to foreign companies to invest in a sector it hopes will contribute 10 percent of gross domestic product by 2030. The Kingdom's president of the Saudi Commission for Tourism and National Heritage, Ahmed Al Khateeb, has said that abayas will not be mandatory for women tourists, including public beaches. Access to the Muslim holy cities of Makkah and Medina is restricted. Currently, only citizens of Bahrain, Kuwait, Oman, and the UAE can travel freely to the country.
27 September : World Tourism Day
The United Nations World Tourism Organization announced 27th September as World Tourism Day in 1980 and has been celebrating the day since then. The objective is to acquaint people with the social, economic, cultural and political importance of tourism and make them responsible tourists in turn. Each year sees a new theme and a new country as a host. This year for the first time India will be hosting World Tourism Day which has the theme 'Tourism and Jobs: a better future for all'.
Japan launches 'World's Biggest Transport SpaceShip' for Space Station
Japan launched an unmanned spacecraft towards the International Space Station after a fire early this month delayed the mission. The H-2B rocket lifted off at 1:05 am local time (1605 GMT) with cargo vessel Kounotori8. The launch took place from the Japan Aerospace Exploration Agency's Tanegashima Space Center in southwestern Japan. Kounotori8, meaning "white stork" in Japanese, intends to deliver about 5.3 tonnes of supplies to astronauts at the ISS, including fresh food and water as well as batteries and devices needed for experiments.
World's first camel hospital at Dubai set to expand its facilities
World's first camel hospital in Dubai is set to expand its facilities by an additional 50 per cent in response to the increase in demand for its services. Historically, camels, known as the 'Ship of the Desert' were a source of transport as well as food and milk in the region. The camel has continued to be an integral part of the UAE's society and culture to this day, with select breeds used for camel racing, a sport highly popular among Emiratis. The camel hospital, built at an estimated cost of 40 million Dirhams, opened its doors in 2017 to meet the demand in the UAE for an advanced medical facility dedicated to treating camels.

International Day of Sign Languages: 23 September
International Day of Sign Languages was observed on 23 September. The objective of the day is to raise awareness of the importance of sign language in the full realization of the human rights of people who are deaf. Sign languages are fully-fledged natural languages, structurally distinct from the spoken languages. The theme of the day is 'Sign Language Rights for All'.
World Rhino Day: 22 September
World Rhino Day is observed every year on 22 September. It is a global event established to celebrate the world's five rhinoceros species, and to reflect on the challenges facing them. World Rhino Day was first established in 2010 in South Africa, this day has now gained international recognition and it is celebrated by a variety of organizations and individuals from around the world.
National
11-day 'Aadi Mahotsav' starts at Expo Centre Noida
Aadi Mahotsav (Tribal Festival) organized by Tribal Cooperative Marketing Development Federation of India (TRIFED), Ministry of Tribal Affairs went off to a colourful started at Expo Centre, Noida (UP). Smt. Renuka Singh, Minister of State for Tribal Affairs inaugurated the festival. Artists and artisans, drawn from as many as 20 states of the country are a part of this mega cultural razzmatazz and showcase their traditional art, craft and culture. The traditional tribal jewellery, rare of the rarest craft items and artefacts will be a huge attraction for the inquisitive buyers.
Rajnath Singh commissions INS Khanderi into Indian Navy
Defence Minister Rajnath Singh commissioned INS Khanderi, the second of Kalvari Class diesel-electric attack submarines of the Indian Navy in Mumbai. The name Khanderi is inspired by the dreaded 'Sword Tooth Fish' a deadly fish known to hunt whilst swimming close to the bottom of the ocean. INS Khanderi is the second of Kalvari Class diesel electric attack submarines of the Indian Navy. Built indigenously by Mazagon Dock Shipbuilders Limited, INS Khanderi is a lethal addition to Navy's conventional submarine arsenal and is designed for silent and stealthy sub-surface operations. INS Khanderi is the follow-on to INS Kalvari, which was the first of the French origin Scorpene class submarines being indigenously constructed in India and commissioned by the Prime Minister in 2017.
Rajnath Singh launches Navy's first new stealth frigate, INS 'Nilgiri'
Raksha Mantri Shri Rajnath Singh launched INS 'Nilgiri', the first of the Navy's seven new stealth frigates, at Mazagon Dock Shipbuilders Limited in Mumbai. INS Nilgiri is the first ship of Project 17A. Project 17A frigates is a design derivative of the Shivalik class stealth frigates with much more advanced stealth features and indigenous weapons and sensors. The P17A frigates incorporate new design concepts for improved survivability, sea keeping, stealth and ship manoeuvrability. Raksha Mantri Shri Rajnath Singh also commissioned the largest dry dock of Indian Navy - The Aircraft Carrier Dock at the Naval Dockyard in Mumbai.
46.INDO-KAZAKHSTAN Joint Military Exercise KAZIND – 2019
Joint Military Exercise KAZIND-2019 between India and Kazakhstan will be conducted at Pithoragarh from 02 to 15 October 2019. The exercise will comprise of nearly 100 soldiers from both Indian and Kazakhstan Army who would be sharing their experience gained during conduct of various counter insurgency and counter terrorism operations in the past. Exercise KAZIND-2019 is the fourth edition of an annual event which is conducted alternatively in Kazakhstan and India. The aim of this exercise is to conduct company level joint training with emphasis on counter terrorism operations in mountainous terrain.
47.India rises 4 places to 44th rank in world digital competitiveness rankings
India has advanced four places to 44th position in terms of digital competitiveness in the world. The country has made improvements in terms of knowledge and future readiness to adopt and explore digital technologies. The US was ranked as the world's most digitally competitive economy, followed by Singapore in second place.
48.IATA launches gender diversity campaign for balanced workforce
The International Air Transport Association (IATA) has launched the 25by2025 Campaign - an airline industry initiative to advance gender diversity in the airline industry by 2025. It is a voluntary commitment by participating IATA member airlines aimed at increasing the number of women in senior positions by either 25 per cent against currently reported metrics or to a minimum representation of 25 per cent by 2025. IATA member airlines who have already signed up to the 25by2025 Campaign include China Eastern, Lufthansa Group and Qatar Airways. IATA Headquarters: Montreal, Canada
49.JNU and IIT Delhi sign MoU to promote research, technology development
Jawaharlal Nehru University (JNU) signed a Memorandum of Understanding (MoU) with Indian Institute of Technology (IIT) Delhi. The MoU will benefit teaching, research and technology development in various disciplines. The main objectives of signing this MoU between the two institutions is to recognise each other's strengths and cooperate in research, education and technology developments in the disciplines of science, engineering, management and social sciences. The collaboration will provide the two institutions access to each other's libraries and central research facilities to intensify joint research projects and other related academic activities.
50.Yogi government announces Rs 6,000 annual aid for triple talaq victims
Uttar Pradesh Chief Minister Yogi Adityanath on announced an annual assistance of Rs 6,000 to the victims of triple talaq till their rehabilitation. They will also get free legal aid from the state government. The chief minister interacted with the victims of triple talaq under the Pradhan Mantri Jan Vikas Karyakram (PMJVK).
51.2nd Singapore - India Hackathon to be organised at IIT Madras
2nd edition of Singapore - India Hackathon will be organised at IIT Madras, Chennai from Sep 28 to 29 this year. India-Singapore Hackathon is the first of its kind joint International hackathon between India and Singapore during which the selected bright students from India and Singapore will work in collaboration to develop innovative and out-of-the- box solution for some of the daunting problems faced by our societies. This year the hackathon is focused on quality education, Good Health and clean energy. 20 teams with 6 team members each will participate in the hackathon and top teams will win prizes from the Prime Minister Narendra Modi.
52.PM Modi will formally declare India as ODF on 2nd October
Prime Minister Narendra Modi will formally declare India as Open Defecation Free -ODF on 2nd October during a function to be held in Ahmedabad. Prime Minister Modi is scheduled to address a mega convention of more than 20000 Sarpanchs from across the country which will be held at the Sabarmati Riverfront in Ahmedabad on the occasion of the 150th birth anniversary of Mahatma Gandhi. Out of 20000 sarpanchs, 10,000 Sarpanchs will be from Gujarat. Sarpanchs from Uttar Pradesh, Maharashtra, Rajasthan, Madhya Pradesh, Chhattisgarh, Punjab, Haryana, Bihar and other states and Union Territories will also participate in the event.
53.Dr Harsh Vardhan launches 'TB Harega Desh Jeetega' Campaign
Dr. Harsh Vardhan, Union Minister for Health and Family Welfare launched the new TB Harega Desh Jeetega Campaign, along with the National TB Prevalence Survey. The Union Health Minister also flagged off a van for the National TB Prevalence Survey. In all, 25 such vans will be part of the prevalence survey, which shall take 6 months and be carried out across the country. In April 2018, the government launched the 'Nikshay Poshan Yojana', a direct benefit transfer (DBT) scheme to provide nutritional support to TB patients. Under the scheme, TB patients have been receiving Rs 500 per month for the entire duration of treatment.
54.Mukesh Ambani takes top richest spot for 8th consecutive year
With Rs 3.8 lakh crore net worth, Mukesh Ambani is India's richest man for the eighth consecutive year, as mentioned in the IIFL Wealth-Hurun India Rich List 2019. The Reliance Industries chief is also the 8th richest man in the world. Following Ambani is London-based SP Hinduja and family with Rs 1.5 lakh crore. On the third spot is Wipro founder Azim Premji with Rs 1.2 lakh crore, while Cyrus Poonawalla bagged the fourth spot with Rs 89,800 crore. Out of the Indian cities, Mumbai topped the list with 42 billionaires, while Delhi followed on the second spot with 25 billionaires. No women made it to the top ten richest Indians list.
55.Airtel Payments Bank partners with to launch Mosquito Disease Protection Policy with HDFC ERGO
Airtel Payments Bank and HDFC ERGO General Insurance Company under the corporate agency tie-up launched an innovative Mosquito Diseases Protection Policy (MDPP). The partnership aims to bring together the deep distribution network of Airtel Payments Bank and the strong innovation pipeline of HDFC ERGO to contribute to financial inclusion in the country. Mosquito Disease Protection Policy offers cover against seven common mosquito-borne diseases - Dengue, Malaria, Chikungunya, Japanese Encephalitis, Kala-azar, Lymphatic Filariasis (Elephantiasis) and Zika virus. The product, which is a part of the 'Wallet Insurance Portfolio' of HDFC ERGO, will be offered to the remittance customers of Airtel Payments Bank at a nominal cost of Rs 99 per annum.
56.Exercise MALABAR 2019
The 23rd edition of the Trilateral Maritime Exercise MALABAR is scheduled between the navies of India, Japan and the USA from 26 Sep to 04 Oct 19 off the coast of Japan. MALABAR 2019 would endeavour to further strengthen India - Japan - US Naval cooperation and enhance interoperability, based on shared values and principles. Two frontline indigenously designed and built Indian Naval Ships, the Multipurpose Guided Missile Frigate Sahyadri and ASW Corvette Kiltan, will participate in the Exercise.
57.Defence Minister Rajnath Singh commissioned Indian Coast Guard Ship ICGS Varaha
Defence Minister Rajnath Singh commissioned the Indian Coast Guard Ship ICGS Varaha at a special function held at Chennai Port. The ship is the fourth in the series of seven offshore patrol vessels of the Coast Guard. It will be based at New Mangalore in Karnataka under the Western Command. The 98-metre offshore patrol vessel ICGS Varaha has been designed and constructed indigenously. It is capable of carrying a twin-engine helicopter and four high-speed boats for swift boarding, search and rescue, law enforcement and maritime patrolling operations.
112 A single emergency helpline number launched in Delhi
A single emergency number -112- was launched for police, fire and ambulance emergency services. Now, the citizens of Delhi can avail the facility of all these three emergency services by dialling the number - 112. This call immediately passes to the Control Room for providing immediate assistance to the distress caller. Minister of State for Home Affairs G Kishan Reddy inaugurated the Emergency Response Support System. The Minister also launched 'PRAKHAR' which is street crime patrol van, for patrolling at crime hot spot locations. Prakhar vans are different from PCRs as these vans carry more firepower and are equipped with modern technology.
59.President Ram Nath Kovind inaugurates India Water Week, 2019 in New Delhi
President Ram Nath Kovind inaugurated the India Water week 2019 in New Delhi. The theme of the event is 'Water Cooperation - Coping with 21st Century Challenges'. Speaking on the occasion, the President said that over 40 per cent area of the world is facing an acute water shortage. It has become a challenge for governments to provide safe drinking water to people. The President lauded the Modi government for setting the target of providing drinking water to all villages across the country by the year 2024.
60.Shri Nitin Gadkari inaugurates 16th Global SME Business Summit
Union Minister for Micro, Small and Medium Enterprises and Road Transport & Highways Shri Nitin Gadkari has inaugurated the 16th Global SME Business Summit 2019 in New Delhi. The Summit is organized every year by the Ministry of MSME and Confederation of Indian Industries (CII). The theme this year is 'Making Indian MSMEs Globally Competitive'.
61.India Tourism Mart exhibition inaugurated in New Delhi
Culture and Tourism Minister Prahlad Singh Patel inaugurated the exhibition of India Tourism Mart (ITM), 2019 in New Delhi. Over 240 international delegates from 51 countries and 160 exhibitors from across the country are taking part in the second edition of ITM. It will provide a platform at the national level for trade and hospitality service providers in the country to interact and conduct business with their counterparts from overseas.
62.J&K becomes the first state to issue the highest number of golden cards under Ayushman Bharat scheme
Jammu and Kashmir have become the first state in the country to issue the highest number of golden cards under Ayushman Bharat-Pradhan Mantri Jan Arogya Yojana (AB-PMJAY). Over 11 lakh golden cards have been generated within the first 90 days of the launch of the scheme with 60% of families having at least one golden card which is highest in the country. The CEO informed that claims amounting to around 14 crore rupees have been settled till date and state is registering phenomenal progress under the scheme.
63.First corporate-run train from Lucknow to Delhi 'Tejas Express' all ready to hit tracks on Oct 4
In Uttar Pradesh, the most awaited country's first corporate-run train from Lucknow to Delhi, Tejas Express is all ready to hit the tracks on 4th of October. Chief Minister Yogi Adityanath will flag off the train from Lucknow which will be run by IRCTC. Railways have formally made the announcement regarding the running of the train who's advance bookings have already started. The trial run of the country's first corporate-run train was conducted a few days back and passengers have started booking tickets in the first IRCTC-run train which will work on Flexi-fare system.
64.Narendra Singh Tomar launches two agriculture-related Mobile Apps
Agriculture and Farmer Welfare Minister Narendra Singh Tomar launched two agriculture-related Mobile Applications - CHC Farm Machinery and Krishi Kisan in New Delhi. The Custom Hiring Service Centers or CHC App will allow farmers to avail the custom hiring services of CHCs located in the radius of 50 Kilometers. The App connects the farmers with Custom Hiring Service Centers in their area. Krishi Kisan App will provide farmers with information about the best demonstration of high-yielding crops and seeds at nearby area. The App will also help in geo-tagging and geo-fencing of crop and give weather forecast message to farmers.
65.PM Modi addresses the UNSG Climate Action Summit
PM Modi addressed the UN Secretary-General's Climate Action Summit in New York. Prime Minister Narendra Modi has called for a comprehensive approach which includes education to reduce carbon footprint. Prime Minister said that People's movement is the need of the hour to tackle the climate issues. India has started Jal Jeevan Mission and India is going to spend 15 billion dollars in the next few years. He informed the world leaders that on its independence day this August 15th, India has called for to ban single-use plastic.
66.Amit Shah proposed next Census 2021 'digital census'
Union Home Minister Amit Shah has announced that in the upcoming Census in 2021, a mobile app will be used for data collection. Shah also said the Centre was likely set to spend Rs 12,000 crore on the 2021 Census as well as the preparation of the National Population Register (NPR). Shah even put forth an idea to have a multipurpose ID card for every citizen which includes the passport, Aadhaar and voter ID card. In March this year, the government announced that the next census will be done with 1 March 2021 as the reference date.
67.Ayushman Bharat scheme completes one year of its launch
Ayushman Bharat - the Pradhan Mantri Jan Arogya Yojana has completed one year of its launch on 23 September. Prime Minister Narendra Modi has said that Ayushman Bharat is more than just a health care scheme as it is a beacon of hope to more than 50 crores of India's most vulnerable people. The main aim of the scheme is to provide universal health care to the poor, needy and vulnerable sections of the country. The scheme, which is the world's largest health care programme, provides a health cover of five lakh rupees annually to vulnerable families and aims at benefiting more than ten crore poor families all over the country. In the last one year, more than 46 lakh beneficiaries have availed cashless treatment under the scheme.
68.Govt launches 'UMMID' initiative to tackle inherited genetic diseases of newborn babies
Science and Technology and Health Minister Dr Harsh Vardhan launched 'UMMID' initiative to tackle inherited genetic diseases of newborn babies. UMMID stands for 'Unique Methods of Management and treatment of Inherited Disorders'. The Minister also inaugurated NIDAN (National Inherited Diseases Administration) Kendras. The new initiative aims at creating awareness about genetic disorders amongst clinicians and establish molecular diagnostics in hospitals so that the benefits of developments in medical genetics could reach patients.
69.National workshop on Post Disaster Needs Assessment organized in New Delhi
National Institute of Disaster Management is organizing a day-long National Workshop on Post Disaster Needs Assessment in New Delhi. Minister of State for Home Affairs Nityanand Rai is the Chief Guest on this occasion. The focus of this workshop is to disseminate the outcome documents of the study to all the relevant stakeholders so that these may be utilized as a reference document while preparing the memorandum for submission to the Home Ministry in post-disaster phase.
70.'Howdy Modi': PM speaks of India's data and diversity
Prime Minister Narendra Modi and US President Donald Trump met at an Indian-American rally in Houston, Texas, as their nations negotiate for easing trade. The Indian-American rally dubbed "Howdy Modi!" was held in a 50,000-seat stadium. PM Modi hit out at Pakistan for its support to terrorism and said India's decision to nullify Article 370 has caused trouble to those who cannot handle their country. It was the largest gathering ever for an elected foreign leader visiting the US.
71.CBDT sets up National e-Assessment Centre for faceless scrutiny of IT returns
The Central Board of Direct Taxes (CBDT) has set up a National e-Assessment Centre (NeAC) for assessing tax returns electronically without any personal contact between officials and taxpayers. The initiative is a part of government efforts to reduce human discretion in assessments and scrutiny, which in turn will eliminate possibilities of corruption, by leveraging new technologies like artificial intelligence, machine learning, video conferencing, telecommunication application software and mobile applications. The CBDT has appointed Krishna Mohan Prasad, a 1984 batch Indian Revenue Service (IRS) officer, as the first Principal Chief Commissioner of Income Tax (PrCCIT) of NeAC.
72.Ladakhi Shondol dance makes it to Guinness book of records
Shondol dance, which is known as the royal dance of Ladakh, has created history by entering into the Guinness Book of World Records as the largest Ladakhi dance. Shondol is a famous dance, which artistes used to perform for the king of Ladakh. As many as 408 women attired in traditional dresses and beautiful headgears performed the dance. It was held on the concluding day of the ongoing Buddhist carnival Naropa festival near the Hemis Monastery.
73.Max Bupa and Indian Bank ink bancassurance tie-up to offer health insurance solutions
Max Bupa, a standalone health insurance player, has announced a bancassurance corporate agency agreement with Indian Bank, a state-owned bank. Under the agreement, Max Bupa will provide comprehensive health insurance solutions and services to over 40 million customers of Indian Bank spread across 2800 branch network, through a slew of digital touchpoints. As part of the tie-up, Max Bupa's offerings will include both retail and group health insurance products besides Indemnity and Fixed Benefit products.
74.Assembly elections in Maharashtra and Haryana on 21st October
Assembly elections in Maharashtra and Haryana will be held on October 21 and the counting of votes will take place on October 24. Maharashtra has 288 seats and Haryana has 90 seats. The five-year term of the legislative assemblies of Haryana will expire on 2nd November. The term of Maharashtra assembly will be over on 9th November. The Election Commission has also announced by-polls to 64 assembly seats across 18 States and Samastipur Lok Sabha constituency in Bihar.
75.Delhi CM launched "Champions Campaign"
Delhi Chief Minister Arvind Kejriwal launched "champions campaign" in the fight against dengue and urged people to encourage their friends to inspect their homes on Sunday to clean stagnant water. Three weeks ago, Kejriwal had launched a mega drive against dengue. Lakhs of Delhiites are joining the #10Hafte10Baje10Minute campaign against Dengue. According to an official statement, the campaign envisages that citizens should promptly reach out to 10 of their friends or peers and ask them to check their premises for signs of dengue.
76.NTPC to build 5GW solar park in Gujarat
NTPC Ltd. plans to set up a 5-gigawatt solar park in Gujarat, which would be the biggest in the country. A site has been identified for the project, which is expected to cost as much as ₹25,000 crores ($3.5 billion) and begin operations by 2024. The company may also invite bids from developers to set up projects in the park. The plan is part of the NTPC's aim to build 32 gigawatts of renewable capacity by 2032 and reduce the share of fossil fuels in its energy mix to 70 per cent from about 96 per cent now.
Business
77.RBI puts Mumbai-based PMC Bank under directions
The Reserve Bank of India has placed the Punjab and Maharashtra Cooperative (PMC) Bank Limited, Mumbai under Directions. According to the Directions, depositors will be allowed to withdraw a sum not exceeding 1,000 rupees of the total balance in every savings bank account or current account or any other deposit account, subject to the conditions stipulated in the RBI Directions. The Directions shall remain in force for a period of six months from the close of business of the bank. The Bank has however clarified that the issue of the directions by the central bank should not be construed as a cancellation of a banking licence by the Reserve Bank.
78.ADB sharply cuts India's GDP growth forecast to 6.5% for FY20
The Asian Development Bank (ADB) on sharply cut India's growth forecast to 6.5 per cent for the current fiscal, weighed down by the GDP growth rate dipping to a six-year low in the first quarter. In its supplement to the ADO in July, the Manila-headquartered multi-lateral funding agency cut the country's GDP growth estimate to 7 per cent for 2019-20 on the back of fiscal shortfall concerns. Abrupt declines in manufacturing and investment reflect uncertainty ahead of general elections, subdued lending by banks and other financial institutions, the stress in the rural economy, and a weakening external outlook.