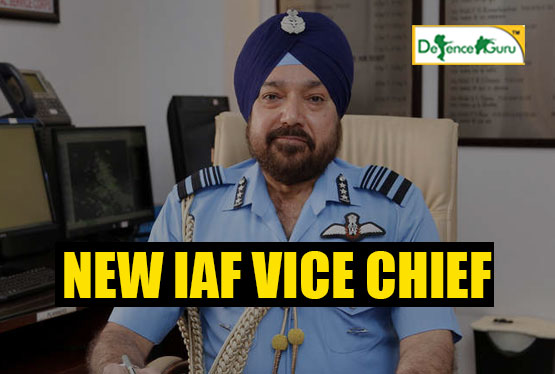 Air Marshal Harjit Singh Arora is New IAF Vice Chief
In addition to the appointment of new Air Chief of India, there is another injection in Indian Air Force. Yes raise your brows and welcome the inclusion of Air Marshal Harjit Singh Arora as the new vice Chief of the Indian Air Force (IAF) on Tuesday, October 1st, 2019.
The pulse of his achievements range to a great height and includes: commendable flying experience of 2,600 hours, recipient of the honor Ati Vishisht Seva Medal in 2011.
Prior to his appointment here, Air Marshal Harjit was the Air Office Commanding- in- Chief of South Western Air Command at Gandhinagar, Gujrat. He is also an alumnus of the prestigious National Defence Academy (NDA). More so, Air Marshal Arora is also a graduate of the Tactics and Air Combat Development Establishment of the Defence Service Staff College. To praise him more see probe deep in his profile as per which Arora holds a Master of Science in Defence Studies and Master of Philosophy in Defence and Strategic Studies. Not only on profession but also in academics Arora has left his impressionistic footprints.
If that's not sufficient then there is more. Oh yes the chain of accomplishment go unabated. The well- trained, proficient Harijit Singh has a deep and manifold experience of accident free operational flying that includes several MiG 21 and MiG 29 along with a stack of helicopters.
Air Marshal Arora had the great opportunity to fly MiG 21 squadron in South Western Sector. Succeeding this activity he was also appointed as the Commander of Air Defence Direction Centre.
He has commanded a premier MiG 29 Base+ held appointment of Director General (Inspection & Safety) and Director General (Operations) at the Air Headquarter.
Not only does Air Marshal Arora excels in having a taste of diplomatic experience, thanks to his service as India's Defence Attache in the Embassy of India, Bangkok, Thailand from 2006 to 2009 and as Honorary Air Force ADC to the President of India, but also has been a directing Staff at Tactics and Air Combat Development Establishment.
All in all the flags of applause are many because only few people like Air Marshal Arora could gain this much and when they do they rise from ordinary to extraordinary! Thumbs up to this great personality.