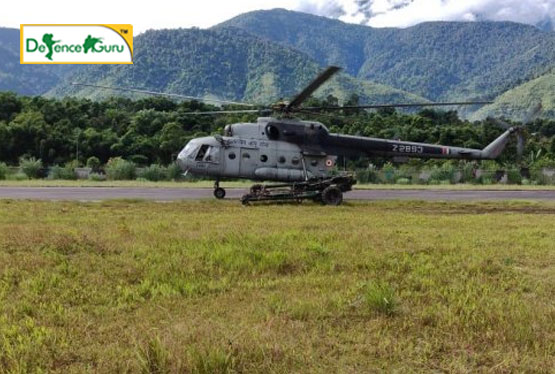 Mi17 HELICOPTER JOINS HAND WITH INDIAN ARMY
Extending support to each other in the name of strengthening security, the two integral streams of Indian Armed Forces joined hands with each other late Thursday for yet another mega achievement.
Mysteries apart, what I am talking about are Indian Army and Indian Air Force. On 3rd October, 2019 both the pillars of Indian Defence conducted a stupendous exercise late evening.
A Mi17 helicopter successfully lifted a light field gun at Tuting Advanced Landing Ground in Arunachal Pradesh.
For the first time in history Mi 17 helicopter has carried such a heavy task.
In such tensed scenario conducting these exercises is nothing but boosting up the nation's preparation for difficult days.
That said, it becomes mandatory to know more about the Mi17 helicopters.
Known as an alias of Mi 17, Hip is a Russian born helicopter produced by 2 factories: Kazan and Ulan- Ude. Along with having gunship versions, it is a twin turbine transport helicopter.
It has a provision of Kilmov TV3- 117MT engines+ rotors+ transmission developed for the Mi- 14+ fuselage improvement for heavy loads.
This grand equipment is majorly used for exports. With tall radar and dust shields the Mi 17 helicopter just becomes startling.
The helicopter has brought in great deals for Russia. Recently many countries including U.S.A, Saudi Arabia, China, Argentina etc indulged in purchase of Mi 17 helicopter.
There are tonnes of variants of Mi 17 helicopters. Incorporating all of them will not be possible so here is a bunch of notable few: Mi 8 AMT, Mi 8 AMT Sh, Mi 8 MTV 1, Mi8 MTV- 2, Mi8 MTd, Mi 8 MTG etc.
Most importantly Mi 17 can perform at a great speed of 280 km/h with a range up to 800 km with a crew of 3 pilots.
An ounce of practice intensifies success. India has done the same by conducting an essential exercise between I.A.F Mi 17 helicopter and Indian Army field gun.