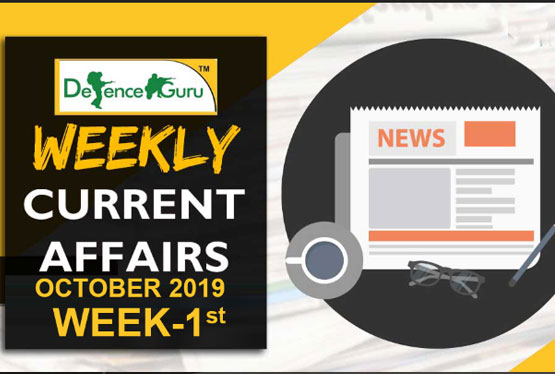 Current Affairs October 2019
Appointments
1.Vijay Patil
Vijay Patil and Sanjay Naik were elected unopposed as President and Secretary of the Mumbai Cricket Association. The President, Vice-President and Secretary were elected unopposed while polls were held for the posts of Treasurer, Joint Secretary and nine members of the Apex Council. Mr Amol Kale was elected as the Vice-President. Mr Vijay Patil is the son of former Governor and Congress Politician Dr DY Patil.
2.Muktesh Kumar Pardeshi
Shri Muktesh Kumar Pardeshi, presently High Commissioner of India to New Zealand, has been appointed as the next High Commissioner of India to Niue, with residence in Wellington. He is an Indian Foreign Service (IFS) Officer of the 1991 batch.
Niue Capital: Alofi
Currency: New Zealand dollar
3. Amur Lakshminarayanan
Digital infrastructure provider, Tata Communications has named Amur S Lakshminarayanan as Managing Director and Group Chief Executive Officer designate of the company. As MD and CEO Designate, Lakshminarayanan will advise the interim management committee of Tata Communications. Lakshminarayanan comes with 35 years of experience in a broad range of leadership roles across industries and regions across the world.
4.Mallikarjuna Rao
S S Mallikarjuna Rao has been appointed the new Managing Director of Punjab National Bank, the country's second-largest public sector bank. Rao, who was the Managing Director & CEO of Allahabad Bank, will be at the helm of PNB till September 18, 2021. He had been the chief executive of Allahabad Bank since September 2018. Prior to that, Rao was the executive director at Syndicate Bank from September 2016. He also now has to deal with the proposed merger of Oriental Bank of Commerce and United Bank of India with PNB, which will post the three-way amalgamation from April 1 2020.
5.Economist Surjit Bhalla
The government-appointed Economist Dr Surjit S Bhalla as Executive Director for India at International Monetary Fund (IMF) for a period of three years. In December last year, Bhalla had resigned as a part-time member of EAC-PM (Economic Advisory Council to the Prime Minister). He was amongst the economists who had hailed Prime Minister Narendra Modi for demonetisation in 2016.
6.K S Dhatwalia
Kuldeep Singh Dhatwalia, an Indian Information Service (IIS) officer, was appointed as the principal spokesperson of the Union government. Dhatwalia, a 1984-batch IIS officer, has been posted as the new principal director general of the Press Information Bureau (PIB), the publicity wing of the central government. The officer, who has succeeded Sitanshu Kar, will function as the principal spokesperson of the government of India.
7.Air Chief Marshal Rakesh Bhadauria
Air Chief Marshal Rakesh Kumar Singh Bhadauria took charge as the 26th Chief of the Indian Air Force. He succeeds Air Chief Marshal BS Dhanoa, who retired after 41 years of service in the IAF. Air Marshal Bhadauria was commissioned in the fighter stream of the Indian Air Force in June 1980 and has held various command, staff and instructional positions. An alumnus of the National Defence Academy, Bhadauria won the coveted Sword of Honour for standing first in the overall order of merit. The Air Chief Marshal Bhadauria is one of the few Air Force pilots to fly a Rafale jet.
8.Jai Bhagwan Bhoria
The Reserve Bank of India has superseded the Board of Punjab and Maharashtra Cooperative Bank Limited, Mumbai and appointed Jai Bhagwan Bhoria as the bank's administrator with all powers of the board. The amount of withdrawal from the bank allowed to depositors has been increased from one thousand to ten thousand rupees. The RBI's directives will remain in force for a period of six months.
Deaths
9. Viju Khote
Veteran actor Viju Khote passed away in Mumbai. He had acted in more than 300 Hindi and Marathi films. He gained fame for his character Kaliya in the blockbuster film Sholay. Khote was popular for his comedy roles in many films including Andaz Apna Apna, Qayamat Se Qayamat Tak.
See: Weekly Current Affairs 2019
10. Jessye Norman
Celebrated opera singer Jessye Norman, an American soprano who showcased her majestic the voice in performances around the world, died. The Grammy winner died 'surrounded by loved ones' at a New York hospital due to septic shock and multi-organ failure after complications from a 2015 spinal cord injury. A pioneering young black woman in the white world of classical music, Norman quickly became beloved for her seemingly effortless soaring voice and effervescent personality.
Awards
11.children's international peace prize-2019
The international organisation for the defence of children's rights KidsRights awarded it's International Children's Peace Prize to the Swedish climate activist Greta Thunberg (16) and Divina Maloum (14) from Cameroon. The award ceremony will take place on November 20 near The Hague (Netherlands) on World Children's Day. Both winners were selected from among 137 candidates from 56 countries for the prize.
12.Vayoshreshtha Samman-2019
The President of India, Shri Ram Nath Kovind, presented the Vayoshreshtha Samman. It is a scheme of National Awards for senior citizens of the Ministry of Social Justice and Empowerment. Speaking on the occasion, the President said that senior citizens are important parts of our social and national life.
13. PCA Player's Player of Year award-2019
England cricketer Ben Stokes bagged the Professional Cricketers' Association Players' Player of the Year award. Stokes won the award for his exceptional performance in the ICC Cricket World Cup 2019. The all-rounder amassed 465 runs including 84 (not out) in the final against New Zealand. The flamboyant all-rounder has featured in 95 ODIs, 23 T20Is and 57 Test for England.
14.The most effective Swachhata Ambassador award-2019
President Ram Nath Kovind presented the most effective Swachchta Ambassador award to cricketer Sachin Tendulkar on the occasion of 150th birth anniversary of Mahatma Gandhi. Sachin Tendulkar has been promoting cleanliness drives in India for almost 10 years. On September 18, 2011, during Support My School telethon', Sachin Tendulkar helped raise crores more than the target set for creation of basic facilities in 140 government schools across India, particularly toilets for girl students.
15.Jaipur, Jodhpur, Durgapura cleanest stations in India: Railways survey-2019
Three railway stations in Rajasthan bagged top honours in the railways' cleanliness survey unveiled by Railway Minister Piyush Goyal. Jaipur, Jodhpur and Durgapura were the top three ranking railway stations among 720 stations. Andheri, Virar and Naigaon railway stations were the top three among 109 suburban stations. North Western Railway followed by South East Central Railway and East Central Railway are the top three railway zones.
Sports
16.India's first-ever floating basketball court opens in the Arabian Sea
The National Basketball Association brought to India the first-ever Floating Basketball Court in the Arabian Sea near Bandra Worli Sealink in Mumbai. NBA India on December 20, 2018, had announced that the first-ever NBA game in the country would be organized in October in Mumbai. The NBA India Games 2019 will feature the Sacramento Kings and Indiana Pacers.
17.Harmanpreet Kaur becomes first Indian to reach 100 T20Is
Harmanpreet Kaur became the first Indian to play 100 T20 International matches. Harmanpreet, who captains India in the shortest format of the game, turned up for the team in their sixth T20I against South Africa in Surat. Harmanpreet Kaur is among 10 female players who have reached the three-figure mark in terms of appearances. The Indian female player closest to her is Mithali Raj, who retired from T20Is in September, with 89 appearances. Overall, Harmanpreet has two more appearances in T20Is than MS Dhoni and Rohit Sharma, who have played the highest number of matches for India in men's cricket.
18.Jadeja becomes fastest left-arm bowler to take 200 Test wickets India spinner Ravindra Jadeja picked up his 200th Test wicket in 44th game and became the fastest left-arm bowler to reach the milestone. He eclipsed the feat of Sri Lanka spinner Rangana Herath, who had reached the landmark in his 47th Test match. The 30-year-old cricketer from Saurashtra had made his Test debut against England back in 2012. Jadeja has also scalped 178 ODI wickets from 156 games and 33 wickets in 44 T20Is. In fact, he has been India's first-choice spinner in recent times in away games.
19.Avinash Sable qualifies for Tokyo Olympics in men's 3,000 m steeplechase event
India's Avinash Sable qualified for Tokyo Olympics in men's 3000m steeplechase event by shattering his own national record for the second time in three days. He finished 13th in the final of the World Championships in Doha. Avinash, a farmer's son from Mandwa village in Maharashtra, clocked 8 minutes 21.37 seconds to breach the Olympics qualifying standard of 8:22.00 seconds. In the men's 20km race walk event, national record holder K T Irfan finished a disappointing 27th in 1 hour 35 minute 21 seconds. The 29-year-old Irfan has already qualified for the Tokyo Olympics.
20.India's Koneru Humpy moves to World No.3 in women's chess
India's woman chess Grand Master (GM) Koneru Humpy has moved to the third spot in the latest rankings released by International Chess Federation (FIDE). Winning the FIDE women's Grand Prix tournament held in Skolkovo in Russia recently, Humpy gained 17 ELO points and has climbed to the third spot with a global rating of 2,577. The top two slots are occupied by two Chinese players Hou Yifan (2,569 points) and Ju Wenjun (2,586 points). In the Open section, former world champion and Indian GM V. Anand is ranked ninth with 2,765 points while the reigning world champion Norwegian GM Magnus Carlsen has continued his dominance at the number one spot with 2,876 points.
21.Maj Abdul Quadir Khan won Silver Medal in 53rd Asian Body Building
Maj Abdul Quadir Khan of the Corps of Signals brought laurels to India by winning a Silver Medal at the prestigious 53rd Asian Body Building and Physique Sports Championship held at Batam, Indonesia. Commissioned in Jun 2014, he took to Body Building with fervour in spite of an extremely busy regimental schedule. He participated in the Indian Body Building Federation (IBBF) selection trials held at Khammam, Telangana in July 2019 and got selected to represent India.
22.Nida Dar first Pakistani woman cricketer to sign with an overseas T20 team
Nida Dar became the first woman from Pakistan to sign a deal with an international cricket league. She will feature for Sydney Thunder in the upcoming Women's Big Bash League. The flamboyant all-rounder has featured in 71 ODIs and 96 T20Is for Pakistan. She has amassed 904 runs in ODIs and 1086 runs in T20Is with a strike of 60.38 and 96.27 respectively. Thunder is yet to lay their hands on the WBBL trophy since winning the maiden edition of the showpiece event.
23.World Women's Boxing Championship begins in Russia
The World Women's Boxing Championship begins at Ulan Ude in Russia. The best female boxers in the world will compete in the 11th edition of the championships, the most prestigious boxing titles in the word. India will play with a ten-member squad comprising experienced and young boxers. Six-time champion M C Mary Kom will start as a strong medal contender for India yet again in the 51-kilogram category. The spotlight will also be on former champion and Mary Kom's contemporary L Sarita Devi in 60-kilogram category.
24.Annu Rani becomes 1st Indian to qualify for women's javelin throw final
Annu Rani became the first Indian to qualify for the women's javelin throw final in World Athletics Championships with the best attempt of 62.43m which is a National Record. She finished fifth in the qualifying round of World Athletics Championships in Doha, a place above the current World Record holder Barbora Spotakova. Annu Rani had smashed her own national record during the qualification round of the World Athletics Championships.
25.Wilson Singh-Satish Kumar pair wins gold at Asian Age Group Championships
In Swimming, India's N Wilson Singh and Satish Kumar Prajapati produced impressive performances to win a gold medal in 10 metres platform synchronised event at the ongoing 10th Asian Age Group Championships. The duo scored 290.19 scores to beat Uzbekistan's Zaynetdinov Marsel and Khasanov Botir, who scored 280.53 points. India, thus, extended their total tally to 60 medals (17 gold, 23 silver and 20 bronze) in the prestigious championships, which is the largest aquatic event in Asia.
26.Sumit Nagal wins men's singles title ATP Challenger Tournament
In Tennis, Sumit Nagal has won the men's singles title of ATP Challenger Tournament at Buenos Aires in Argentina. He defeated local favourite Facundo Bognis in straight-sets 6-4, 6-2 in an hour and 37-minute match to claim the 54,160 US dollars prize money. The 22-year-old from Haryana, seeded seventh, outclassed 8th seed Bognis of Argentina to become first Indian to win on South American clay court. Union Sports Minister Kiren Rijiju congratulated Sumit calling it a Brilliant performance.
International
27.World Teacher's Day: 05 October
World Teachers' Day, also known as International Teachers Day, is an international day held annually on October 5. It is observed to commemorate the adoption of the 1996 ILO/ UNESCO recommendation concerning the status of teachers, their rights and responsibilities. This year's theme for the teachers' day is "Young Teachers: The Future of the Profession".
28.Festival of Fulpati being celebrated in Nepal
In Nepal, the festival of Fulpati is being celebrated with gaiety and religious fervour. Fulpati is observed on the seventh day of Dashain festival. In Nepali, "Ful" means flower and "Pati" means leaves and plants. There is a tradition in Nepal to bring nine types of Fulpati into homes on the seventh day of Navaratri. It is believed that Fulpati represents nine Goddess and they brings health, wealth and prosperity to the homes. Dashain is the biggest festival in Nepal.
29.Palestine issues a commemorative stamp to honour Mahatma Gandhi on 150th birth anniversary
Palestine has released a commemorative postage stamp on Mahatma Gandhi, honouring his legacy and values, to mark the 150 birth anniversary of the world leader. Palestinian Authority's Minister of Telecommunication and Information Technology Ishaaq Seder released the stamp in Ramallah. Palestine's issuance of the commemorative stamp comes in honour of Gandhi's memory, legacy, and values that guided and shall continue to guide humanity.
30.China celebrates 70 years of communism with a massive military parade
China celebrated its 70th anniversary of the founding of the People's Republic of China (PRC) with a massive military parade on 1 October. It is China's most important and high-profile event of the year. The main event of the celebrations of the day was the largest parade held by the Chinese military involving 15,000 troops and a display of the nation's latest nuclear and hypersonic missiles, besides stealth aircraft and a host of other weaponry to showcase its military might. On 1st October 1949, Mao Zedong announced the formation of the PRC, after communist forces won a bloody civil war.
31.International Day of the Older Persons: 01 October
The International Day of Older Persons is observed on October 1 every year. The day is observed to raise problems faced by the elder persons and to promote the development of a society for all ages. 2019 Theme: 'The Journey to Age Equality'.
National
32.CSIR comes up with improved formulations for green crackers
The Council of Scientific and Industrial Research (CSIR) has come up with new and improved formulations in the manufacture of sound-emitting crackers and other fireworks keeping in view the pollution hazard and health risks. Health and Family Welfare Minister Dr Harsh Vardhan displayed some of the popular products like flower pots, pencils, chakkar and sparklers, developed by CSIR. He announced that the products developed by CSIR are available in the market for consumers and for the sellers. New formulations for reduced emission light and sound emitting crackers with a 30 per cent reduction in particulate matter using Potassium Nitrate as an oxidant.
33.Rajnath Singh approves a four-fold increase in funds to families of battle casualties
Defence Minister Rajnath Singh has given in-principle approval to the enhancement of monetary assistance to Next of Kin of all categories of Battle Casualty from two lakh rupees to eight lakh rupees. This is a four-time increase in monetary assistance for Battle Casualties. The amount will be granted under the Army Battle Casualties Welfare Fund. This fund is in addition to the various existing schemes for the welfare of Next of Kin and children of battle casualties in the form of additional ex gratia.
34.Rajnath Singh to fly Rafale sortie on October 8
Defence Minister Rajnath Singh will fly a sortie in a Rafale fighter jet on October 8 from a French airbase in Paris. Singh is scheduled to travel to Paris on October 7 on a three-day visit, primarily to receive the first of 36 Rafale fighter jets. The ceremony to hand over the first Rafale jet will take place on October 8, the foundation day of the Indian Air Force. India had signed an inter-governmental agreement with France in September 2016 for procurement of 36 Rafale fighter jets at a cost of around Rs 58,000 crore
.
35.Ministry of Tourism launches Audio Guide facility App 'Audio Odigos' for 12 sites of India
On the second day of nationwide 'Paryatan Parv 2019' Shri Yogendra Tripathi, Secretary, Ministry of Tourism launched the Audio Guide facility Audio Odigos for 12 sites of India (including Iconic Sites). Audio guide Odigo offers Government of India verified content, with visuals & voice over support. With Audio Odigos, tourists will now enjoy a more enriching experience and take back historical insights of the Indian culture and heritage. The Audio Odigos app contains an inbuilt map of the site for smooth navigation during the tour. Listeners will be offered various versions of history like Synopsis, detailed history and odcasts.
36.Aditya files nomination papers, first Thakarey to enter the poll fray
Aditya Thackeray files nomination from Worli constituency in Mumbai for the forthcoming Maharashtra Assembly polls. He becomes the first member of Thakarey family to join the electoral fray. Shiv Sena leader Aditya Thakarey filed his nomination papers from the Worli seat for the upcoming Assembly elections in Maharashtra. Aditya is the first in his family to contest elections since his grandfather Bal Thackeray founded the party. The Worli seat is considered a safe seat for the Shiv Sena. In the 2014 Assembly polls, the Sena won 63 out of the total 288 seats, second only to BJP's 122
.
37.Indian Oil launches drive to turn plastic waste into bitumen
Country's largest PSU oil refiner and retailer Indian Oil Corporation has taken up various initiatives to support the government's drive to eliminate single-use plastic by converting these toxic wastes to productive use. These initiatives were launched to mark the 150th birth anniversary of Mahatama Gandhi and as part of the Swachh Bharat Abhiyan. The company will use its refinery operations to convert the single-use plastic waste into a specialised bitumen that can be used for the construction of roads and highways. A pilot project has been done at Faridabad via the creation of a 'Single Use Waste Plastic' based bituminous road. The company will commercially supply the specialised bitumen for use in road construction going ahead.
38.The Indo-Kazakhstan military exercise begins in Uttarakhand
The fourth edition of annual military exercise KAZIND-2019 between India and Kazakhstan army commenced at Pithoragarh in Uttarakhand. The aim of the exercise is joint training of troops in counter-insurgency and counter-terrorism operations in both jungle and mountainous terrain. Exercise KAZIND-2019 can be termed as a facade of long-standing strategic ties between India and Kazakhstan. As part of the exercise, important lectures, demonstrations and drills related to counter-insurgency and counter-terrorism operations will be conducted.
39.Uttarakhand CM launches 'Urjagiri' awareness campaign to stop power theft
Uttarakhand Chief Minister Trivendra Singh Rawat launched an awareness campaign 'Urjagiri', which aims at stopping power theft and saving. The Chief Minister emphasised on the need to speed up the process for wider awareness to avoid power loss in Uttarakhand. The officers of power departments should ensure that no power theft occurs so that honest customers do not have to bear the brunt of power theft. He also instructed the officers of UPCL Vigilance Cell to effectively stop the power theft.
40.ISRO to celebrate 'World Space Week'
As a part of World Space Week program, Indian Space Research Organisation (ISRO) has joined hands with seven academic institutions across Karnataka to spread information and knowledge about the benefits of space science and technologies to the student community. The programme will start on October 4 and will continue till October 10. The one day program consists of various competitions for students, an exhibition of satellite models, posters, videos and talks depicting the past, present, and future of Indian space program. Over the years, World Space Week has emerged as the largest space event with thousands of programs being organised all over the world.
41.Indo Maldives joint Exercise 'Ekuverin - 19'
The tenth edition of the Joint Military Exercise 'Ekuverin' between the Indian Army and the Maldives National Defence Force will be organised from 07 to 20 October 2019 at Aundh Military Station in Pune, Maharashtra. The Indian Army and the Maldives National Defence Forces have been conducting Exercise Ekuverin meaning 'Friends' in the Dhivehi language since 2009. The 14 days Joint Exercise held alternatively in India and Maldives. The last exercise was held in 2018 at Northern Area Headquarters, Lh Maafilaafushi of Maldives.
42.Indo-Mongolian Joint Exercise Nomadic Elephant 2019
14th edition of Indo-Mongolian joint military training, Exercise Nomadic Elephant-XIV, being conducted over a period of 14 days, will commence from 05 Oct 2019. The exercise will be conducted from 05 Oct 19 to 18 Oct 19 at Bakloh in Himachal Pradesh. The Mongolian Army is being represented by officers and troops of the elite 084 Air Borne Special Task Battalion while Indian Army is being represented by a contingent of a battalion of Rajputana Rifles. The Joint Exercise will enhance defence co-operation and military relations between the two nations. It is an ideal platform for the armies of both nations to share their experiences & best practices and gain mutually during the joint training.
43.INS Tarkash at St Denis, Reunion Islands, France
As part of Indian Navy's Overseas Deployment to Africa, Europe and Russia, Indian Naval Ship Tarkash arrived at St Denis, Reunion Island, France on 03 Oct 19 for a three-day visit. INS Tarkash, commanded by Captain Sathish Vasudev, is a potent frontline frigate of the Indian Navy equipped with a versatile range of weapons and sensors. The ship is part of the Indian Navy's Western Fleet and under the Operational Command of Flag Officer Commanding-in-Chief, Western Naval Command, based at Mumbai. France and India have traditionally enjoyed warm and friendly bilateral relations, sharing common values of democracy, development and secularism which was upgraded to the level of a 'Strategic Partnership' in 1998. The Navies of both nations have recently engaged in one of the most complex and major Maritime Exercise 'VARUNA 2019' in the Indian Ocean.
44.OYO announces a partnership with Biz2Credit
OYO, the world's third-largest and fastest-growing chain of hotels, homes, and spaces, has partnered with Biz2Credit. Biz2Credit will provide working capital and commercial real estate loans to existing and potential hotel partners. The partnership with Biz2Credit will start from the US market and will aid its efforts to provide hotel owners with fast financing efficiently for a wide range of purposes, including renovation, redesign, infrastructure upgrade and investment in technology for improved revenue management and operations. OYO, as the world's third-largest hotel chain, is using technology, business expertise and talent to create beautifully designed and comfortable living spaces.
45.IRCTC to compensate Lucknow-Delhi Tejas Express passengers for the delay
IRCTC will compensate passengers of the new Lucknow-Delhi Tejas Express in case of delay in the train schedule. An amount of 100 rupees will be paid in case the delay is for over an hour and 250 rupees for delay of over two hours. This is the first of its kind offer from any national carrier. It is in addition to the 25-lakh rupees free insurance that will be given to passengers of the train.
46.Home Minister Amit Shah flag off Delhi-Katra Vande Bharat Express
Home Minister Amit Shah flagged off the Vande Bharat Express at New Delhi Railway Station. The first commercial run of the Delhi-Katra Vande Bharat Express will be on 5 October and booking of tickets is now open on the IRCTC website. The train will bring down the travel time between Delhi and Katra, the last station on the way to Vaishno Devi temple, to eight hours from the current 12 hours. The first Vande Bharat Express was flagged off by Prime Minister Narendra Modi which runs between Delhi and Varanasi.
47.36-hour non-stop special session of UP Legislature begins
In Uttar Pradesh, 36-hour non-stop special session of state Legislature began on 2 October at 11 AM. This special session is being organised to mark the 150th birth anniversary of Mahatma Gandhi. Both the houses are under discussions on sustainable development goals -SDGs adopted by the United Nations.
48.India achieves one-crore LED street light mark
The number of LED street lights in the country has doubled from 49 lakh in March 2018 to 1 crore on October 1, 2019. These lights are being installed under the Street Lighting National Programme (SLNP) that was launched on January 5, 2015. The objective of this program is to replace all conventional street lights with smart and energy-efficient LED street lights by March 2019. This target was set to replace 1.34 crore conventional street lights with energy-efficient LED lights by March 2019.
49.Assam's Bongaigaon District Admin launches 'Plants for Plastic Campaign'
In Assam, the Bongaigaon District Administration has launched Plants for Plastic Campaign to remove the harmful plastics from the eco-system. The campaign aims to encourage people to collect and remove plastic from their houses, commercial establishments and educational institutions. Assam Forest Minister Parimal Suklabaidya has welcomed the initiative. Under the Plants for Plastic initiative, any person can deposit one-kilogram plastic in the municipality office at Bongaigaon and get a valuable sapling for free.
50.Rajasthan bans certain categories of pan masala
The Rajasthan government announced a ban on pan masala containing magnesium carbonate, nicotine, tobacco, mineral oil and flavoured 'supari' in the state. With this, Rajasthan has become the third state after Maharashtra and Bihar to announce such a move. All such products will now be banned in the state under the Food Safety Act. Production, storage, distribution and sale of these products will not be allowed in the state.
51.Lal Bahadur Shastri Jayanti: 02 October
Lal Bahadur Shastri, India's second Prime Minister's birth anniversary is celebrated on October 2, coinciding with Mahatma Gandhi's birth anniversary. Lal Bahadur Shastri dedicated his entire life towards the welfare of the poor. Impressed with Mahatma Gandhi's ideals, he became a loyal follower and joined the Indian independence movement in the 1920s. A strong Congressman, Lal Bahadur Shastri held various portfolios and became India's first Railway Minister in 1951.
52.India celebrates 150th Birth Anniversary of Mahatma Gandhi
India celebrates 150th Birth Anniversary of the Father of the Nation Mahatma Gandhi. A series of activities are being organized across the country and by the Indian Missions abroad. Prime Minister Narendra Modi leads the nation in the remembrance of Bapu at Sabarmati Ashram in Ahmedabad.
53.Smriti Irani inaugurates world's largest Charkha in Noida
World's largest Charkha (spinning wheel) made of used plastic waste was inaugurated in Noida on the eve of Mahatma Gandhi's 150th birth anniversary. The 1,650-kg spinning wheel was inaugurated by Union Minister Smriti Irani, Gautam Buddh Nagar MP Mahesh Sharma, Noida MLA Pankaj Singh and Noida Authority CEO Ritu Maheshwari. The spinning wheel has been installed in Sector 94 near the Mahamaya flyover. The 'charkha', which symbolises Gandhi's dream of Swadeshi (self-sufficing and self-reliance), measures 14ft, 20ft and 8ft and is made of 1,250 kg of used plastic.
54.Shri Ram Vilas Paswan launches 'Consumer App'
Union Minister of Consumer Affairs, Food and Public Distribution Shri Ram Vilas Paswan launched the 'Consumer App' in Krishi Bhawan. The app aims to provide a one-stop solution for consumer grievance redressal at the palm of every consumer across the nation via mobile phones. Shri Paswan said that complaint status will be monitored on a daily basis by the ministry and on a weekly basis by him personally.
55.SBI becomes the first Indian bank to have an office in Australia
The State Bank of India opened its Melbourne office, becoming the first Indian bank to have a branch in the Australian state of Victoria. The Melbourne office will assist the growing trade and investment relations between Victoria and India and is the outcome of the state's 10-year India Strategy - our shared future. The two-way merchandise trade between Victoria and India was to the tune of 1.76 billion Australian dollars in 2018.
56.PIO cards to continue as valid travel document till March 2020
Persons of Indian Origin (PIO) cards along with valid foreign passport will be considered for exit/entry into India till 31st of March 2020. Government of India advisory has said that the Bureau of Immigration (BoI) will now accept PIO cards as valid travel document till 31st of March next year along with valid foreign passport The Indian Immigration Check Post(s) will continue to consider all PIO cards valid for exit/entry into India till 31st of March next year. Earlier, all PIO cardholders were advised to convert their cards to Overseas Citizenship of India (OCI) cards by 30th of September this year.
57.Rajnath Singh launches the website of DefEXpo
Defence Minister Rajnath Singh launched the website of 11th edition of DefEXpo, to be held in Lucknow from 5th to 8th February 2020. The website, www.defexpo.gov.in provides online services to exhibitors, besides hosting informative content about the product profile of Defence Public Sector Undertakings and Ordnance Factories. Exhibitors can avail early bird discounts by booking space on the website before the 31st of next month.
58.Kerala leads the School Education Quality Index
The School Education Quality Index, SEQI prepared by NITI Aayog was launched by NITI Aayog Vice Chairman and CEO in New Delhi. Kerala has bagged the number one rank followed by Rajasthan in overall performance. In incremental performance ranking, Haryana is number one followed by Assam and Uttar Pradesh. In small states category, Manipur has claimed the top spot followed by Tripura and Goa in overall performance.
59.Planet named after Pandit Jasraj
Pandit Jasraj has been bestowed with a surreal, rare and a universal honour from International Astronomical Union (IAU). Minor Planet 2006 VP32 discovered on November 11, 2006, has been named as 'Panditjasraj'. The planet, Panditjasraj is in our Solar System and is situated between Mars and Jupiter. This is a proud moment for India as Pandit Jasraj, with this honour, is the 1st Indian Musician, to join the galaxy of immortal composers such as Mozart, Beethoven and Tenor Luciano Pavarotti. Sangeet Martand Pandit Jasraj is an exponent of Indian classical vocal music. Jasraj is the recipient of numerous awards, honours, and titles, including the prestigious Padma Vibhushan and the Sangeet Natak Akademi Award.
Business
60.RBI cuts repo rate by 25 bps to 5.15%
The six-member Monetary Policy Committee (MPC) of the Reserve Bank of India slashed the short-term lending rate, the repo rate, by 25 basis points in its fourth bi-monthly policy review. The repo rate now stands at 5.15 per cent, the lowest since March 2010. The RBI cut its estimate of economic growth in the current fiscal to 6.1 per cent from its earlier estimate of 6.9 per cent.
61.Bank of Baroda signs MoU with Indian Army for customised services
Bank of Baroda (BoB) has signed a Memorandum of Understanding (MoU) with the Indian Army under which the bank would offer customised services along with a host of facilities to account holders. The MoU includes handsome free personal accident insurance cover, free air accident insurance cover of Rs 15 lakh to Rs 50 lakh and an overdraft facility up to three times of monthly net salary. The features are also applicable for pensioners of Indian Army up to the age of 70 years. The bank will provide customised banking experience for serving and retired personnel of the Indian Army.