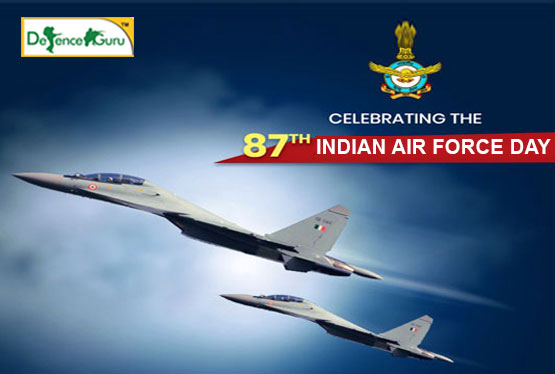 INDIAN AIR FORCE DAY
Indian Air Force- the central pillar of Indian Armed Forces has a tradition of celebrating its achievements and glory each year under the banner of 'Indian Air Force Day'.
Continuing the convention this year too I.A.F has stupendously celebrated its day on 8th October, 2019. Not only being the 87th turn of the event but also falling on the day of Dusshera this celebration turned out to be more memorable.
To top up the significance this celebration coincided with the ceremony of receiving first batch of Rafale jets by Indian Defence Minister, Rajnath Singh in France.
Here is the list of activities and highlights of this grand event:
The celebration was held at Hindon Air Force station in Ghaziabad.
Air Chief Marshal RKS Bhadauria and Army Chief General Bipin Rawat graced the ceremony with their eminent presence.
A breathtaking air display of vintage and modern transport aircraft as well as frontline fighters.
Flag bearing sky divers of Akash Ganga team dropped out of an AN- 32 aircraft in colorful canopies marking a joyful beginning of the celebration
In the great flypast the three essential aircraft were showcased: C-17 Globemaster III, Jaguar and Mirage 2000.
More so the brand new Chinook helicopters coupled with Apache aircraft will also be exposed to the audience for the first time after its inception from U.S in last few months.
Add that a Russian Sukhoi- 30 MKI also performs a series of thrilling actions.
Wing Commander, Abhinandan Varthaman flew MiG Bison aircraft and also lead 'MiG formation'.
That said, time for some critical appreciation:
Union Law Minster, Ravi Shankar Prasad saluted Indian Air Force for its bravery, service and achievement.
Mr. Amit Shah also saluted the heroes for their courage.