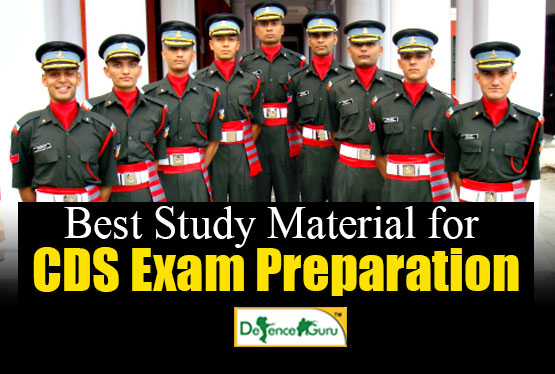 Which Book is Best for CDS Exam Preparation?
He who is best prepared serves the best!
CDS is no piece of cake. An acronym for Combined Defence Service, CDS is a national level competitive exam for those young citizens who aspire to join Indian Armed Forces. It is attempted by a large crowd of candidates every year.
The entrance exam of CDS is held twice a year by UPSC (in February and November) incorporating: written test+ SSB interview. By successfully cracking CDS one can enter into Indian Air Force Academy, Indian Naval Academy, Indian Military Academy or Officer's Training Academy. The exam is objective and includes the following subjects:
1. English,
2. General Knowledge and
3. Mathematics.
OTA holds an exception as it incorporates only English and General Knowledge and is of 200 marks while all others are for 300 marks.
CDS, like any competitive exam, demands a thorough preparation with the best material in hand.
Where to find the best material? Need not worry because Centurion Defence Academy is here, exclusively for your guidance.
Situated in Lucknow, U.P, Centurion Defence Academy is the prime abode for best Defence preparation. Not only it holds highest selection rate but also a bunch of unparallel facilities which makes it exclusive amongst all. From talented faculty to intense SSB training and an overall personality development Centurion Defence Academy has all of it!
Centralizing on its publication specifically let me showcase how helpful the study material of Centurion Defence Academy is for CDS:
Centurion Academy has the benefit of having its very own Research & Development team which includes experts from all areas of study. The study material produced by these individuals is unlike the one found in market commonly and the reasons are:
1. It is drafted after an in- depth research of the subject from various sources without relying upon any one source
2. It is updated, absolutely in accordance to the current syllabus, recent development and most probable questions to be asked in next exam.
3. It includes previous year question bank as well as some mock questions
4. The language, pattern and structure are easily comprehensible.
Although all subjects are covered under Centurion Research & Publication but keeping CDS exam in mind I will only go ahead with 3 subjects:
English- English is an integral part of every competition in today's scenario. Centurion covers all topics from synonym- antonym to vocabulary, idioms and all the core issues. The manner of description is interesting and it will leave you with increased knowledge. Even a non- English speaker can make good use of it.
Mathematics- Already imagining a thick book? Haha, no, relax. Centurion does not promote cramming of formula. What we impart is clarity of base because maths is all about concepts! So Centurion publication of Mathematics covers the basics, short tricks, essential formulas and examples to make things easy. Add to that there are sample questions along with last year papers.
General Knowledge- Although keeping in touch with global news, regular reading of newspaper is the key to upgrade your current affairs but G.K is more than current affairs. Centurion publication of G.K incorporates latest national- international activities; achievements; elementary general science topics such as Civics- history- geography. Especial focus is laid on Indian records and news with Defence as its highlight. Previous year questions+ important facts and figures are also incorporated in the book.
Well, well, well, doesn't that just sounds the best material you could gain for a great preparation? The books can be bought online or downloaded in PDF format. So quickly grab it by logging in to www.defenceguru.co.in.